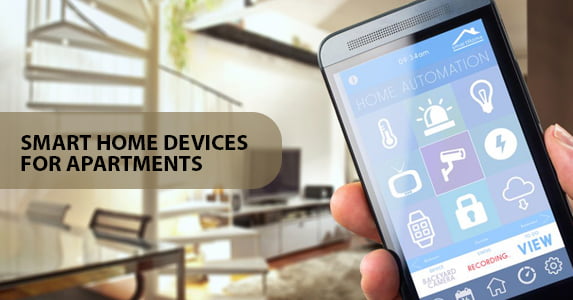 Most Trending Smart Home Devices For Apartments
Posted By

hilife_admin

On

Mon, Feb 3, 2020
As these days, technology is buzzing everywhere, owning a smart home has become more intriguing and exciting. Nowadays, you can incorporate many limitless devices like from lighting to temperature control into your home to make it smarter and cooler. Even if you are living in a small and tiny apartment, by choosing the right devices, you can create a smart apartment for your dreams. These days, the markets are thronged with many smart home devices which can fit easily into your home without occupying much space.
Here, we are going to mention some smart home devices for apartments that every homeowner or apartment owner should purchase in this electronic era.While going through the details also check out some o the things to buy for a new apartment.
1. Amazon Echo Spot (A Smart Speaker):
The new Amazon Echo Spot offers Alexa's visual cues or signals and video functionality without taking much space. That's why this is the perfect smart apartment device where space is your prime concern. The device comes with a small yet super useful screen along with a sleek and modern design. Now, you can easily keep this smart speaker at home on a table or at your workstation. Even, you can place it on your living room shelf or a kitchen counter. Though the screen displays a customizable clock, still, it also provides many important information so that you can get insights at a glance. With the help of this device, you can also make video calls. Even this smart device will help you to check on video feeds from smart cameras, video baby monitors, and video doorbells. It can stream TV and movie content, but it is not a media streaming device. You can purchase this device on Amazon.
2. Philips Hue White and Colour Ambiance A19 Starter Kit (Best Smart Light Bulbs):
If you want to make a smart apartment, then why don't you install smart lights on your apartment. These smart lights will not only make your home smart but also they will uplift the ambiance of your room. They will give you a life-changing experience while watching a movie at night with your partner. They will even keep your home safe while you are on a vacation. You can use your smartphone to control the brightness as well as the ambiance of these lights. These smart lights will also consume less energy which means your electric bill will reduce drastically. The Philips Hue smart bulbs topped in the list of smart lights which are available in the market. These lights come with a chunk of features along with an intuitive app. You can also get additional support with smart assistants like Alexa, Google Assistant, and Siri. So, it can be concluded that these smart bulbs have an impressive portfolio in today's market.
3. Amazon Fire Tv( The Best Smart TV):
If you don't have enough room for a streaming box next to your TV, then Amazon's Fire TV would be your ultimate choice. This device hangs sedately from your TV's HDMI port so that you can easily access all your favourite streaming services including Netflix and Amazon Prime Video. One of the biggest advantages of Fire TV is its inclusion of the Alexa voice assistant for voice searching. Though many people believe that the Roku Ultra and Apple TV are better all-around streaming options, still, the Fire TV is the best option if you really want to make a smart home. Alexa can do many things like set reminders, control smart gadgets, or re-order your favourite item. By using a nearby Echo, you can control your Fire TV hands-free.
4. Emerson Sensi Touch Wi-Fi Thermostat (The Best Smart Thermostat):
If you are staying in a rented apartment, you certainly need your landlord's permission before installing a thermostat. This is definitely a smart choice if you have installed the Emerson Sensi Touch Wi-Fi thermostat. Though Nest and Honeywell are the two prime smart thermostat brands, still, this is one of the most appreciated brands for its smooth installation process and the convenient app. The installation directions in the Sensi app were simply outstanding. The app thoroughly checks which wires are connected and then checks the viability of wiring configuration. If you are installing the thermostat wires for the first time, then this could be helpful for you. Here are some things to check before buying a flat.
5. D-link Router (The Smartest Router, DIR-878):
In this technology-driven era, you should have an uninterrupted internet connection if you want to sustain yourself. One of the smartest router devices is DIR-878. This router has performed really well in all the test locations including the long-range locations. This router device has the best-combined read and write throughput and its speed is simply unmatchable. Purchasing the best router is not your ultimate goal, you also need to strengthen it to keep intruders out. Once you have purchased a router, you should change its password to protect. Instead of using your birthdays or phone numbers, give a strong password which can't decode easily.
6. iDevices Switch (The Best Smart Plug):
Are you planning to revamp your apartment in a budget-friendly way? Then, why don't you install a few smart plugs throughout your apartment? A few smart plugs will not only make your home smart but also change the look of your old and dumb fashioned appliances. The iDevices Switch is the best smart plug device that you should purchase to make your home smarter and more comfortable. The switch offers thorough energy monitoring and continuous integration with the two most powerful and popular smart home ecosystems: Amazon Alexa and Apple HomeKit. The Switch only consumes a single outlet on your wall panel and its own outlet is positioned on the right-hand side. One of the best advantages is that you can place to behind a couch or your bookcase. Also Read about eco-friendly apartment.
7. Logitech Circle 2 (The Best Indoor Security Camera):
When you are planning to build a smarter home, don't compromise with the security. Security should be your always prime concern. These days, technology is changing abruptly. Now, you don't need to mess with your indoor wirings or don't need to drill to install a security camera on your premises. In this context, Logitech Circle 2 could be your ideal choice. This camera can be easily mounted right on an outlet through its plug mount. Moreover, the camera also supports other devices like Apple HomeKit, Alexa, and Google Assistant. The app is very simple to use. The app opens quickly to show the live view and also places colour-coded circles on the right side of the screen which represents motion-triggered recordings.
8. Honeywell Lyric Wi-Fi Water Leak and Freeze Detector (The Best Water Leak Detector):
Water leak from an appliance is not at all acceptable at any cost. There are many water leak detector devices available in the market, the Lyric Wi-Fi Water Leak & Freeze Detector is the best among all. This device gives you an alert if there is any leakage in your water system. This smart device embraces the customers with many facilities like an easy setup, a solid app, temperature and humidity readings, and an optional cord sensor attachment which expands the detection area up to 150 feet. The detector also works perfectly in Wi-Fi and it lasts up to 3 years on AA batteries.
9. HiMirror Mini (The Smartest Mirror):
Smart mirrors are becoming popular day by day and are the latest buzz in this technology-driven era. These mirrors are getting huge appreciation from the users as they provide a chunk of facilities and features. These mirrors can adjust lighting and also help you to pick an outfit and even can you regarding the weather. Though there is only a few products are released in the market, still, the HiMirror Mini is now available to the public and offers a chunk of smart capabilities. Alexa, Facebook, and Spotify integration ensure you stay connected while doing your makeup. The built-in camera also takes all the details of your face and can tell you if there is any wrinkle, blemishes, dark spots or redness in your face or not. The size is also good and you can easily squeeze it into a small vanity. Here are some summer decorating ideas for living room.
10. Ring Video Doorbell 2(The Smart Doorbell):
Many people think that smart doorbells are only eligible for the big houses, but they equally necessary for you even if you are living in a small apartment. These doorbells will help you to see who is at your doorbell and whether they are entering or exiting from your house. For this purpose, ring video doorbell 2 would be your ideal choice. This device requires no wiring and you can easily install it without any hassle. Moreover, it has a decent design and a removable battery option. This device does 1080 streaming. Check out some clever storage ideas for small bedroom.
11. Switchmate Rocker
Switchmate rocker might be an inexpensive desire for because it doesn't require any wiring. It is extra like a far-flung that you magnetically region over a transfer and use to remotely toggle a switch on and stale. It's now not an economic massive gamble to strive switch mate, and it is truly the handiest option for renters outside of simply the use of smart bulbs.
These are some popular smart home devices for apartments. When you are purchasing apartments in Thrissur, try to incorporate these devices into your brand-new apartment to make it more appealing and smarter. Also read smart home automation kerala.
Hi-Life Builders is one of the best builders in Thrissur. Apart from building wonderful homes, our portfolio includes home care, resale, and home loan assistance and you will be happy to know that we have a dedicated team for after sales service and property management service. For further information on our project contact us now!
Recent Posts
Recent Posts
Category