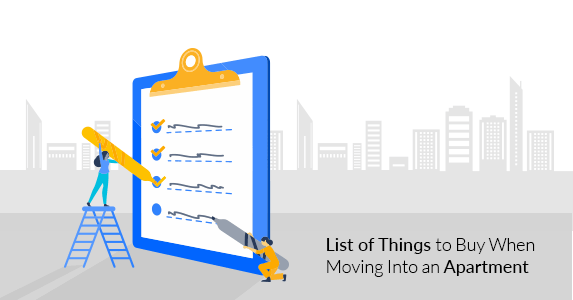 List of Things to Buy When Moving Into an Apartment
Posted By

hilife_admin

On

Tue, Jul 30, 2019
Are you moving to a new apartment? Well, congratulations for your new property. Well, shifting to a new apartment is an exciting experience.
But at the same time, you will be tensed how to make the flats in Thissur to look attractive, no matter even if it is on lease or you are renting it.
As this is going to be your next sweet abode, where you and your family will live in for the years, you will probably will want to make it the best. But then you will need to have a proper idea of items required for your apartment.
So, equipping it with all the necessary things while you are moving into the apartment is very important.
There are some basic planning you must consider while furnishing your new apartment. But if you are buying a land in Kerala, of your own, then read out this Kerala land registeration guide to know about the procedures to be followed.
This might sound too difficult to make a list of items needed for moving into apartment especially if you have never lived on your own in an apartment.
However, the fact is that arranging and organizing an apartment with all the necessary things is not a very critical job.
You may have to figure out as to how much time you can spend, the amount you can invest in furnishing and so on and also shortlisting what all is essential to shop.
Here is a detailed discussion and a checklist for all the things that you need to buy, when you are moving to a new apartment.
This article discusses about the things to buy for a new apartment. It is best to get started with basic items.
While making the list of items for purchase always try to start with the basic items and preparing a checklist based on every section, room-by-room in your apartment.
Setting a budget is also important as you prepare the list. Preparing a list will help you to exclude the items that you already have and it will also help you to get an approximate amount you will require to invest when getting the things while moving to an apartment.
1. Entrance Area:
The first thing that you say when you enter an apartment is the entrance area. This is the place that welcomes you and all your guests. So, it has to have all the necessary things that will give the apartment a homely appeal. Therefore, the things that the entrance to your apartment must have are –
> A welcome mat right outside your door
> Hooks on the wall for jackets and keys to hang
> A shoe rack.
Depending on the space, you need to place a small stool or a sofa to help yourself and your guests to wear the shoes by comfortably sitting there. Also, make sure that there is enough light in that area. If you find the entrance is not lit up well enough, you can place a lampshade or a stand light there for some extra light.
2. Living Room or Drawing Room or Hall:
One of the most important places in an apartment is the living room or the drawing room.
Some countries refer to this space as the hall.
This is the place where you will get to hang out with your friends and family while you are awake. So, it must have all the necessary things that will make your life comfortable.
It is probably one area that you can go for interior designing if your budget allows.
If you are creative enough, you can still have good decor done by yourself, and save on the fee of the designer.
As it is a place that you receive guests and entertaining guests, you must take special care of the decor so that your living area looks beautiful and welcoming.
You can add some decorative items to the list of 'things to buy for the new apartment'.
A decorative lamp shade or any pretty curtains will brighten up space. The moving into a new apartment checklist for your new living room includes –
> A sofa or a couch
> A centre table or a coffee table
> A television set
> Either a table for keeping the television or a wall stand
> Pillows or cushions for the couch and sofa
> Stand lamps or lampshades
> Wall clock
> Bookshelf or bookcase
> A shelf or furniture to keep or place your show pieces
> A throw blanket
> DVD player or music system
> Entertainment centre or game zone, if you are interested in or if you have kids in the family
> A reclining chair.
If your apartment is not big enough or if the living room is comparatively smaller, you can skip some of these, depending on your choice and budget.
What seems absolutely necessary for some may not be as important to others. Check out some of the best summer decorating ideas for your living room.
3. Bedroom:
As this a personal area of your home, you can use old photographs of your loved ones and hang them on walls.
Smart planning and creative ideas can make your home look decked-up even without spending much on things to buy when moving. So, the things to buy for a new apartment, especially a bedroom are –
> A bed
> A mattress, pillows, blankets and covers for all these
> A wardrobe for your clothes
> A dresser or dressing table
> A mirror
> A wall clock or an alarm clock.
These are the very basic requirements for a bedroom inside a new apartment. But of course, you can always pick and choose the things that you need and leave the things that you don't.
4. Kitchen:
Kitchen is the place that would require maximum number of things to be bought or arranged. The very necessary ones are –
> A cooktop or a gas burner or a hotplate
> Different kinds of dishes like plates, glasses, bowls, mugs, serving platters
> Cutlery sets that would include spoons, forks and knives
> Silverware for the guests
> An organiser to keep your dishes
> Pots and pans
> Mixing bowls
> Cups and saucers and coffee mugs
> Glass sets for different kinds of drinks
> Spatulas, whisks and ladles and serving spoons
> Tongs and rolling pins
> Measuring cups
> Chopping or cutting boards
> Bottle openers and cork openers
> Chopping knives, kitchen knives and scissors
> Dish washing liquids and sponges and scrub pads
> Hand towels and kitchen towels
> Baskets for fruits and vegetables
> Food containers of different sizes for storing spices
> Different sizes of zip-lock bags, plastic or cling wrap, aluminium foil and wax or parchment paper
> Microwave oven
> Oven
> Refrigerator
> Mixer, grinder and juicer
> Toaster
> Sandwich griller
> Electric beater and whisks or hand blender
> Dish washer
> Coffee maker
> Tea pot and tea kettle
> Serving trays
> Oven mittens
> Trash can.
Some countries require more spices and more storage space for the spice containers and some can do with minimum food ingredients. Thus these types of apartment kitchen storage ideas or tips will help them.
So, it depends entirely on your food habit and cooking trend as to what you need to buy and what you can do without.
5. Bathroom:
Often the place that is most ignored inside an apartment is the bathroom.
However, this is the place that would require maximum cleanliness and hygiene maintenance. So, the things that must be bought for your bathroom are –
> Shower curtains
> Bathmat
> Hand soaps, bath soaps, bath salts (if you have a bathtub), lotions, shampoos and other toiletries
> Toilet paper
> Toilet brush
> Towels
> Tissues
> Mirror
> Air freshener
> Toothbrush and toothpaste
> Shaving kit if you are a man
> Trash can.
Some people, who love to pamper themselves and want to make the bathroom also a place for relaxation, arrange for candles and aroma oils.
If you are a woman and want to keep your grooming kit inside the bathroom, you can do that as well.
You can keep your hair dryer, hair styling kits and other grooming kits inside the bathroom.
Make sure they are kept away from water to avoid accidents. Also, many people keep the first aid kit inside the bathroom.
6. Dining Room:
This room can be a separate one if you have a huge apartment or the dining space may be attached with the kitchen or the drawing or living room.
No matter what the place is, the things that must be there are –
>  A dining table and chairs, depending on your family members
> Table mats
> Coasters
> Table cloth or table covers
> Napkins and tissues.
Many people arrange for decorative items to make the dining space even more comfortable and cosy. But, those things are not necessities when moving into a new apartment.
Apart from this checkout some of the interior decoration ideas which will make your apartment look attractive.
7. Miscellaneous Things:
Apart from the above mentioned things, there are quite a number of other things that are absolutely necessary in a new apartment. Without these, you simply cannot live comfortably inside your new home. These are –
> Vacuum cleaner
> Brooms and dusters
> Buckets
> Laundry bags and bins
> Washing machines
> Clips and hangers for putting the washed clothes for drying up
> Candles
> Torch and flashlights
> Batteries
> Air condition, either in all the rooms or in the room of your choice
> Basic stationery like paper, pen, paper clips, markers and stick on notes etc.
> Extra lights and bulbs.
Now that we have a detailed checklist prepared of 'things to buy for a new apartment', you can always add or remove items from the list depending upon your priorities and requirements. Here are some more factors that are to be considered which is listed below.
8. Budget:
Always set your budget at first and then only proceed towards buying the things that you need.
If you have a small budget, start with the things that are absolutely necessary for you.
Then as you manage some more money, you can switch towards buying more or the rest of the things.
Also read: Tips on maintaining a terrace garden apartment.
9. Buy Second Hand:
Some things are really expensive in the recent times.
These would include the furniture or air conditioner and some other electric appliances.
If you do not want to invest much on these things or if you plan to leave the apartment after a few years, there is no meaning of buying brand new things.
You can use apps and search for second hand things and handle your budget well.
10. Shipping Costs:
Nowadays, most of the online stores give huge discounts on all the products that you buy online. But, in most cases, shipping is hugely charged by them. so, make sure that the total cost of the things that you are buying online is not beyond your budget.
11. Bring Old Things:
If the apartment is your first and a brand new one, it is quite normal for you to have a dream of buying everything new and first hand.
But, if you already have furniture or some other usable things from your previous apartment that you can still use or can bring in easily, it will be a good decision to keep them.
Discarding them right away, just to give your new apartment a luxurious look, is not a wise decision. It is a waste of money. So, bring things you need when you move out from your old apartment.
So, with these checklists and guidance, it should be easier for you to buy items needed for moving into apartment. Make your list wisely and organize your new apartment.
Hi-Life Builders from Thrissur are one of the most prominent home builders, who have completed and successfully delivered 18 apartment projects in Thrissur, thus becoming the best builders that provides the top apartments and flats in Thrissur. Apart from building wonderful homes, we are also providing home care, resale and home loan assistance and you will be happy to know that we have a dedicated team for after sales service and property management service. Contact us and enjoy your relationship with your dream home builder.
Recent Posts
Recent Posts
Category