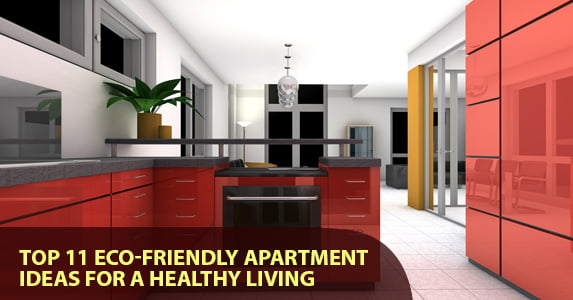 Top 11 Eco-Friendly Apartment Ideas for a Healthy Living
Posted By

hilife_admin

On

Thu, Jan 31, 2019
After a hectic work day, what is the first thought that comes to your mind? Yes, to go to sweet home and relax sometimes. So, what if the home can't give you the ultimate relaxation you need? Nowadays it is quite difficult to bring a peaceful and calm home without taking any chaos from the outside world. It may not be you who brings in these culprits, but pollution and toxic materials affect the quality of air in the home. So it is better to have an eco-friendly apartment.
It is been said by the World Health Organization that air pollution exposure is the main cause of global deaths. So, what shall we do to make our apartments in Thrissur to bring a huge difference to your daily lifestyle? Fortunately, it is not difficult to green your flat and there are many benefits to an eco-friendly apartment.
Let's check the benefits you get from an eco-friendly apartment.
Do you know those eco-friendly apartment ideas are of less cost? When you go with the eco-friendly apartment, you can save a lot by selecting retro style furniture, recycling materials or bringing in materials that have no green chemicals. An eco-friendly apartment refers to using natural materials, fresh air, sunlight, plants which are of cost-free options.
There is a misconception that if you opt for eco-friendly apartment ideas, you can't go stylish. Ideas that make an eco-friendly flat can equally present you with all the luxury features you want to bring in to your dream home.
Eco-friendly apartments need only less maintenance. Simplify your lifestyle by selecting natural furniture which are durable and which is easy to clean.
So, are you ready for some stylish and eco-friendly apartment ideas? Come, let's go green.
Here are the 11 eco-friendly apartment ideas for healthy living.
Go for Natural and Washable Textiles

Synthetic materials inside home often release some harmful chemicals when used for a long time. You might have been to an area with the bad odor of rugs? Do you know why it smells so bad? It is the chemicals released by such synthetic materials. When you are used to it, you won't get smell further. But it doesn't mean it is not releasing gases. Also, it is said that the most dangerous chemicals don't have an odor.

So, it is advisable to remove all synthetic materials and start using washable textiles inside your home. You can use wool, sisal or jute instead of area rugs. These materials not only add good texture to your home but also, are eco-friendly. Check if any of your materials at home smells so bad. If so, don't hesitate to remove it and go for natural items to live in a healthy space. Also, if any of your fabrics have such chemical odor, try using it after a hot water wash and hang them on sunlight for a couple of days.

Add Indoor Plants

Carbon dioxide in the space will be taken in by the plants and they return oxygen back. Also, they absorb harmful toxins and release harmless substances. When you use HEPA filters for your home, it releases harmful toxins and most of the synthetic products release volatile organic compounds which are unhealthy. Plants are cheaper than HEPA filters and are good for your health too.

Add indoor plants in your every room in the apartment. Choose indoor plants carefully which can be maintained easily. You can also consider maintaining a herb garden. An apartment with many indoor plants also gives a luxury style and positive energy to all the individuals who are living there. So, if you wish to go for eco-friendly ideas for your apartments in Thrissur, the first and best idea is to add plants.

Also Read: Terrace Garden Ideas For Apartments

Use Retro Furniture

One of the best eco-friendly apartment ideas is using retro or vintage furniture. New furniture often releases harmful chemicals which can be felt easily unless you get sick. Whereas retro furniture is less likely to release such chemicals and is off-gassed any chemicals before many years. Retro styles like vintage, mid-century modern and ArtDeco are best nowadays. You can get it for the best price from antique dealers or thrift shops.

Check for certified sustainable options when you choose new wood furniture. An eco-friendly option is a reclaimed wood as it reuses wood directly from previous construction. Also, choose the furniture which is durable and well-made ones. If you feel any of your wood furniture will break in the near future, leave it at the store and buy new wood furniture which is quite eco-friendly.

Never forget to check from which wood it is made. Not all woods will be eco-friendly and using these will be bad for your health.

Also Read: Apartment Decorating Ideas

VOC Paints Matters

We have already discussed that area rug are toxic in nature. Another culprit is VOC paints. Nowadays there are paints that minimize these toxic levels and are not expensive to be used inside your apartment. If you are looking for a rented flat, you can freely ask your owner about the paint being used as a health concern. Especially if you or your family members are allergic, VOC paints suck in. if you have approached reputed builders in Thrissur for your new home, they know every nooks and corner of health and safety, and thus they use only low-VOC paints for your dream homes.

Read the Tags

It is true that not all natural fibers are eco-friendly than synthetic materials. There are wide ranges of pesticides being used while producing cotton. Always go for organic cotton while choosing the fabrics for your flats in Thrissur. Organic cotton is colored using natural dyes and is grown without any chemicals. Some of the other eco-friendly natural fibers are wool (humanely-treated animals), hemp and linen. When you use synthetic materials, you can use it by checking the tags for recycled polyester.

Choose every material wisely for your home. You may not be aware of health issues while buying it. So don't check the stylish nature alone. Instead, go for eco-friendly materials which are stylish in nature.

Use Steel, Bamboo, Glass for Decoration

As mentioned earlier not all woods are eco-friendly either. It causes a number of issues as well. One of the big VOC offenders is chemical that coat the wood. Other issues include improper harvesting of woods and deforestation. In such cases, you can use alternate options like bamboo, steel, glass for decoration purposes. You can use these options for kitchen cabinets and other surfaces, walls, floors etc. Collect some of the best apartment kitchen storage ideas.

Don't Use Paper Towels

Paper towels are easy to use and can be thrown after use. No issues of washing. But that habit is very dangerous. It is a tree-killing habit. So go for cloth towels for wiping out kitchen surfaces. Try to use towels that have absorbent properties.

Ventilate Well

Nowadays, many families approach builders to use energy efficient windows for their homes. But this is actually wrong. Energy efficient windows will never leave chemicals and toxins which are present inside the house. It is advisable to open windows at least for some time daily even during winters to get fresh and cool air.

Save Lights

Another best eco-friendly apartment idea is to use LED bulbs instead of incandescent ones. They are not only eco-friendly but also lasts for more than a decade and lowers electricity bills too. The only drawback in using LED bulbs are they provide blue-based cool light instead of warm lighting. But it's not a great drawback to reject LED from buying. If you want a cozy glow, try using LED bulbs that emit yellow-based lights or that which allows you to choose between soft white and warm white.

Eco-Friendly Curtains to Control the Temperature

An easy solution for your hot rooms is eco-friendly curtains. If you go for window treatments, it helps to insulate the room by saving heat being escaped and blocking cold drafts during the winter season and in summer it serves as a perfect shade against the hot sun. But again, be wise in choosing the curtains as well.

Know about Harmful Candles

Candles give great ambiance to the home. It gives a relaxing feel with its warm glow. But are you aware that these candles are made of petroleum? In order to burn upright, some candles are added with a bit of metal too. Also, those candles that spread good aroma may not always use quality fragrances. A study suggested that candles produce volatile organic compounds (VOC) which are toxic in nature.

Choose candles wisely which are made with natural elements like beeswax, vegetable etc. Don't use scented ones and go with those which are made of essential oils or product better fragrance.

So, are you ready to make your home eco-friendly? Small changes in our habits can bring good health and happiness. Be sure you use each thing at home which doesn't cause any problems to your health and well-being.

Wish you a green, happy and blessed living!
Hi-Life Builders is one of the best builders in Thrissur. Apart from building wonderful homes, our portfolio includes home care, resale, and home loan assistance and you will be happy to know that we have a dedicated team for after sales service and property management service. For further information on our project contact Hi-Life Builders Professionals now!
Recent Posts
Recent Posts
Category