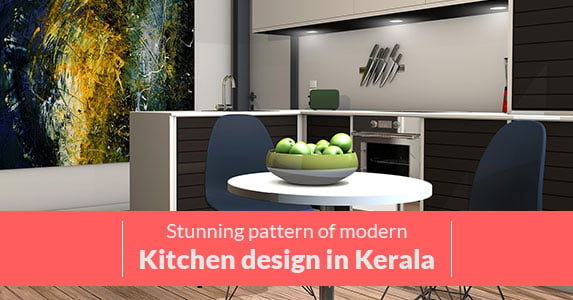 Stunning Pattern of Modern Kitchen Design in Kerala
Posted By

hilife_admin

On

Fri, Apr 28, 2017
Kitchen is the heart of the home. When one is hoping to carry a progressively contemporary look to one's home, modern  kitchen brings more smarter look than with compared to normally constructed kitchens. With their straight-line plan and complex completions, they look progressively rich that ordinary kitchens. Modern kitchen is easy to use, you can easily move it to another apartments or flats and need to fix it once more. There are list of things to buy for a new apartment.
There are many stunning pattern of modern kitchen design in Kerala. Let us discuss about that all.
Modern Kitchen
Modern Kitchen in Kerala in a Keralite house is a very important place where preparation of the most important thing for survival takes place ie the food .  
The place has to be neat and clean and also in each and every moment the hygiene should be maintained.  Besides maintaining the hygiene and cleanliness the kitchen should be eye catching which will have the quality to complement the look of the house.
To go for a modern kitchen in Kerala the residents of Kerala homes readily opt for all these aspects which are of prime important.
There are two ways by which you can opt for a modern kitchen. Number one, you can make it by yourself with your choice of carpenters and fixtures or you can purchase ready made modular kitchen appropriately made to fit your space of the kitchen.
It is always good to decorate the kitchen by own self as it is a very interesting work to do. To give a very interesting look to the kitchen Glossy steel, wood, laminates, plastic and granite can be widely used which will surely give striking effect. It is always good to look for some essentials which will add some modern appearance to the kitchen. Also read some interior decoration ideas.
Modular Kitchen in Kerala
In Kerala the designs and style of Modular Kitchen are of good standard keeping in mind the highest quality of work, design and price. 
Kerala Modern Kitchen is always incomplete without the style of modular kitchen. Modular kitchen in Kerala is designed in such a way that it keeps in mind the style, the necessity of modern kitchen appliances, the kitchen fittings , Kitchen counter tops, kitchen cabinets, kitchen sinks and even the modern Kitchen Island.
Modular Kitchen can be made up of wood or stainless steel with some granite fittings, plastic fitting as per the demand of the consumer.
In this modern era, kitchen furnishing in Kerala is much more than just creating a cooking and storage space. Owner, if wishes can bring down all the modern amenities of style color, utilities, comfort and appearance in to one kitchen.
A perfect kitchen can really change the look of the entire house. A perfect modern kitchen in Kerala can then be designed when the owner needs to consider the same during the planning and structural stage.
To give a urban look to the kitchen door less open kitchen is much preferred. Due to specific food habit in Kerala open style kitchen are still prevalent across Kerala.
As there are no walls in between, the owner working in the Kitchen can watch TV, care about the guest or give attention to kids. Here one thing should be kept in mind that the colour pattern of the modern modular open kitchen should match with the colour of the living room and dining room. Minimal but modern approach is best suited for this type of  kitchen in Kerala rather than lot of storage spaces. You can get some small apartment kitchen storage ideas.
Why Modular Kitchen by Design?
For a sound functioning kitchen, proper planning, design and execution is necessary. Modern kitchen designs in Kerala demands to keep in mind that the effective use of the space keeping and the good atmosphere during the work.
There can be times when you will be occupies in hopping around between hob, sink and worktop and for this the kitchen design should ensure a work triangle.
Another advantage of modular kitchen is to choose the right height and width of the kitchen cabinet and to place them conveniently. The designer helps to place all the kitchen appliances appropriately without any inconvenience.  Get some benefits of investing in apartments.
Modern Kitchen in Kerala with style and sleek look
Modern kitchen designs in Kerala mostly preferred the sleek and stylish kitchen appliances. This gives a unique and fresh look to it. The appliances made up of stainless steel gives a perfect modern look to the kitchen.
In today's world to keep pace with time and work modern kitchen is never complete without a dishwasher, microwave, cooking range, stainless steel utensils and also sometimes chinaware, chimneys and proper ventilation.
Stylish and flexible faucets over the sink are easily movable when and where the water is required. These taps are easily available in a variety of designs in the market. This can be chosen separately and fitted in the modern kitchen.
Kerala Modern Kitchen is incomplete without the trendy counter tops and work tops. It is available along with the modular kitchen or can be purchased separately as per the consumer's preference.
The counter tops and work tops are available in large variety and designs. It should be according to the kitchen requirement, space, colour. It can be of granite, limestone or marble depending on how easy it is to install.
Wall fitted cabinets or built-in cabinets create a modern look to the kitchen. White gloss and Metal effect in cabinet doors are very much in trend. These doors are softly molded offers a great modern look to the kitchen.
High-tech Central Island is very important for any modern kitchen in Kerala. These cabinets have functionality of pull out drawers where even if wet utensils are kept inside the water will drain out easily leaving no room for rust on the utensils.
Should go for the glass cabinet doors so that the collection of the China kitchen ware can be showcased. Modern kitchen sink is another very important concern for the modern look of the kitchen. Modern and sleep sink not only gives the kitchen a more elegant look.
Modern kitchen sink are mostly made up of glossy steel, black granite or white ceramic. Two sinks should be installed; one small and the other one should be big. The smaller should be used to wash the vegetables and the bigger one should be used to wash the utensils.
Sinks can be of various shapes such as round, square, rectangular and layered. Round sink looks pretty in modern kitchen. The sink of today's modern kitchen should be under mount including the steel faucets. And also you should watch the hidden dangers inside the kitchen.
Modern Kitchen Island
In modern Kitchen the Kitchen Island is one of the most important aspects as it is used for various purposes. It is made up of variety of materials such as wood and steel with variety of style colour and designs.
They can be both attached to the kitchen floor or free standing. Free standing kitchen island has wheels attached and is easily movable depending on the need.
Kitchen Island not only add charm to the kitchen but it is used as counter top, dining table and also for storage purposes. The top of the Kitchen Island can be of granite, marble or limestone depending on the consumer's preference and depending on the kitchen style. Checkout some old house renovation ideas.
To brief it all rather than going for a self-made kitchen it is always to go for a modular kitchen as it is designed just according to the consumer's preference and according to the space of the kitchen. Within the modular kitchen all kitchen appliances, cabinets, sink, Kitchen Island are included. The consumer does not have to run hither and thither for bring all Kitchen amenities under one roof. Above mentioned are the basic ideas on modern kitchen designs in Kerala.
Hi-Life Builders is one of the most prominent home builders in Thrissur , who have completed and successfully delivered 18 apartment projects in Thrissur. Apart from building wonderful homes, we are also providing home care, resale and home loan assistance and you will be happy to know that we have a dedicated team for after sales service and property management service. Contact us and enjoy your relationship with your dream home builder.
Live the high life………………
Recent Posts
Recent Posts
Category