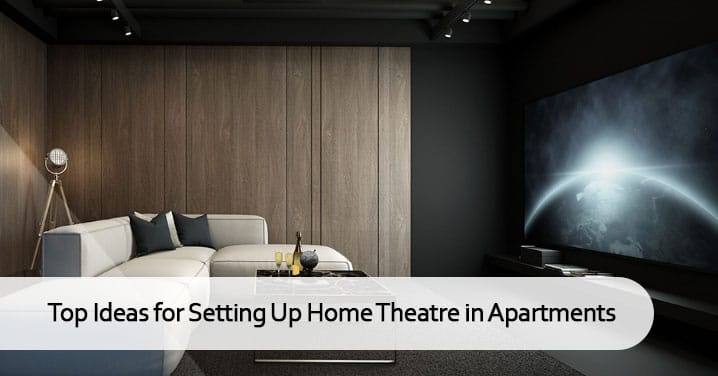 Top Ideas for Setting Up Home Theatre in Apartments
Posted By

hilife_admin

On

Thu, Feb 2, 2023
Life in an apartment doesn't mean that you need to forget about the dream of having a home theatre.
Considering the limitations of space, you can set up the best mini-theatre to let your hopes come to reality.
You might not be able to implement a 100-inch screen and projector set-up if you have dreamt higher, but still, an affordable set-up within the compact space is possible.
Let it be your living room, a hall, or a spare room, you can change them to a hub of entertainment at a low setup cost.
If you're looking for the top ideas to set up a dream theatre system in your flats or apartments in Thrissur, we've got everything covered in this blog.
Key Tips You Should consider for your Apartment Home Theatre
Let's explore the key aspects you should have in mind right when the idea of setting a theatre for your apartment strikes your mind.
Keep reading to gather the insights we've shortlisted for you to conclude what works the best.
Focus on the content you're likely to watch often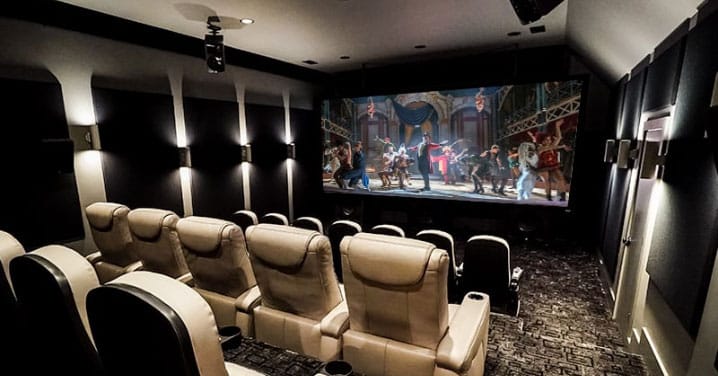 You might have a clear idea of what content you would be interested to watch once you buy the system.
Think about the interests of your family and yourself too, and get a list of what genres or types of shows you would watch on the screen.
Since it should meet all your day-to-day entertainment requirements, you need to consider the need rather than fantasizing too much about buying the top brands.
The basic things an apartment dweller watches would be sports shows, TV shows, movies, etc. Install the system based on the purpose it serves.
Note: Worried about your preference changes in the future? Needn't. You may later upgrade the parts of the system to adapt to these changes.
Luxury Flats For Sale In Thrissur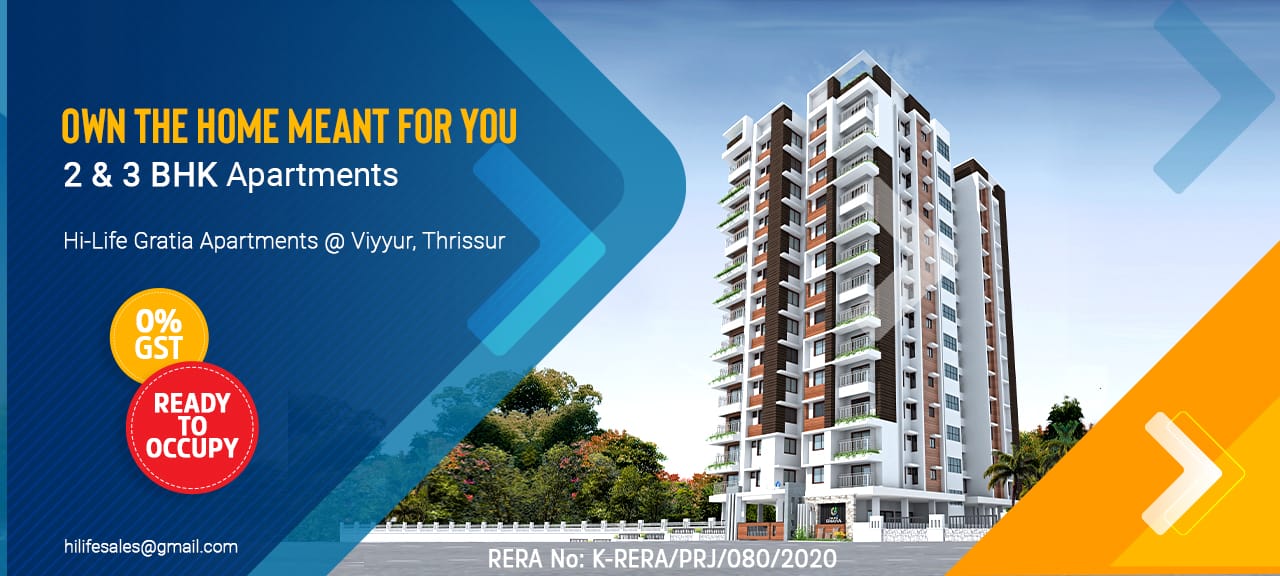 Hi-Life Gratia
Experience the exquisite design and comfort that only a masterfully crafted Flat can offer Luxury 2 & 3 BHK Flats for sale in Thrissur.
The Flats That Blended With Very Detail in Perfection With World-Class Standards.
Enquire Now& Get The Best Assured Price
Prioritize the purchase of essential components
This might sound simple, but an important factor you should consider while buying a home theatre system.
While the essential components make up the basic parts of the system, you can always go for buying the non-essential parts at a later stage.
What are the must-have components to make the theatre system work?
A screen, speakers, and amplifier are the major components you can't ignore buying. A screen is a television, or a projector and a screen.
In case you go for a combination, the TV lets you watch the usual programs, while the projector with a screen can be used for exciting content which you need a theatrical experience for watching, like a sports show or a movie.
We're not going to think about the 4K features since, even for a full HD screen, the 4K screen shows a lower resolution with a decrease in image sharpness, colors, and hues.
Another member is the speakers, which you can find at various prices with different qualities and features offered.
Remember, all the high-priced speakers are rated in terms of their technology and the brand rather than their audio quality.
Since we consider the apartments, a mid-range speaker set with five small speakers and a bass speaker can give you the complete theatre experience at a considerable budget.
The next thing is an amplifier, which brings the entire system together.
Note: Consider the relevance of the installation for years. The amplifier or receiver should have inputs that let all devices get connected to it so that you can use it for a long time.
Read more about Smart Home Devices For Apartments
Develop the system with the space constraints in mind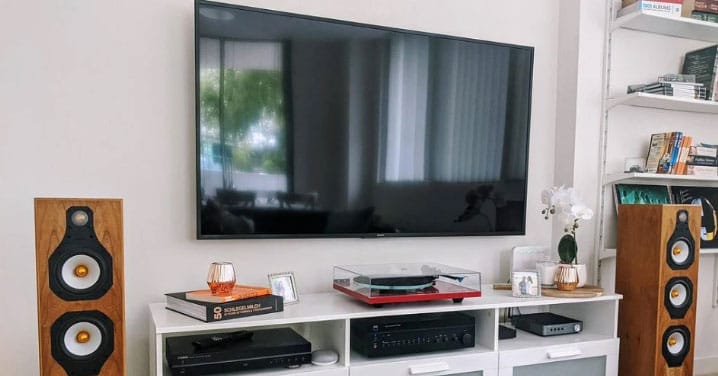 A small space could be a big challenge to most of the people who live in apartments, and the theatre design should certainly consider the space limitations while you think about setting it.
Sometimes those big black speakers could make it look weird, and you would want to go for compact and fit-in speakers like subwoofers.
You can buy amazing speakers from popular brands that can offer sound to beat the walls of your homes.
But, buying the ideal ones that can perfectly mount within or beneath the ceilings gives sense to your apartment theatre system. What do you think?
Note: It's great to buy the wired speakers only under two conditions. Firstly, when you have a limited budget, wired speakers are the best option. Secondly, there can be compatibility concerns in the future as you make changes to the receiver or make amplifier upgrades.
Wall mount the systems to save space
Whatever space your apartment offers, it's better to have space-saving considerations.
You can wall mount the TV and projector screen to keep the space alive. You may mount most screens on either the ceiling or the wall.
A slot within the ceiling helps you to hide the motorized screen inside it.
This can be done while the system gets shut down, and you may link this with the entire home theatre control system.
Wall mounting isn't the only option available, you can install the speaker in-ceiling.
It helps music to extend to other parts of your house, and the false ceilings can help hide the wires.
Even the projector can completely hide out into the ceiling which sounds interesting, doesn't it?
Note: To make your space savings more efficient, try using the RF repeaters. This triggers the signal and enhances the remote ranges. You can then control the equipment kept anywhere in your apartment as long as you use the HDMI cable to carry HD visuals and audio to the theatre display. Things are more convenient with an efficient wireless HDMI, where you can have the player and amplifier anywhere in the home to control them through wireless modes.
Go for Compact amplifiers
It's not always cool to buy very small amplifiers which don't support all-purpose features.
An amplifier should be able to manage future upgrades the digital world is going to change a lot more and the coming years shouldn't disappoint you for choosing an amplifier with limited features.
It should have the following features for sure three HDMI inputs, an HDMI output port, a feature to connect 5.1 and 7.1 speakers, and an aux audio input if you wish to club them with the iPod.
The amplifier you choose should have all the characteristics deployed to connect the gaming console, TV, laptop, projector, and iPod to the amplifier.
This could be with either USB, HDMI, or Aux. The excellent options are priced reasonably in the market which contributes all these features to you.
Soundproof your theatre spaces well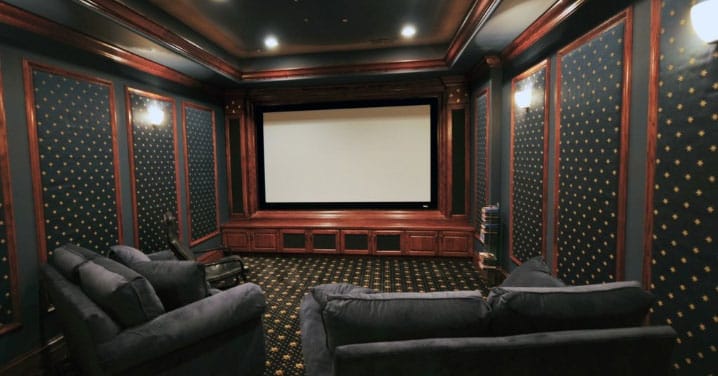 Having soundproof paneling can let you get rid of the discomfort of noise that surrounds you.
People who love to watch shows quietly and remain undisturbed can get soundproofing techniques.
Build sound paneling behind the TV or the speakers.
Use an insulating material to avoid vibrations from getting transmitted to the ceilings and walls.
Ever thought about buying an amplifier that has an LFC working principle?
Low-Frequency Containment or LFC minimizes the frequencies that prevent the noise-transmitting materials.
This further reduces the vibration and sound transmission across the walls to the rooms.
Also, read more about Smart Home Automation
Add accessories to scale your overall experience
It's time to choose the finest accessories that can make your theatre system a dream come true.
After the main parts, the accessories come to your mind for a splendid experience.
Let's first think about having a universal remote, a lifesaver, and a comfy gadget you should add to the checklist.
This can coordinate all your hardware settings, and regulate the receiver, TV, projectors, console, iPod, etc.
The other accessories you should buy are a UPS or a voltage stabilizer.
An uninterrupted power supply can secure the system against sudden outages or power fluctuations.
Another addition is the VR headset or VR experience to get an immersive appeal and an exact theatrical feel around.
PlayStation VR systems, Windows-compatible VR systems, and other VR systems are available in the market.
Once you upgrade the system from a manual to a motorized screen experience, you're making the right investment.
Else, you choose to purchase a projector with the properties to consider HD quality features, and one with keystone modulations that help you mount it well for a crystal clear image across the screen.
Lastly, use printed acoustic panels, wallpapers, or pictures that complete your mood, and get ready to watch your favorite show.
Note: Ensure you mount the projector in the right way so that the rotating blades don't hinder the projection.
The Bottom Line
You can buy a home theatre with a reasonable budget that suits all your major requirements, and hence transform your apartment into an incredible source to experience the best with your friends and family.
The system is exciting and fun-filled, which is very easy to install, maintain, and upgrade as you wish.
Having all the above ideas in mind can let you keep your theatre system in apartments the best and most affordable.
Now, all you have to think about is, when to install these, whom to invite first for a weekend vibe, and watch your favorite shows together!
Hi-Life Builders is one of the best builders in Thrissur. Apart from building wonderful homes, our portfolio includes home care, resale, and home loan assistance and you will be happy to know that we have a dedicated team for after-sales service and property management service. For further information on our project contact us now!
Recent Posts
Recent Posts
Category