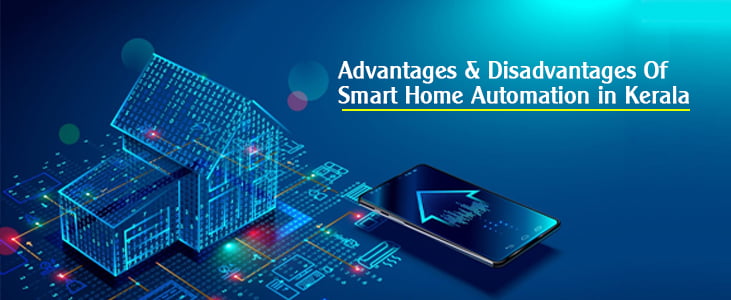 Advantages & Disadvantages Of Smart Home Automation in Kerala
Posted By

hilife_admin

On

Sat, Jul 24, 2021
With ever-increasing technical advancements, home automation is the most popular new trend in the home renovation market. The smart home is a means to have your home run for you automatically.
This unified digital management of the home can help you to go about daily housekeeping duties systematically. It's now simple to let your private house run on its own with only a few clicks of the mouse or the flip of a switch. 
Your dream home automation system in Kerala automates the entire apartment, from turning on sprinkler systems at specific times throughout the day, activating the cooling/heating system based on the internal room temperature, deactivating the heating/cooling system automatically when you're not at home, switching on the energy-saving mode if the house is unoccupied, and turning on the lights in the driveway. Most of the flats in Thrissur are now secure with the home automation system, and this is one of the basic things for the security of the house from any kind of hazardous situation. 
Advantages And Disadvantages of Home Automation 
Savings, safety, convenience, and control are just a few of the advantages of home automation. Home automation is also purchased by some customers for the sake of comfort and peace of mind. At the same time, it has several disadvantages from its cost to security concerns. 
Advantages of Home Automation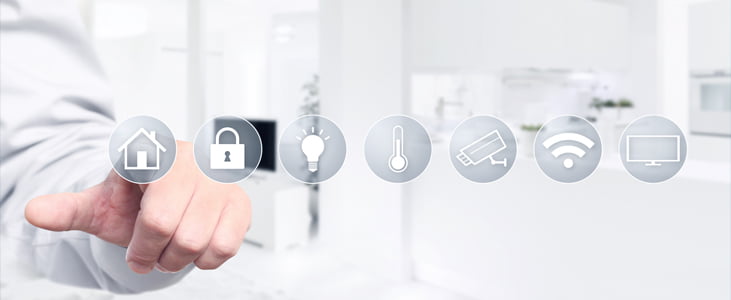 The benefits of home automation with IoT are studied for a variety of reasons. It is usually to make the environment more friendly for the elderly or children, take home security a step further, and make house operations easier to run smoothly. A home automation system is made up of subsystems that work together.
Electricity, locks, and washing machines are among the modifications implemented, as are entertainment, songs, TV volume, and automated doors and curtains.
The main switch, the Central Processing Unit (CPU), and a user-operated gadget functioning as a prompt or remote are the two primary components of the automation system. The CPU will most likely be located somewhere inside, and the owner will interact with it through handheld pads, touch screens (installed or portable), or remote controls.
There are two key components that every home automation system must-have. Aside from the cures offered, each automation system has different characteristics, operations, intelligence, adaptability, and processes to match the system's pricing and complexity.
Home automation in Kerala can be completed by a limited number of basic tasks, such as security and lighting, controlled by mild automation systems. Newborn, costly, and sophisticated ones offer a wide range of features and are also tailored to the specific demands of each house and client.
By taking good care of your household roles and activities, home automation may prove to be very helpful. It is a kind of real estate trend going on in every house for security purposes.
All we have to do today is pay close attention to our high-tech automated devices and connect things to our smartphones. You're frequently seen there! Instant access to your home's security features, heat switches, and those great televisions, VCRs, as well as the lights in your kitchen.
The majority of these comforts were previously only available in wealthier, more developed nations. Although, currently, if you use online services, you can find the best security alarm system at under $100. You may think that the devices you get aren't amazing for that kind of money, but that isn't the case. For $100, you can have a home security system with 8 window sensors, a voice dialer component, and motion detectors. This helps you avoid false alarms by allowing you to hear sounds inside your home. Additionally, you can program up to four phone numbers to be contacted regularly with just an alert. Also read most trending smart home devices for apartments.
Disadvantages of Home Automation 
In the era of science, discoveries can change so quickly that forecasting what will occur in the future is pointless because it will happen as soon as it is anticipated. Although the future of smart homes is bright, we must take a comprehensive view of these advancements and recognize the negative consequences of such expansion. Also consider future home technologies.
Security Concerns of Home Automation
As more people utilize smart home gadgets, security will become more of an issue, as it does with other computing equipment. There will undoubtedly be a slew of new security problems, as well as a proliferation of smart home security software and gadgets.
App Safety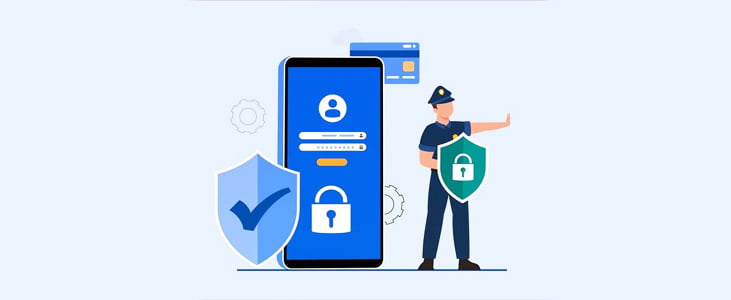 Most smart home devices come with companion apps that may be used to operate them. To do so, they are given a set of rights that affect the device's operation, including the ability to open and close a security code that secures your home.
If hackers obtain access to these apps, they will be able to manage entry to your home, which might have serious security concerns. The easiest approach to avoid this is to keep your smart home apps as up-to-date as possible and to install any security software upgrades that are released for them.
Home automation is likely to fall into 2 categories: some could be concerned with home security, while the other is concerned with comfort or devices for home convenience.
The general public prefers home automation sensors or security systems to the traditional alarm systems, which only sounded if a criminal got into your house.
Need of Home Automation in Kerala 
Numerous individuals who are looking into home automation are in a dilemma. They haven't signed up yet, but they suspect there has been something about this IoT stuff. They understand, just as we do, that smart technology has become an inextricable element of our life. Around 30 million households have chosen some form of smart home technology in the previous year alone. But what is home automation, and why do we need it?
Home Automation is Both Complex And Easy
The basic control of regular household management and performance is commonly known as home automation. The gadgets and appliances are linked and can send and receive data, which is then compiled. Frequent usage data can assist the system in responding to your demands or highlighting significant anomalies. Life is made easier by complicated technologies.
Smart Reasons For Involvement In Smart Home Technologies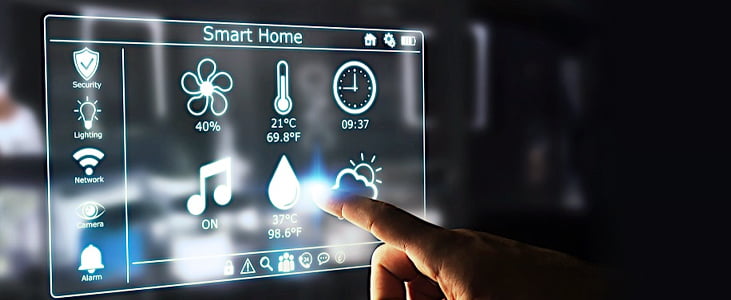 Home automation has progressed from a premium product to a fad to a need. According to a recent estimate, by 2022, the average American household would have around 500 smart devices. According to another study, 68 percent of Americans believe smart homes would become as prevalent as smartphones.
Improved Security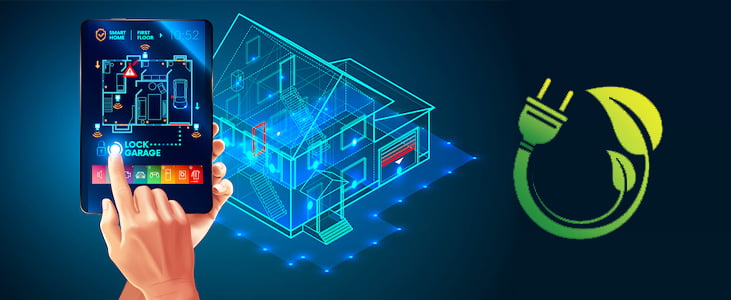 One of the primary two main reasons consumers choose home automation systems is to enhance their security. As you leave the house, the system uses data from linked devices and motion sensors to close the digital basement door, close the curtains, and secure the locks. Apartment building security is all you need, and home automation can help you in your security. You may also use a smart app to turn off any connected appliances that have been left on to avoid a fire.
Improved Safety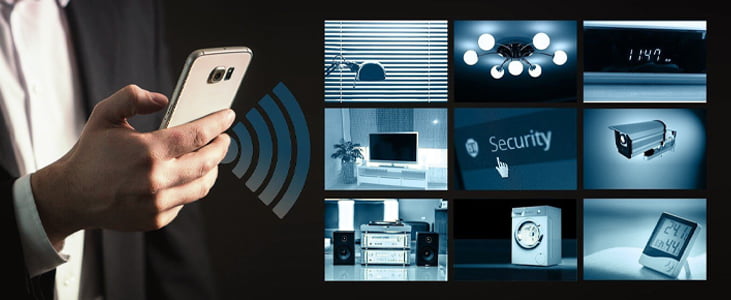 Home automation features also create a system that improves safety, whether it's by illuminating your route home at night or receiving notifications when something goes wrong. By CCTV, it is very easy to look after your home from anywhere, and CCTV has played an important role in improving the home's safety. 
Energy Savings Improved
Automate your heating and cooling, and you'll save 48% on your energy bills. Smart heaters, energy management, and household sensors are all connected to a centralized control system that can work individually or be designed to reduce energy consumption and to save the electricity bill. Cut the electricity bill to half and live smartly at your smart home. 
Features of Home Automation
The ability to operate all of your home's electronic equipment from a single central control system can help things run more smoothly, make you feel better, and save you money. The key is to discover a solution that will fulfill all of your family's needs, both now and in the future. Although an expert may design the most customized smart home devices to deliver all of the functions you want, a few important elements will make the work easier and your engagement with your systems more pleasant.
Expandability 

Remote access

Time- tasted

Energy management

layers of protection

various user interface
Conclusion Of Home Automation System 
Smart home devices and home automation, as you may be aware, are receiving a lot of attention these days from major corporations such as Samsung, Apple, and Google. However, there can be a significant difference between connecting DIY gadgets via a wireless network and having a truly personalized home automation system. It takes effort and study to find the best smart home system.
Smart homes are now becoming increasingly popular, and rightfully so. The perfect fusion of innovation, comfort and safety is home automation. The number of things smart homes can do is growing by the day, as are the options, making designing a smart house a daunting task.
An enhanced home network serves as the brains of your smart home, connecting all of the different parts of your automated system and ensuring that they work together. It is one of the most significant parts of the smart home that works well.
Remote access is possible. While most started referring to "smart houses," they refer to remote access to one's home systems. Remote access allows you to control your home's systems without having to duplicate yourself. Set up a home office without any hesitation; smart homes are here to protect the lovely place. Working in a smart home/office is easy and stress-free. People in Kerala are loving new technologies and adapting them to their homes. Home automation or smart homes are now famous among the new generation. 
Hi-Life Builders is one of the best builders in Thrissur. Apart from building wonderful homes, our portfolio includes home care, resale, and home loan assistance and you will be happy to know that we have a dedicated team for after-sales service and property management service. For further information on our project contact us now!
Recent Posts
Recent Posts
Category