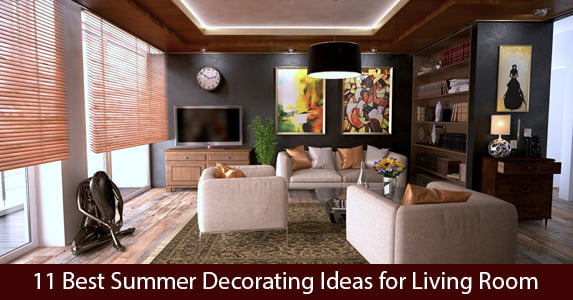 11 Best Summer Decorating Ideas for Living Room
Posted By

hilife_admin

On

Fri, Jun 29, 2018
Summer is round the corner and it is time for a new start. Freshness, colours, flowers and all the vibrant and lively things that you can possibly think of are going to be a part of your life for the season. Gone is the time for gloomy, dark winter. As season changes, you dress differently and your wardrobe experiences a significant change.
If you change the way you dress yourself, don't you think it is time for your house to go through a makeover as well? Change what your house has been wearing for the winter and give it a new décor. Here are 11 most useful, easy and significant home décor ideas for your living room.
Also check out the latest interior design trends for 2018.
1. Soothing Fresh Paint:
As the sun is hot and bright, it is a great idea to paint your living room in some pastel shades. Baby blue, mint green or peach pink are some colours that always soothe your eyes during the blazing hot summer days. If you do not want any colour, Paris white is a staple choice that will never go wrong.
2. Add Some Colour:
One of the best summer decorating ideas for living room is to use colour. Summer is all about brightness. Adding a little bit of colour to your living room décor will not only lift up your mood, but also bring some freshness to the décor, which must have been mellow and demure during the winter. This is a simple, yet a great change that will transform the look of your living room. All your guests will be surprised and they will feel the happiness as you receive and welcome them to your house.
But, do not go too overboard. Just a dash of colours is what will do the job. Too much of colours will hurt the eyes. If you are following a pastel colour theme for the décor, just add a bright yellow or a turquoise blue flower vase, or a teapot set or just a few colourful modern art paintings with vibrant colour and this will do. If you are fond of drapery, arrange a folded upholstery fabric in a bright shade to bring the pop of colour or a few bright cushions on a pastel sofa.
3. Flowers to the Rescue:
Flowers can never go wrong. During summer, you can add as much flowers to your living room décor as you wish and they will not look over the top. You can choose fresh flowers or artificial ones, depending on your budget and choice.
What the experts are recommending for this season is to bring your garden flowers inside the living room. Rather than arranging one single flower vase with stacks of flowers together, you can use multiple different flower vases and arrange them in an asymmetrical order. This will give the living room a feel of the outside garden brought inside. You can do this in front of a window, or next to a window or even above the fireplace. Whichever place you choose for this, make sure that it is in a side and does not block the view of the room from any point.
4. Flower Prints:
Since it is summer and floral prints are always very much in trend, you can choose floral prints for your living room décor as well. From cushions to upholstery, you can add floral prints to anything and everything. Not just prints, but also paintings will add the brightness, vibrancy and cheerfulness to the room. One of the best ways to add floral prints to the living room décor is by using cushion covers. You can pile as many cushions as you want and your room will look lovely. Not just sofa, but you can add the cushions to the swing, if you have one in your living room and the corner will become more welcoming. When you do this, you can be creative and choose cushions of different shapes and sizes. You can also add some side pillows and the end results will be stunning.
Check out some of the best apartment decorating ideas.
5. Flowing Curtains:
When it is summer, you would surely want the sun and the light to come in as much as possible. The fresh evening breeze is also something that we all wait for throughout the winter. So, you have every reason to make arrangements for the sun and the breeze to come inside your living room. And for that, what will help you are light, flowing and light-coloured, preferably white curtains. Light fabrics that flow and dance with the evening breeze and let the sun in throughout the day are something that will help you to transform the look of your living room.
6. Paint the Furniture:
As already mentioned, the brighter your room is, the more ideal it is for the summer décor or look. The idea is to bring in as much light as you can. For that you need to make the room light in colour. But, the wall paint alone cannot do the task. Imagine a pale and soothing paint on the wall, with dark furniture accompanying it. How will it look? Absolutely unmatched!
So, you need to match the colour of the furniture with the walls or the theme that you are following for decorating your home for summer. The best way to do this is paint your dark wooden furniture in chalky and pastel shades that go well with your wall paint or the theme of your living room. You can paint the stairs, the cane furniture as well as your antique sofa sets for a new summery look.
Checkout the top and modern kitchen design in Kerala.
7. Rearrange the Furniture:
While throughout winter the fireplace has been the main focus of your living room, it is now time to shift the focus from the fireplace. So, remove the furniture that was arranged around the fireplace and rearrange them in a manner that they face the windows more, so that you and your family members, friends and guests can enjoy the sun and the breeze more.
Also read the best staircase design ideas for small spacess.
8. Bring the Garden Inside:
If you are not one, who is too fond of flowers, you can choose non-flowery plants for the summer decorations for your room. Small plants without flowers are a great way to add some green and freshness to the living room décor. You can put a number of plants in different sizes in one corner of the room or you can put different plants in different places of the room.
9. Arrange some Fruits:
It is summer and some fruits cannot do you any harm. Fruits have naturally bright colours and they are meant for freshness. Choose a large platter or a tray and arrange some fresh fruits on them and you are all good to go.
10. Beach Vibe:
Summer is the time when everyone wishes to hit the beach and spend some time in the waves and enjoy the sun. So, to bring in the beach mood, you can think of adding some navy blue, white and ocean blue details to the living room décor. Some napkins can add a great beach look to the living room.
11. Bottles and Jars:
All those beautiful bottles and jars that you bought during different times of the year and didn't know how to use them can now be used for your living room décor for the summer. Add flowers or plants to them or you can put candles or lights in them and hang or place in different parts of the room.
Decorating your living room is something that is entirely your own thing. There are no fixed rules for room décor. It depends on your liking and budget. You can always be innovative and utilize the things that are there inside your home and give your living room a makeover.
Hi-Life Builders from Thrissur are one of the most prominent home builders, who have completed and successfully delivered 18 apartments in Thrissur. Apart from building wonderful homes, we are also providing home care, resale and home loan assistance and you will be happy to know that we have a dedicated team for after sales service and property management service. Contact us and enjoy your relationship with your dream home builder.
Recent Posts
Recent Posts
Category