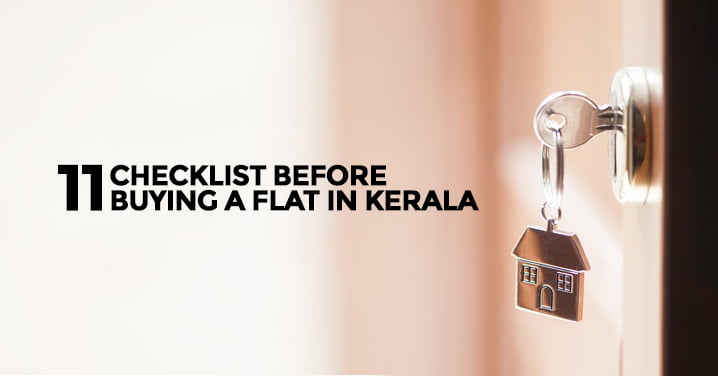 11 Checklist Before Buying a Flat in Kerala
Posted By

hilife_admin

On

Thu, May 23, 2019
A home is the utmost investment that you have made in your life. So, when you are planning to purchase a flat or an apartment for you and your family members, you always need to put some extra care and effort. People usually purchase or buy a flat either by seeing some advertisements or getting recommended by others or influenced by google search results. But a plethora of studies has claimed that many companies do some cheap or inferior quality promotions only to entice customers towards their projects. When it comes to the handover phase, they hardly provide them with any modern amenities or use very inferior quality materials for construction. So, it is always recommendable that as a buyer you should check thoroughly before investing a single penny in a property. 
The real estate industry in Kerala is thriving very rapidly. Moreover, the state is equally developed in the healthcare, IT, tourism, and education sector. Hence, many people are preferring Kerala as their permanent residence and are showing keenness for purchasing a property in Kerala. People usually prefer flats or apartments in Thrissur, Calicut, Kochi, Trivandrum, etc as they find these cities have more living facilities.
When you are desperately hunting for a flat, it is always advisable that you make a checklist that can make your apartment hunting process much simpler. There are many things that are to be on the checklist before buying a flat.
Below, we are providing you with a checklist before buying a flat in Kerala.
1.  Structure
At first, you should thoroughly check the materials that are used to make your apartment. If required, you may ask your builder regarding the material details of your apartment. You also need to check the insulation, placement of power points and other wire connections of your building. Before purchasing a new apartment, you also need to ask your builder whether your building is earthquake resistant or not.
2. Amenities
You also need to check whether your apartment is equipped with all new amenities (gym, swimming pool, indoor games area, banquet hall, fire extinguisher, etc.) or not. So, put amenities in your flat purchase checklist. See the latest Interior Decoration Ideas.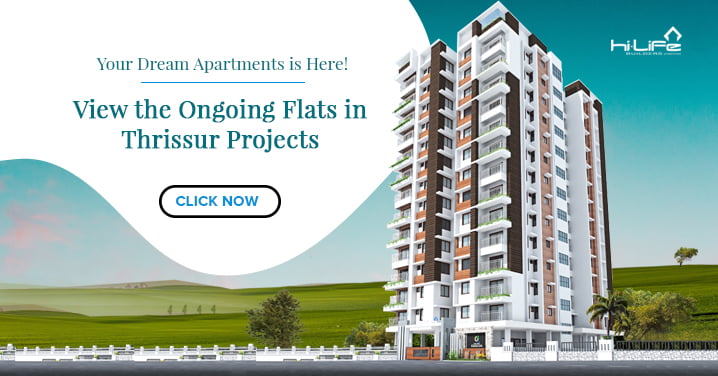 3. Connectivity
Connectivity is another prime thing to check before buying a flat in Kerala. If your apartment is well-connected with retail shops, hospitals, schools, bus stops, and medical stores, then everything will become easier for you.
4. Car parking
Does your new apartment has a separate car parking zone? You should check this point before investing a single penny in your flat. If you find that your building does not possess a parking area, then it won't be a wise decision for you to go ahead with that building.
5. Outdoor Area
If you have children, then before purchasing a flat you should check whether it includes any outdoor area or not. Because children love to play different outdoor games and for that, they need a spacious and airy outdoor area. Moreover, if you have a large and open outdoor area, then you can also do some physical activities which are very wholesome for your health.
6. Noise Level
Before purchasing a flat in Kerala, you should check the noise level of the building. If your apartment is located at a very busy or overcrowded street of Kerala, then you should go for a second option especially if you have some elderly persons with you.
7. Garbage Disposal
You should check whether your apartment possesses a proper garbage disposal facility or not. Because if garbage is not properly disposed of, then you will not at all receive a healthy atmosphere. According to the source, the garbage collectors collect this garbage ends is what they will dump side of vacant places. So all we need is proper disposal waste management.
8. Security
Before investing in a flat, you should check the security services of the building especially if you have kids with you. If your building has 24X7 security services, then you don't need to go for any other options. If you are living on the ground floor of the Apartment you should make sure that you keep the doors and windows closed while you leave!
9. Electric System
Check all electric systems properly before making any payment for your new flat in Kerala. You must check that all plug points and connections are working properly because short circuits can always be annoying as well as dangerous for you and your family members. Specially if you have kids, then you must have reassured that the house is insulated properly. If you find issues before moving in, then you should negotiate with your builder to get all the problems fixed before you make the purchase. Also, have a glance through these top ways to save electricity in your home.
10. Check All Locks and Keys
Very often, you may forget to check the locks and keys of your flat due to the excitement that you feel when you entered the flat that you are planning to purchase. But this is not at all a healthy habit, so you should check all locks and keys thoroughly before initiating any payment. If you have children or elderly persons, then you can't ignore this step.
11. Leakages

Before investing a single penny in your new flat, you should check whether there is any leakage exists in the property or not. Specially you need to check thoroughly the bathroom and the kitchen because leakages are mostly found in these two places. It is recommendable that you should check the entire plumbing system of the flat before making your final decision. If you found any leakage, then it's better not to proceed further with that property or you may consult with an experienced and adroit plumber who can give you some fruitful solutions to overcome this problem. Even if you are purchasing a new flat. then you also need to check it carefully and meticulously because a newly constructed house can look really good even if it's built with defects and faults. Check out these hidden dangers before buying a house in Kerala. 
However, apart from all these things to be inspected about the flat, you must also double-check the legal aspects of the property.
Property Documents Checklist
Here, we are mentioning some legal documents required for property buying in Kerala that is in the checklist for buying a flat.

Identify the Property:
While you are planning to purchase a flat or property, at first, you need to identify it. If you select a dispute or wrong property and spent a humongous amount on it, then that would be the biggest mistake of your life. So, you need to carefully choose your property. Once you identify your much-desired property, then you should try to negotiate its price, the mode of payment, the occupancy, and other details with the builder. Here are some important tips for how to choose real estate agent.
Power of Attorney (POA):
The main legal procedure is POA which is the authority to the next people by the ownership on behalf of his/her. The SPA, Special Power Attorney can be given by a one in another way GPA, General Power of Attorney is used to transfer his/her fetch ones right to others property. However, apart from all these things to be inspected about the flat, you must also double check the legal aspects of the property. The flat purchase checklist is something that you should be known.
Get a Legal Title Report:
Once you finalized everything with your builder or seller, then you need to hire a lawyer who will help you to get a legal title report of your property that you have premeditated to purchase. The legal title report is prepared based on all the general and relevant information that has been accumulated. Usually, 3-5 working days are needed to prepare a legal report. A title report is an important document required for registration.
Need an Encumbrance Certificate:
An encumbrance certificate usually ensures that the property or flat that you plan to purchase is free from all claims like loans, leases, unpaid debts, etc. After the completion of the property documents verification, the Sub-Registrar's office is responsible for issuing the encumbrance certificate. An encumbrance certificate is very much a pre-requisite factor for you. Read more on the home loan process in India. 
Check Mutation Details:
Once the title of a property is transferred from one person to the other person, then it is known as a mutation of property. The mutation is required for property tax payment purposes and it is recorded at the municipal offices. You need to submit an application on plain paper, along with all relevant and necessary documents and a non-judicial stamp of relevant value to the Tahsildar of the locality where you want to purchase your land or property.
Need to Sign an Agreement:
An agreement is basically a legal written contract between the buyer and seller or builder in the presence of some witnesses. As per the agreement, the seller agrees to sell his property to you(buyer)and as a buyer, you also need to agree that you are willingly purchasing the property under certain terms and conditions. The terms and conditions that are commonly included in the agreement are property value, possession, property extension, early or advance payment, and other relevant conditions. In the agreement, it is also mentioned that if the buyer or seller violates the terms and conditions, then both of them are eligible for a legal penalty.
Register the Agreement:
It is recommendable that you should register the sale agreement at the respective sub-register office. You need relevant stamp duty and registration fees to accomplish the process. The registration department in Kerala is one of the oldest and busiest departments in the state. At present, this department is the third-largest source of revenue for the state's treasury. Here is the complete guide to Kerala Land Registration.
Buy Stamp Paper and Pay Stamp Duty:
Next, depending on the value of the stamp, you need to purchase the stamp paper in your name from the State Treasury. The value of the stamp actually depends on your purchased property's price. You can easily get the stamp duty rate from the Registrar's office or from the website. In Kerala, the general stamp duty rate is 8% and the registration charge is 2%, so a total of 10%. but this rate is revised by the government at a certain interval. It is true that the stamp duty rate is fixed irrespective of whether your property is in a Panchayat, Municipality, or Corporation area.
Need a Sale Deed:
Now, you need a sale deed which you can easily be drafted by a professional and sagacious person in order to get an error-free deed.
Register the Property:
You also need to register your land in the sub registrar's office. Moreover, you need to accomplish the registration process within the time frame that is mentioned in the sale agreement. Usually, 2% of the cost of the land is taken as registration fees, irrespective of the location of your land or property.
Receive the Documents:
After the completion of the registration, you will get the receipt for the same. You need to carefully keep this receipt with you specially in the future if you want to sell your flat again, then all these documents will be required.
Change the Title of the Property:
You need to submit an application with copies of all the relevant documents in your municipal or corporation office for changing the title of the property. In this process, the revenue record of the property is changed from the seller's name to your (buyer's) name.
Pay the Property Tax:
Once your property is mutated, then you are eligible for paying property tax in your name.
These are the documents that are required and need to be verified before buying a flat in Kerala.
The above we mentioned some of the major things that you need to check explicitly before buying flats in Kerala and what are the legal documents that you required for your registration. It is also true that purchasing a home or an apartment is always an expensive endeavor, so you need to check every minute detail before making your conclusion. This is a one-time investment because most of the people can't afford to purchase multiple flats or properties. Hence, by evaluating all things you should proceed prudently so that in the future you don't need to regret this investment.
Hi-Life Builders in Thrissur is one of the most prominent home builders, who have completed and successfully delivered 18 apartments in Thrissur. Apart from building wonderful homes, we are also providing home care, resale, and home loan assistance and you will be happy to know that we have a dedicated team for after-sales service and property management service. Contact us and enjoy your relationship with your dream home builder.