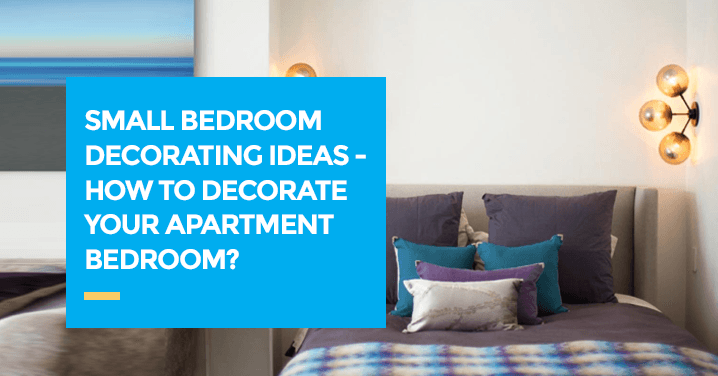 21 Best Small Bedroom Decorating Ideas on a Budget For Your Apartments
Posted By

hilife_admin

On

Thu, Jan 28, 2021
How to Decorate Your Apartment Bedroom?
We found out that most people are searching for bedroom arrangement tips. Readers are busy searching for that rarest small bedroom decorating tips. Even large homes have small bedrooms that need bedroom decorating tips.
Don't worry anymore about those decorating ideas for bedrooms. Also, read some house renovation ideas.
With just a few simple bedroom decorations ideas you can convert your bedroom into a magical space. Here we will give tips for decorating your bedroom. Now you will learn how to decorate a bedroom. We will go through all the small bedroom designs that you can imagine. We have also added some bedroom decorating ideas for couples. Without further ado let's start binging on these short but brainy small bedroom decorating ideas on a budget. In this post, we will see 20 plus brave new decorating ideas that can change your home forever!
Amazing Tips For Decorating Your Apartment Bedroom
1. Art on the Bed's Wall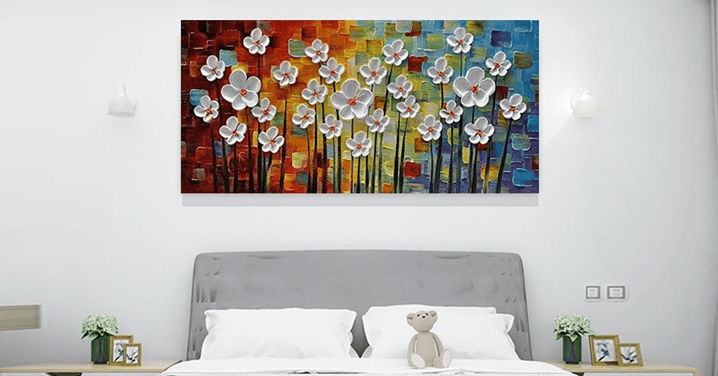 Create a stylish bed decoration. Use the beds' frame as a wall. Plus place art, colours, textile art on the wall that touches the bed. It breaks the monotony and brings a pseudo window effect. Besides, anybody loves to look at art instead of some bed.
2. End of the Bed Storage
Buy bed frames that have the end of the bed storage. Decorate this area with art or sculptures. Don't cover them up. You can also use it as a dressing chair to try new clothes or shoes. Now you have your own private area and also give it a funky name. Check out some clever storage ideas for small bedroom on a budget.
3. Paint the Wall Bright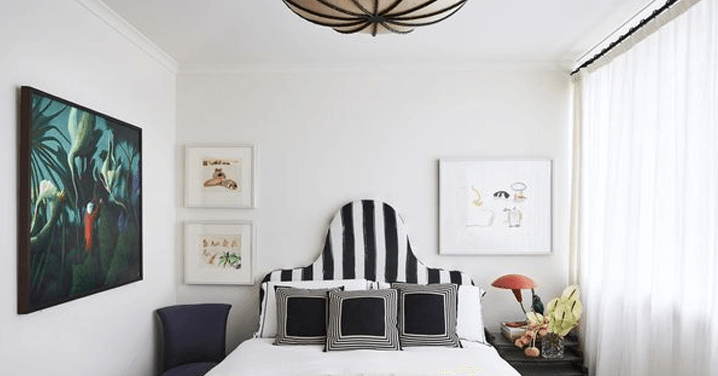 You can find a room where the window touches the bed. Here you can paint the window wall or the wall that touches the bed with a bright shade. This step separates the room from the bed. This wall is also called the accent wall. If there's a window on that wall then it looks even more stunning when the light bursts through the painted wall. Also, read some living room window design ideas.
4. Narrow Decorative Cabinets
Use narrow decorative storage cabinets. These tall cabinets will add a new appeal to your bedroom. Paint them in the same colour as the wall. This is probably the most clever idea among all small bedroom decorating ideas that you can find.
5. Use the Smallness
Place a large rug below a small bed frame. This step will add the effect of more space to the room. Later include simple furniture with streamlined silhouettes to bring more space. You won't find such useful small bedroom decorating ideas everywhere.
6. Sit on Ghost Chairs
Use ghost chairs that are transparent. These are made from acrylic that is clear. The light passes through the chair and makes them almost invisible. It brings more space to a cramped room. Thus, you can use it as a foremost plan among all small bedroom decorating ideas.
7. Streamlining Storage
Streamline your storage area by using narrow floating shelves. Any small room will turn big if you streamline the storage shelves. Shelves moulded into the wall can carry essential art and also planters. Use such easy small bedroom designs in your small room. Also, read the low-cost interior design for homes in Kerala.
8. Bookcase to Divide the Room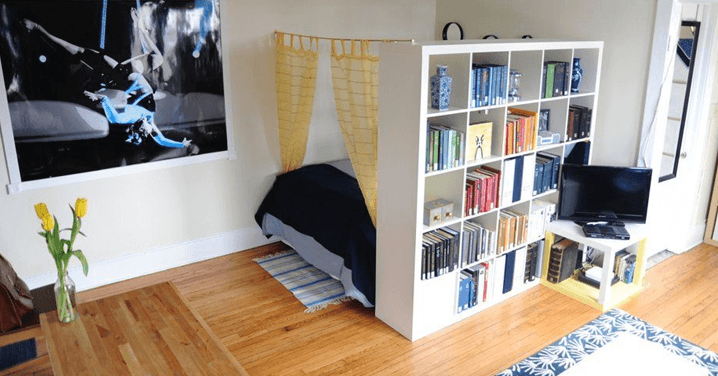 A bookcase can carry your books and also allow light to reach your bed. Place it between a brightly lit area and your bed. It adds a definite sleeping space for you. Such steps are also small bedroom decorating ideas on a budget.
9. Buy Racks that are Hung
Use a hanging rack. It will act as a closet. If you add a dresser below then voila you have a tiny dressing up space. Let me remind you to use these tips for decorating your bedroom in the correct way. Consider some summer decorating ideas for living room.
10. Attach Swing Arm Wall Sconce
Place swing arm wall sconce sets on the wall. Now you can twist the lamp in any direction you prefer. And they don't use the floor space that can be an eyesore. You can also hang any chains or key chains on these bright arm wall lights.
11. Thin Shelf and Nightstands & Use Hanging Shelves.
Place a thin shelf or a nightstand on the wall. Here you can add artworks even in a tiny room.
Place a hanging shelf at a slight height more than the usual. Here you can add any bangle or trinket collections.
12. Bold Colours and Texture & Buy a Floating Desk
When you don't have much space for art or furniture then use bold colours. Use bold coloured pillow covers and textiles with textures. These can create beautiful 'couples only' area by night time. You can easily fix a floating desk. This will use no floor space and you can even fold them after using. A personal desk at your service. Also, get some smart home devices for apartments.
13. Fold-out Bed Frame & Place House Plants
Buy a fold-out bed frame that covers the sides of the bed. Thus you cover big unsightly furniture in an intelligent way. This particular step is also the small bedroom decorating ideas on a budget. Instead of big furniture add house plants to the bedroom. These add colour and style to your bedroom especially if you alone. In this manner, one can use these tips for decorating your bedroom to bring more oxygen.
14. Use All Corners
Make use of all the corners in the room. Add a tree type room plant to add more space. Place anything that can add value or art to that space. Be careful not to crowd the area. Use these tips for decorating your bedroom in a wise way.
15. Try Nesting Tables
Buy nesting tables that can help you as a storage area, too. Don't buy unnecessary lampstands and other useless stuff that can crowd the room. Use only stuff that can add some value to the scene. That's why we gave you this superb tip that will add storage space, too.
16. Daybeds are Superb
Use daybeds for adults, too. They have extra shelves inside them for storage. Besides, they use less space and double as a sofa. Couples need their own spaces and this bed can offer that and hence it adds up as bedroom decorating ideas for couples.
17. Ladder that stores
Use a stylish small ladder to place books and art. This step introduces a new dimension to the bedroom. The ladder shifts focus away from the smallness of the room. It transforms the whole scenario in the room. It also doubles as small bedroom decorating ideas on a budget.
18. Wall Mirror
When you have a tiny room with only a bedroom and a bath then time to use a mirror. Place a narrow table. Add only a wall mirror to highlight that table area. In this way, you change the scene in the bedroom instantly. A mirror for small bedroom decorating ideas can add a fake area plus functions as a mirror while dressing up.
19. Hanging Lamps
Use hanging lamps that don't use floor space. These can add brightness and style. Be careful to not place the lamps too low that you get hit by them. Use it in an intelligent way. Such small bedroom decorating ideas will save you cash by not buying unwanted furniture to place a floor lamp. Check out the things for choosing the right furniture for your home.
20. End of the Bed Shelves
Place shelves at the foot of the bed that is of the same height as the bed. This way you get storage and something at the empty bed area. You can use such unique small bedroom decorating ideas to decorate any crampy bedroom.
21. Use Bright White on Walls
Paint the room with bright white paint. White adds more space to any room. Moreover, the paint allows you to find anything easily in a cramped room. It is very important to use white paint in such small bedrooms.
Summary
Now you have got ample decorating ammunition as ideas. You don't have to think too much about how to decorate a small bedroom. Plus whenever you run out of small bedroom ideas come back here for more. We will keep updating these bedroom decorating ideas for you.
Hi-Life Builders from Thrissur are one of the most prominent home builders, who have completed and successfully delivered 18 apartment projects in Thrissur, thus becoming the best builders that provides the top apartments and flats in Thrissur. Apart from building wonderful homes, we are also providing home care, resale and home loan assistance and you will be happy to know that we have a dedicated team for after sales service and property management service. Contact us and enjoy your relationship with your dream home builder.
Recent Posts
Recent Posts
Category