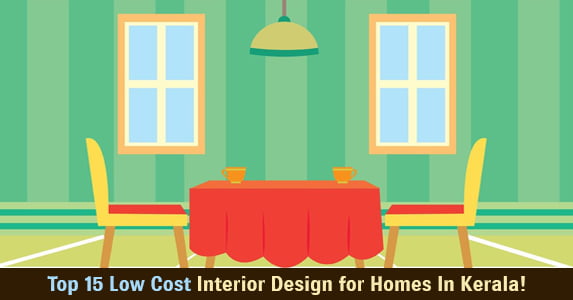 Low Cost Interior Design for Homes In Kerala!
Posted By

hilife_admin

On

Thu, Sep 27, 2018
Interior design and décor plays a very important role in increasing the aesthetic beauty of your property. It makes your home a place where you would want to spend most of your free time. But, it also has another purpose and that is to increase the value of the property. If you ever want to sell your property or buy apartments in kerala, you would certainly get more than its estimated price because you have invested so much on the beautification of the property. Anything attractive is sold faster and helps in fetching more profit.
When considering some flats or apartments in Thrissur, Kochi or or any major cities in Kerala, there are many builders who are providing amazingly designed interior for their budget homes. However, many people think that interior designing is costly and not meant for the middle-class people. This is a misconception and in a constantly growing real estate business scenario in Kerala, there is something or the other low-cost interior design for homes in Kerala.
Here are the top 15 interior design and décor ideas for homes in Kerala that middle class people can afford for a budget friendly price or or some of the latest interior design trends 
1. Mosaic Tiles:
One of the most important elements of interior decoration is the floor. For a long time, marble flooring was considered to be one of the best flooring ideas. It is still not out to fashion, but it is expensive and not everyone can afford marble flooring. But, isn't it a good idea to mock the look with something similar in finish and style? The mosaic tiles do that for you. They are cheap, budget-friendly and extremely affordable.
The best part is these are available in a wide range of variety and colour. Depending on your choice and colour, you would be able to select the tiles for your Kerala house. You can choose different options for different rooms and give different parts of your house different look.
2. Red Brick Walls:
Traditional red brick walls have always been in trend and style. They are low in cost and they impart an amazing look to the room, as well as to the entire house. Of course, they are beautiful when they are decorated and positioned well in the interior of the house and not in the exterior. You can have one wall in your drawing area in red bricks or a low height partition between the dining room and the kitchen and decorate the edge with some flower pots. Also, try out these summer decorating ideas for your living room in order to make it more beautiful.
3. Flowers and Vases:
If there is one home décor or interior decoration idea that will never go out of style, it will certainly be flowers and vases. They have always been in trend and they are best for small home interior design Kerala style. You can choose different designs, styles, sizes, printed and solid coloured vases and place them in various corners, centre of the tables or on the window edges for decorating your house interior Kerala. You can arrange fresh or artificial flowers. Nowadays, there are various kinds of artificial flowers available that are very affordable and they do not look artificial at all.
4. A Pool or Water Body:
In the hot and humid climate of Kerala, having a water body inside the house is a great idea if you have some extra space. The pool doesn't have to be too big. It can be a small one where you, along with your family can spend some evening time together. If you have an open terrace, you can build the pool there. If you do not have the open space, you can always break a few walls and extend the hall and have the pool built up in one corner.
5. Wooden Décor:
Traditionally, wooden décor has always been an intricate part of the Kerala houses and its interior décor. Adding some wooden railings for your staircase or using only wooden furniture for the entire house is a great idea for low cost interior design for homes in Kerala.
6. Terracotta Vessels:
If you have seen or have been to a traditional Kerala house, then you must have come across terracotta vessels that have been filled with spices, pickles and similar things. Now that the fast lifestyle doesn't allow making those things anymore, you can always keep the memories alive using the terracotta vessels for decoration. You can place them in one corner of your kitchen or even in your dining area.
7. Pillars:
Though due to lack of space the trend of having pillars in the house has been out of fashion, to impart a traditional design and décor to your Kerala house, you can always have a few pillars at least in one part of your house. This idea will not cost you anything extra, but will give you great spaces for turning the pillars into objects of decoration. Same as pillars, staircase is also a beautiful part of house which can be decorated in the best way. Here are some of the interesting staircase design ideas for small spaces.
8. Mat Curtains:
Every household in Kerala has some interesting curtains in order to get rid of the heat waves during the long summer days. It would be a great idea if you could make the curtains more interesting and beautiful. Traditionally the eco-friendly mat curtains were used for the Kerala houses. You can revive that and use them again for decoration as well as to eliminate the heat waves. The best part is, they come for a very cheap price. In fact, you can make them at home and reduce the prices even more. What is more innovative and cosy than making the interior all by yourself?
9. A Fountain:
If you are placing some indoor plants, another great interior décor idea would be to add a fountain in the middle of your plant arrangement. Even if you are not going to arrange the plants, you can still place the fountain anywhere you wish. It will depend entirely on the type of fountain that you are choosing. Also, the place that you want to utilize plays an important role. The fountain can be a wall fountain or a small one that can be placed on a table.
10. Arrange a Bookshelf:
Though not many people realize this, but books are indeed a very interesting instrument for any interior décor for a very affordable price. For an interior design Kerala house middle class, books are a great choice. You can arrange the books in such an order that they make a perfect height for aside table and that will utilize the space next to your bed. A mini library or arranging books on your chest of drawers will also add a great look to your interior.
11. Traditional Pots and Pans in Kitchen:
If you decorate the rest of the house and leave the kitchen, it will not be complete. To decorate the kitchen, there is not much that you have to do nowadays. A good builder will offer you great modular kitchen setups anyway. But, you can always impart a personal touch by adding traditional pots and pans like copper and cast iron vessels etc. While doing so, also try these apartment kitchen storage ideas too.
12. Lights:
Lights play a very significant role in any interior décor and design. Choose soft lights as Kerala is a hot and summery state for most of the year and adding too bright lights can be too overwhelming for most of the residents. Nowadays the lights come with a dimmer facility, so that you can always control how bright you want your lights to be.
13. Cushions:
Every house has a sofa or a similar sitting arrangement. Arranging colourful cushions that will match the wall paint or the curtains or the theme that you are trying to follow will always add to the interior design. Also, it is a low cost interior design for homes in Kerala that you do not have to spend huge on.
14. Wall Décor:
Most of the time people are worried about how they can utilize and decorate the walls. The best way is to hang paintings. If you are fond of a certain painter, you can hang their paintings on the wall. If paintings are not your thing, you can go for family photographs and choose nice photo frames. A wall full of photo frames, displaying your memories is a recent trend that many are following.
15. Be Creative:
This is not an interior design to be precise, but a hint that tells you that every house is different and every resident is different. What might seem beautiful for one may not be the case for someone else? There is no rule as such. You can be creative, use your kids' paintings or your handmade decorative pieces to add beauty to your house or much more interior decoration ideas.
With so many ideas for low cost interior design for homes in Kerala, it will be easier for you to decorate your new home or renovate your old one.
Are you looking for flats for sale in Thrissur? Then contact Hi-Life Builders today to become a member of the satisfied customer's group. Besides building beautiful houses, we provide home care, home loan assistance, after-sales service and property management services. To know more about us visit our website.
Recent Posts
Recent Posts
Category