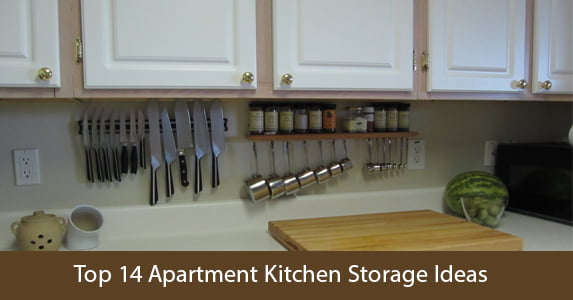 Top 14 Apartment Kitchen Storage Ideas
Posted By

hilife_admin

On

Fri, Mar 15, 2019
If you are reading this post, it means your kitchen has run out of space and is about to explode with all the extra things! Well, I know you are probably going crazy trying all small kitchen storage ideas, to forcibly fit in all your cooking utensils into the apartments miniature kitchen. Oops!
With a little creativity you could transform your kitchen into a work of art with clever tricks and small apartment kitchen storage ideas. You can smile now, for this post is exactly going to teach you just that. Here are fourteen apartment kitchen storage ideas to easily make more space in your kitchen, without squeezing out all your brain's energy. Check out about Modern Kitchen in Kerala.

1. Renovate Cabinets into Power cabinets
• Mount a wood pegboard and hang all your utensils that you can possibly fit onto it.
• Add stackable shelves or closet racks to the cabinets to make better use of it.
• Use under shelf baskets.
• Never forget about the space just above the cabinets. Stash extra stuff up there using baskets. (Probably the ones that you wouldn't use immediately)

2. Working Lid Racks
Cookware lids are quite challenging to store, apart from the fact that they are noisy – oops! The sound of a dropping lid is the last thing you or your guests want to listen to, and they even crack open your lovely kitchen tiles! That's why you have to use the Lid racks that will certainly give you much space and peace.
3. Cutting Board Rack
Cutting boards are the second most perfect environment for bacteria to thrive, just right after the dish washing sponge. That's why it is crucial and healthy to store your kitchen cutting boards using this way, where you make a rack exclusively for them anywhere, behind kitchen or cabinet doors. Now, hang them on these and the boards are neat and safe. You can also find here the top 10 clever Interior Decoration ideas to transform your home.
4. Kitchen Sink Storage 
Sink storage spaces can just not be missed when you have to hit apartment kitchen storage ideas. Space below the sink can be mostly made good use to store cleaning material like kitchen towel, brushes, acids, liquid, detergent so on and so forth. If you an extended counter adjacent to the sink, you probably draining racks where you can keep washed utensils and items there. Forks, knives and plates are another space craving things once you have washed them. Just make some wooden trays and fit them below the kitchen sink saves space, money and time. Forks, knives and plates are another space craving things once you have washed them. Or you can just make some wooden trays and fit them below the kitchen sink saves space, money and time.
5. Attractive Spice Rack
Store all your kitchen ingredients and spices which you use frequently using some arty ideas. It is easy just fit circular transparent boxes onto cabinet doors using magnetic strips. Then fill them up with all the spices and other food stuff. It is easier this way to find and use everything while cooking. Saves time and space and 'spices' big time!
6. Sleek Kitchen Counters
Kitchen counters are the very first places which get cluttered with many unnecessary utensils, ingredients and tools. Don't you want more space while preparing pizza and cookie dough? The entire kitchen will look more spacious and airy. All you need to do is add a neat row of metal shelves to make use of the space below the cabinet. This shelve must be movable and presto, you have a space creating temporary shelf.

7. Contemporary Pantry Shelves
Pantry shelf, rings any bell? Well many now have a wide misconceptions concerning pantry shelves, like they are for old-fashioned and not really useful, thus being dispensable for a futuristic kitchen. The truth is that you could give your current pantry a contemporary makeover to fit in with the latest trends.
8. Organize Your Kitchen Drawer
You have ten drawers but yet you don't have any space left, really? Then organize your drawers effectively by grouping stuff. Keep things separately in special trays or bags to bring some room and speed into your daily kitchen work. Again use the printables to label everything.
9. Multitasking Kitchen Hanger
Just make a wooden frame with neat equal spaces and nail it to the wall. Use this frame to hang smaller things like clocks, spoons, egg beaters, mashers, cheese graters, knives, tiny cups, lamps and even gloves. This will save space in a jiffy!
10. Plate Rack Storage
Now, you must answer quickly? How many plates did you break last year due to your kitchens inadequate space? If the answer is one or more then, build a small plate rack stand or purchase one online to nail it to your kitchen wall or window easily. All your plates are now safe from falling.
11. Pantry In Order
Spring is here and you need to clean your house. This is also the right time to analyze your kitchen pantry and get rid of all the old stuff, and make new room for fresh stocks. Use the pantry door by attaching the multitasking frame that we saw earlier. In each pantry drawer and corner categorize each food item in separate trays to bring order. Label the trays for extra kicks! Pantry is now neat and organized. Remix it with some dash of colours for more fun.
12. Best Use Kitchen Cabinets
Kitchen storage cabinets are absolutely the most important objects of furniture in your little kitchen. Give them your special treatment! Paint them in neat colours and stack everything in order. Use the tips from our first idea in this list. Store your kitchen rugs, table cloths and linens in easy shallow sliding draws. Use every nook and corner to store something. Also check out the best apartment decorating ideas here.
13. Renovated Containers For Your Spoons And Forks!
When managing space all these tiny bits and pieces come in the way to accomodate them. A good deal of research on apartment kitchen ideas will help you out. For Forks, knives, spoons and  ladders, you can either make use of any big sized empty containers to put them in.
14. Free Printables For Storage Jars
Bugged of finding the same old dry sugar, spice and salt jars? If yes, then use this unique method of printables for storage jars which is popular among kitchen storage ideas. This makes them more trendy and findable, reviving your little kitchen into a special area where you would love to spend more time! 
Hi-Life Builders is one of the best luxury flats and apartments in Thrissur. Apart from building wonderful homes, our portfolio includes home care, resale, and home loan assistance and you will be happy to know that we have a dedicated team for after sales service and property management service. For further information on our project contact us now!