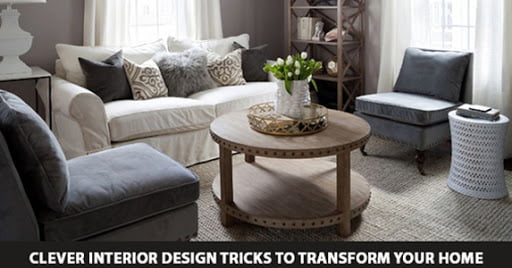 10 Clever Interior Design Tricks to Transform Your Home
Posted By

hilife_admin

On

Fri, Feb 22, 2019
If someone wants to do a little house pick-me-up, because they have just moved in or for something more important, moving into another house or wish to change the old house into a new one? Want to get some interior design ideas for your home?
Indeed, changing the presence of the whole house can squeeze your pocket. It likewise may not be an insightful thought on the off chance that you are tight on a financial plan. So we have to give a new look by making some changes or do good interior designing etc.
Then here are some renowned interior design tricks that one can easily manage with minimal cost and effort. Checkout and implement this ideas in your living space. Check out some old house renovation ideas.
Some of the Interior Decoration Ideas
1. Paint the Smaller Rooms with Lighter Colors
You can create wonders with Interior design tricks if have the right aptitude and a good color sense. Colors can alter the dimension of a room. It make large and blank spaces look warmer whereas small congested rooms look spacious or lightened up with right choice of colors.
Light colors help in making the room look bigger. Especially, if you feel that your living room space is limited, then with large windows, sufficient use of the mirrors and light painted walls, one can get an optical delusion of space.
Dark colors make you feel the room is smaller. Also depending on different rooms, choice of colors may vary.
You can add a dash excitement with one wall in living in a different and brighter color or add some texture painting. Surely these are proven interior design tricks that will transform the room completely. Also read some summer decorating ideas for living room.
2. Go for Decorative Mirrors
Using mirrors for decor totally alters the look of the room. Decorative mirrors add instantaneous light to your room, especially to the living area. Mirrors can even be used to make your room look larger than what it is.
In case of larger rooms or any other type of rooms, mirrors should be placed across the windows to add instant dimension and light to your living area. Smaller mirrors can be placed together forming a pattern that will make the wall look attractive.
3. Mix Everything
There is no problem with placing your contemporary couch with your family heirlooms. A significant part of Interior Designing is to decorate your place in such a way that it should reflect your style and personality.
There is no fixed or hard and fast rule as to you can use these only in a defined area, but basically all interior decoration ideas must finally look aesthetically pleasing.
An antique desk of your Grandfather can be placed right next to your modern chair. So, that if you miss your Grandfather's stories, then you sit right next to that desk in your comfy chair and cherish those memories.
Some mix-and-match combinations sometimes work-out great. Varied patterns, furniture and colors bring texture and warmth in your home.
4. Always Slip in Something Comfortable
The slip covers may have a poor rap, but these are really wonderful stuffs. They can change your furniture's appearance and can even reflect the impression of the current season.
These coverings offer you an elegant look and can remove easily. You don't have to worry about people spilling on furniture. A White slip covers over couches give an air of comfy, casual, convenient still stylish elegance. Get some tips for choosing the right furniture for your home.
5. Wicker Baskets
Wicker basket though may sound insignificant; but they are great item in interior decor. They are inexpensive and stylish way to maximize storage space in your rooms and also add a rustic charm to the space.
They can be used for storing display books, decor magazines, toys, architectural, towels, etc. You can even have a couple of these in your kitchen to brilliantly display and store up your vegetables and fruits.
6. Start with What You Already Have
Interior decoration ideas and inspiration may not always be from elsewhere outside or from expert professionals, but it can be using things lying around.
Everyone has a few items packed up somewhere which you haven't used yet to adorn your home. Always take a look at what is available this will save money and time. Trays, acrylic, etc., can be placed on luggage racks, coffee tables and bedside tables to add texture. Plates can be used for the wall art purpose.
7. Hanging Pot in the Kitchen
Unlike in olden days people spend much time and money making kitchens comfortable and stylish. There are special things that can to match the interior theme of a kitchen, to make this place warm and inviting.
Kitchens has turned out to be a place where we spend most of the time serving and preparing meals, so it should be alluring and warm.
Simple elements used in the kitchen when placed in proper positions will uplift the look of the kitchen completely. For example – having a hanging rack pot would be elegantly useful and nice. They look amazing and offer additional storage space as well. You can also check out some apartment kitchen storage ideas.
8. Go Green/ Add Green Plants
Going green is a great interior decoration idea which is also light on the pocket. Get more and more plants for your rooms, small or large. Plants are an economical way to adorn your house. It adds texture and color. It beautifies your living space, balances humidity and cleans your household air. Making an eco-friendly apartment is a good concept.
9. Wallpaper or Paint the Bookcases
Colors will brighten and recuperate your home! The most economical way to transform your ordinary bookcase into an energizing interior is to paint or wallpaper it.
10. Rugs
Hardwood floors look beautiful, but they lack warmth, comfort, great texture and colors that rugs have. The rugs can add functionality and fun to your living area. It comes in a variety of fabrics, colors and patterns that reflect your personality. You can change them, as and when required.
11. Change Your Curtains
Tired of seeing the regular old window curtains? Make a change in your curtains. Tidy up your windows in style; blinds that go all the divider from floor to roof will give the hallucination of room and inspire your inside right away. Match the curtains with the couch pads, and you have a totally new shading palette in your space.
12. Choose Eclectic lighting
This is one of the important interior design trick. Most family rooms just utilize a floor lamp or light, which, in itself, can be an ideal arrangement. Be that as it may, to imaginatively light up your room, you can have a go at something non-conventional, as hung uncovered bulbs. You can likewise enhance your walls with some pixie lights to make a fantastic vibe.
13. Deep Clean Your Window Glass
Deep cleaning of your window glass is one of the important ones and no one aware of this. Fresh and neat glass can provide better attraction and a fresh look in your space. So it is must to do the cleaning of window glass. You can also read some living room window design ideas.
Hi-Life Builders is one of the best apartments in Thrissur. Apart from building wonderful homes, our portfolio includes home care, resale, and home loan assistance and you will be happy to know that we have a dedicated team for after sales service and property management service. For further information on our project contact us now!
Recent Posts
Recent Posts
Category