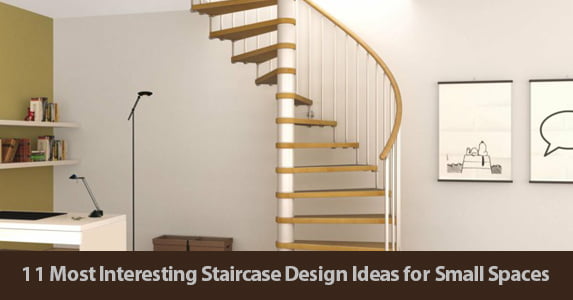 11 Most Interesting Staircase Design Ideas for Small Spaces
Posted By

hilife_admin

On

Fri, Apr 26, 2019
When you live in a small space, you would never prefer to construct large bulky staircase that can take a good amount of space. A staircase can be constructed in scores of different processes depending on the way you want it, the place available, and your preferred types. Interior designers can provide a multiple of designs, the best staircase design for small spaces after visiting your house that would look quite attractive as also a useful part of your house. If space is limited, you can't waste a part of it just for the sake of staircase only, rather go for some special staircase design ideas for small spaces, which will add beauty and also not take up much space. If needed space can also be used for storage.
The Best Staircase Designs for a Small Space
People often want to know, how to build stairs in a small space? It is absolutely true that the construction or design of a staircase may become a challenge for a house owner or an interior designer. Staircase design ideas for small spaces are available that can perfectly adjust with your home. For a space-saving stairs design, go through the following ideas:
1. Ladder Stairs:
Ladder stairs to the loft space, sleeping space, or study place is a good design of a stair to climb up. This stair will be a bit steep, but the best one if you don't need to use it frequently. It takes almost no space on the floor, neither spoils space in the air. To make the stair stronger you can ask the designer to use the wall to fasten the left side of the stair and make it stronger. Always use the best wood for this purpose as it will not take that much raw material to construct. You can find these types of staircase designs in Kerala's ancient traditional houses commonly.
2. Compact Staircase Designs:
If you are bound to provide the staircases some space, yet you want maximum utilization of space, then go for compact staircase designs. These designs will provide you a huge space for storage of your day-to-day articles. Depending on the staircase design for small spaces, the storage space can be made in different formats. If the stair is made in the kitchen, the cabinets can be constructed under the stairs or if the staircase is in the dining space, you can use the drawers and cabinetries for multiple reasons. You can also find here the Top 14 Apartment kitchen storage ideas.
3. Ribbon Staircase Design:
A ribbon staircase design is one of the best staircases for tight spaces. It takes small space but looks fabulous in a small house. The designs are normally more vertical than ladder types of staircases yet possess wide tread to step up or down. Depending on the space, the inclination can be varied. Normally, the staircase is made from 10mm steel sheet which immediately catches the attention of the guests too. It can also be designed with wood in such case; the small parts are assembled to give it a complete shape. It is the best decorative and also functional staircase for a small house. Also, find more on how to implement the minimum budget home decorating ideas with our already discussed topic Top 7 Decorating Ideas for your Apartments.
4. Spiral Stairs:
Spiral stairs for small spaces can also be adopted for saving space and providing a crafted look to your home. For spiral stairs design ideas, small house owners have two options: custom made spiral staircase and readymade staircase. The former is a bit costlier but it will be just perfect and sturdy for your house. You can also choose from the available designs in the market to suit your demand and budget. The best thing about spiral staircase is that these are available in steel and can be fastened or uninstalled quickly. These staircase designs in Kerala is a big hit if you wish to have a separate entry to the next floor, especially if you have rented out that floor.
5. Mezzanine Staircase:
Small spaces make people more innovative. Sometimes shifting the bedroom to a higher level may be necessary to make the living area larger and spacious. This design is common in one-bedroom flats. So, the living room and bedroom come on the same floor. A mezzanine staircase is the best solution for these types of small homes. These staircases are built to last for a long time, take small area, and easy to place and pack.
6. Sideways Style Stairs with Open Shelves:
People these days live in homes as small as 300sq.ft or a bit more. In such miniature space arranging all necessities is really tough. Yet, the best interior designers are providing fabulous designs for creating a bathroom to the bedroom in such a small space. In these types of spaces, stair plays an important role. Sideways style stairs with open shelves, stairs as storage, knockdown closet under the stairs, etc., helps to utilize the stair spaces cleverly while using the same space for the bedroom upstairs and a bathroom or study below it. Along with this also take some wise decision on budget-friendly interior design ideas to transform your home.
7. Steel Staircases:
When considering staircase design for small spaces, Steel staircases are the best option these days. You can use red or chocolate color steel staircase within a small space to attribute an aesthetic look to the house. Steel staircases are mostly spiral types or semi-spiral types that save much space too.
8. Staircase Twists:
Some homeowners prefer to utilize the staircase twists for sitting arrangement. It is another way to utilize the space in a small house. The sitting arrangement can be used as storage space for daily items.
9. Curved Staircase:
The curved staircase is another aesthetic creation of staircase for any small house. These staircase designs for small homes don't take much area but looks fabulous. It can be created in different ways with wood, glass, steel, etc. Creating chest-height glass or fiber railing and open steps with woods look really attractive.
10. Stair Designs with Large Storage Space:
If you need a book storage space within and around the staircase, then different stair designs with large storage space and within the walls on both sides of the stair could be adopted. A custom bookshelf on the outer openings on each step matching the upstairs platform and downstairs dining room space can be exact space management and beautification idea.
11. Minimalist Metal Rod Staircase:
Minimalist metal rod staircase is used to access small heights. These staircases are simple, long-lasting, affordable, and easy to install. You can even customize the staircase as per the height, inclination, and support you prefer. Also taake a look on latest pooja room designs.
Few Things to Remember While Designing a Staircase
Following things are to be kept in focus during staircase design in small spaces:
Safety – It is an important factor to take into consideration. Staircases need to have sufficient treading area, inclination, and side-support. However, depending on the interior design you prefer and the available space of the house choose the best design as stated above to meet all your basic needs.
Lifestyle – You and the rest of the family members will use the staircases every day. If there are kids in your home or senior individuals, you need to prioritize their need too. A staircase is not just for show, it should provide convenience to every member of your family who is going to use it.
Building Codes – Abiding building codes and regulations while constructing or installing a staircase is also important. There may be codes regarding the height, depth, and inclination of the staircase in your area. This is also important for your safety.
Material – Many types of raw material are available for the construction of staircases. You can choose steel, wrought iron, brass, wood, stone, glass, etc. In contemporary houses, glass, wood, fiber, and steel are mostly used to design staircases.
Budget – A vital decisive factor that you need to look into while choosing a design for a staircase is the budget. Setting a budget makes your idea clear as you will know what you can purchase and what not. In order to get an idea, how much you need to pay for your preferred staircase design, you can consult the experts and browse the internet for information.
The 11 staircase design for small spaces as depicted above are the best ones you can choose for a small home. The designs are made to last long and look gorgeous in a small space. At the same time, you have to take into consideration functionality, safety, and budget while constructing an ideal staircase.
Hi-Life Builders in Thrissur are one of the most prominent home builders, who have completed and successfully delivered 18 apartment projects in Thrissur, thus becoming the best builders that provides the top apartments and flats in Thrissur. Apart from building wonderful homes, we are also providing home care, resale and home loan assistance and you will be happy to know that we have a dedicated team for after sales service and property management service. Contact us and enjoy your relationship with your dream home builder.
Recent Posts
Recent Posts
Category