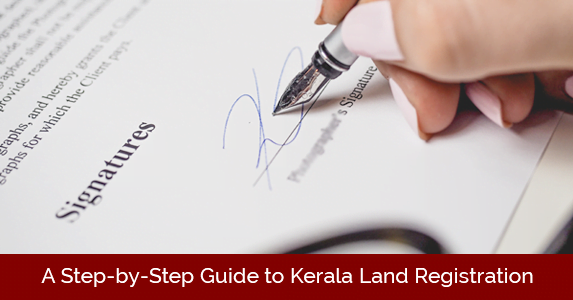 A Step-by-Step Guide to Kerala Land Registration
Posted By

hilife_admin

On

Mon, Oct 8, 2018
The cost of the property decides the stamp esteem or value. For the most part, in Kerala, the stamp duty remains at 8% and the charge is 2%. For the specific instance of family properties,  Rs. 1,000 is fixed for all transactions.
Investing in a real estate property is not a facile or easy endeavor for an investor that what we thought. Before investing a single penny, you as an investor or buyer need to do a thorough market analysis and should possess a sound knowledge of the property. Basically, investing in a property either residential or commercial is always a hefty investment for you and hence your prime motto is to generate a profit through this investment. That's why before investing in a property, you should do in-depth scrutiny regarding the property and its market value so that in the future you don't need to face any monetary or financial loss. This guide will help you to get a complete idea about the stamp duty in Kerala.
It is true that Kerala is one of the most attractive and suitable places in India for making most of the real estate investments. There is a great demand to buy land in Kerala for both commercial and residential purposes. Several people opt for flats in Thrissur, Calicut, Kochi, Trivandrum, etc for their future living.
Some popular and big cities in Kerala like Kochi, Thiruvananthapuram, Thrissur, Kozhikode, are jam-packed with huge populations and hence, in this places the land value or property value is quite high as compared to the other less-crowded places.  Get some real estate trends that people planning to buy a home should keep in mind before investing.
Kerala warmly welcomes its residents with innumerable opportunities so that they cannot escape themselves from its charm and hence, become a permanent resident member of Kerala. The state is equipped with a lot of opportunities like education, healthcare and various job exposures which are enough capable of attracting the visitors to become a habitat of Kerala.
As many people are showing their inclination towards Kerala, hence many real estate companies are also shifting their focus towards Kerala and are building several luxurious properties in Kerala in order to entice more customers for choosing Kerala their permanent residential place, especially focussing Thrissur, Cochin, Trivandrum, Calicut etc. 
Now a day's online websites provide plenty of necessary information related to the homes or land for sale in various cities in Kerala. Google search has become an important part before going for an apartment in a location of your preference. The Google search depends on certain keywords used for search such as builders in Thrissur, ready to occupy flats in thrissur etc, the page shows most prominent builders in the search engine page of Google based on preferred locations. Depending on your individual choice and budget you can either choose a land, or a single house or villas or you can also go for a luxurious apartment. The minimum price of the land is near about 5 lakhs while the maximum price can be 1 Cr. and above. The average price of a 2BHK apartment is near about 40-45 lakhs while the price for a villa or a single house is approximate 80lakhs-1Cr.
All the information that are incorporated into the above-mentioned sites is very much required by the buyers or investors because this information makes their search more simplistic and easier.With the help of these sites, you can conveniently find any home or land for sale or buy in any city in Kerala by just typing the location, price and other amenities that you are desperately looking for.
Soothing and pleasing climate along with some latest and trendiest opportunities make Kerala as one of the favourite places to live and that's why many people are nowadays choosing Kerala as their ultimate destination for a living.
When you have decided to purchase a land in Kerala, that means the purchased land will remain with you as your asset forever. So, you have to become very careful and cautious during each and every step of the Kerala land registration process. Moreover, you need to understand the rules and regulations that are set by Kerala Government department for land registration in Kerala so that you can accomplish the entire registration process in a stress-free way.
Below, we are going to mention some guidelines for you which will help you in your land registration in Kerala so that you don't need to face any unfavourable situation.
1. Identify the Property:
Image Source
This is the first and most pertinent step in your Kerala property registration process. While you are planning to buy a property in Kerala , at first, you need to identify it. If you select a dispute or wrong property and spent a humungous amount on it, then that would be the biggest mistake in your life. So, you need to carefully choose your property. You can take help from several websites where you can get a list of properties by typing the locations or areas. Once you identify your much-desired property, then you should try to negotiate its price, the mode of payment, the occupancy and other details with the seller. After all these things property registration can carried out to avoid unwanted difficulties. Also read some common real estate myths.
2. Get a Legal Title Report:
Before you finalize everything with the owner (seller), you need to hire a lawyer who specializes in Kerala land registration rules, to get a legal title report of your property that you have premeditated to purchase and he can also gave a detailed steps for the property registration. The legal title report is prepared based on all the general and relevant information that has been accumulated. Usually, 3-5 working days are needed to prepare a legal report. This legal report will be a reference for future and maked your property registration somewhat an easy process.
3. Need an Encumbrance Certificate:
An encumbrance certificate usually ensures you that the property or land that you plan to purchase is free from all claims like loans, leases, unpaid debts, etc. After the completion of property documents' verification, the Sub-Registrar's office is responsible for issuing the encumbrance certificate. An encumbrance certificate is very much a pre-requisite factor for you before you enter the next step i.e. make an agreement for the sale. You can also check out some tips before buying a second home for investment.
4. Check Mutation Details:
Once the title of a property is transferred from one person to the other person, then it is known as mutation of property. The mutation is required for property tax payment purposes and it is recorded at the municipal offices.You need to submit an application on plain paper, along with all relevant and necessary documents and a non-judicial stamp of relevant value to the Tahasildar of the locality where you want to purchase your land or property.
5. Need to Sign an Agreement:
Image Source
An agreement is basically a legal written contract between the buyer and seller in the presence of some witnesses. As per the agreement, the seller agrees to sell his property or land to you(buyer)and as a buyer, you also need to agree that you are willingly purchasing the property under certain terms and conditions. The terms and conditions that are commonly included in the agreement are the property value, possession, property extension, early or advance payment and other relevant conditions. In the agreement, it is also mentioned that if the buyer or seller violates the terms and conditions, then both of them are eligible for a legal penalty.
6. Register the Agreement:
It is recommendable that you should register the sale agreement at the respective sub-register office. You need relevant stamp duty and registration fees to accomplish the process. Kerala registration department is one of the oldest and busiest departments in the state. At present, this department is the third largest source of revenue for the Kerala state's treasury. Kerala registration department is working to resolve all the formalities regarding land registration. Get some advantages of living in an apartment.
7. Buy Stamp Paper and Pay Stamp Duty:
Next, depending on the value of the stamp, you need to purchase the stamp paper in your name from the State Treasury. As duty stamp is really an important part of land registration when thinking from the concern of Kerala registration department. The value of the stamp actually depends on your purchased property's price. You can easily get the stamp duty rate from the Registrar's office or from the website. In Kerala, the general stamp duty rate is 8% and registration charge is 2%, so total 10%. But this rate will be revised by the government on a certain interval. It is true that the stamp duty rate is fixed whether your property is in a Panchayat, Municipality or Corporation area.
8. Determine the Fair Value of the Land:
The stamp duty in Kerala depends on the actual sale value of the property. But you also need to be careful that the sale value cannot be lower than the fair value of land. Usually, the fair value is determined by the government and according to the budget, this value gets revised. The present fair value of the land in Kerala was decided in the year 2010 but it will be updated very soon in the upcoming budget.
9. Need a Sale Deed:
Now, you need a sale deed which you can easily be drafted by a professional and sagacious person in order to get an error free deed.
10. Register the Land:
Image Source
You also need to register your land in sub registrar's office. Moreover, you need to accomplish the registration process within the time frame that is mentioned in the sale agreement. Usually, 2% of the cost of the land is taken as registration fees, irrespective of the location of your land or property.
11. Receive the Documents:
After the completion of the registration, you will get the receipt for the same. You need to carefully keep this receipt with you specially in the future if you want to sell your land, then all these documents will be required. These are the land registration documents which may be required in future for any reference if needed. Also read the checklist before buying a flat in Kerala.
12. Change the Title of the Property:
You need to submit an application with copies of all the relevant documents in your municipal or corporation office for changing the title of the In this process, the revenue record of the property is changed from the seller's name to your (buyer's) name. So when buying or selling a property the land registration document is a must for avoiding any other difficulties.
13. Pay the Property Tax:
Image Source
Once your property is mutated, then you are eligible for paying property tax in your name. Hope, all the above-mentioned information will help you in your Kerala land registration process. If you follow, the above steps you will contentedly and happily accomplish the entire purchasing and registration process of your land & properties. Get some information about the home loan process in India.
Hi-Life Builders is one of the best builders in Thrissur. Apart from building wonderful homes, our portfolio includes home care, resale, and home loan assistance and you will be happy to know that we have a dedicated team for after-sales service and property management service. For further information on our project contact us now!
Live the high life………………