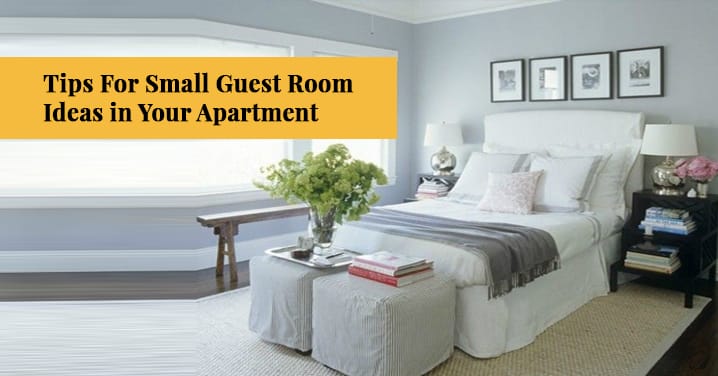 Tips For Small Guest Room Ideas in Your Apartment
Posted By

hilife_admin

On

Wed, Nov 25, 2020
You are left with a small guest room in the apartment. I understand this situation. In this post, I will mention all the important tips in regards to this small guest room.
Here are the best guest room ideas or small-guest room tips. These fourteen ideas can increase the total area plus offer fresh energy into that place.
You may feel that with each possibility, you may end up forcing an abnormally sized cot into it. And also, some more furniture if at all there is luck.
Don't be disheartened. There are a lot of small guest room design tips or ways to add enough poshness into the area. Always focus on the bright sides within your possession like the guest room color ideas we have added below.
Many people love a smaller, easy to maintain room instead of large tiresome rooms. Similarly, several construction-based professionals like to return to their smaller bedrooms after a tiring day at work.
Small guest rooms are cozy and they do not need extra cash or spending on furniture. You don't need a large chair that is totally irrelevant in a tiny space. Also checkout choosing the right furniture for home.
Alright now, you will love these fourteen small guest room ideas or tips. Use the elements like decoration, form, and layout tips, and professional guidance to improve any small guest room.
Top Guest Room Decorating Ideas
1. Never Fear the Darkness
Everyone is obsessed with white or lighter shades for smaller guest rooms. That is primitive thinking!
Go for any shade that brings out every good aspect of the room.
There are a lot of interesting shades such as dark greens, blues, and grays.
Experiment with guest room decorating ideas and see how the room echoes positivity.
Just remember to allow as much light inside the apartment room. Consider the apartment decorating ideas.
2. Time to Get Bigger
You can also add the biggest rug which will suit inside the guest room. Plus, you can experiment with the size itself by adding a bigger cot. For instance, you can add a canopy cot instead of a very small bed to use small guest room ideas.
3. Use the Easiest Layouts
Place the cot towards the center. Then, you get an area for moving around it. You don't have any miracle but you do have intelligence that can beat any miracle. Place the cot in the center of the biggest wall. This adds a path for you and gives extra areas for the bed.
4. Get the Outdoors Inside
Nowadays, people want to add more greenery into a room for guest room decoration. Just imagine you could be growing a damn vegetable inside the guest room and get fresh vegetables sometimes.
Or just add a climbing plant to bring a fresh contrast into an ordinary room with low space.
You also get indoor bonsais that can perhaps give you lemons or oranges. You could pluck an orange right from your bed. Wouldn't that be cool? Fig trees can also grow upwards taking very little space.
Remember that some plants bring in much-needed oxygen into your guest room. Oxygen is great for the entire house. Also get some ideas on ecofriendly apartment.
5. Build Fake Extra Space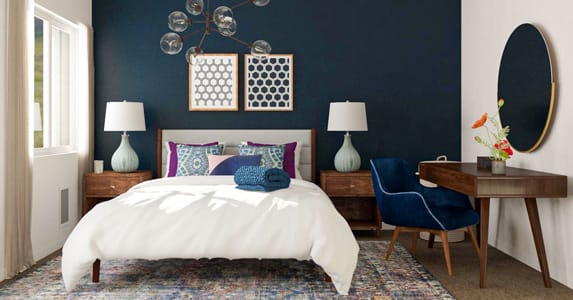 Start to build fake added space in the visitor's room. Use curtains that start from the topmost level of the room. That way the eyes go up and increase the visual appeal.
Utilize curtain cloths that are similar to the wall tones. Similar shade mimics extra space. This stuff is trendy plus in tiny spaces, it looks cool. You won't need to get disturbed through contrast tones.
6. Remove Unwanted Clutter
No matter how much design and art you use any unwanted clutter will still make it small.
Maintaining a cleaner room can add more space and light to your guest room.
Definitely, you can use small guest room ideas in line with bigger rooms. Yet, extra clutter can be an eyesore while searching for space.
7. Use Decors which Gives Three-in-one Benefits
For instance, use a table that hides a shelf and a mirror or art. This shelf can pack your glasses, wallets, and car key, too. That means you get a console table that fits rightly inside a small guest room.
Get a big nightstand that has a drawer holding your clothes.
Remember to place a small chair like a thing that can hold in each garment that is thrown away while you get ready to sleep for the night. This chair can also be a bench kind of guest room interior thing.  Consider some apartment interior decoration ideas.
8. The Bed Gets A New Role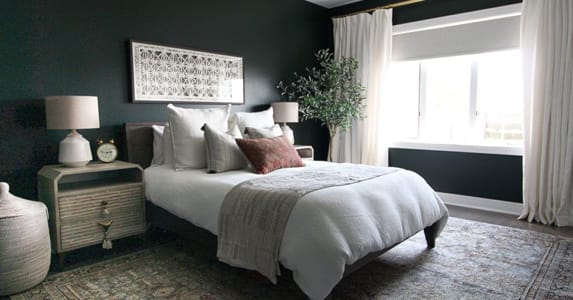 Now guest bedroom design also means that you must play with the bed.
Use the bed only during sleeping time. Other times push the pillow to the wall and create a funky work area. Add your computer or tab and you give the bed a new role.
Some adventurists also add a tiny table as guest room furniture, but only on the bed to create an easy working space.
9. Use Mounted Light and not Table Lamp or Floor Lamp
There are apartment lighting ideas here. The light that is on the wall or the roof can bring maximum light. But, here's the good thing about it, the light will never take up unwanted space.
Whereas if you had to use a lamp that is on the table or on the floor, you will lose even the tiniest extra space that you will get after all the clutter removal and cleaning.
Use pendant light work too. Or use a wall lamp that can be adjusted to turn in the right direction according to the situation and time.
10. Use Cooler Tones and Add Vibrant Splashes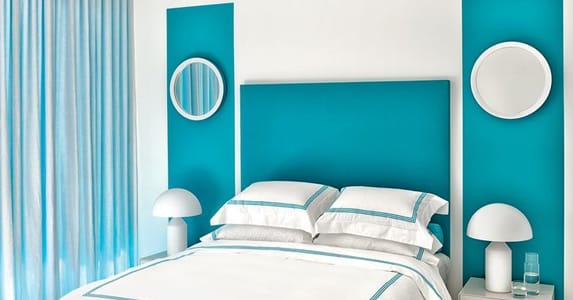 A fully white guest room can be boring. Instead, try to add cooler colors.
Plus try to add some brightness via splashes of vibrant single tones in a single wall or at any space.
It brings out the hidden energy of the small guest room. Warm tones will never help a tiny guest room in any way!
11. Keep the Bed Low
A bed that is lower touching the floor gives more air space above any day.
12. Add Mirrors
Mirrors can create fake extra space by lengthening the view inside the small guest room. Now, your apartment room gets extra poshness, too.
13. Use In-built Storages
When you use in-built storages which are already present for clothes then you save more space. Forget added shelves and tables if you already have in-built shelves. Also read about the clever storage ideas for small bedrooms.
14. Focal Point Focus
Bring the focal point of the view towards the center of the ceiling. That way the guests will forget about the low space in the room. Use a ceiling lamp or artwork right at the center. Also consider pooja room designs in Kerala.
Conclusion
Hoping you loved the fourteen rare but easy ways to improve your guest room. No more boring tiny rooms for your unexpected or expected guests. Use the intelligent tips given above and transform any room in your apartment today!
Hi-Life Builders from Thrissur are one of the most prominent home builders, who have completed and successfully delivered 18 apartment projects in Thrissur, thus becoming the best builders that provides the top apartments and flats in Thrissur. Apart from building wonderful homes, we are also providing home care, resale and home loan assistance and you will be happy to know that we have a dedicated team for after sales service and property management service. Contact us and enjoy your relationship with your dream home builder.
Recent Posts
Recent Posts
Category