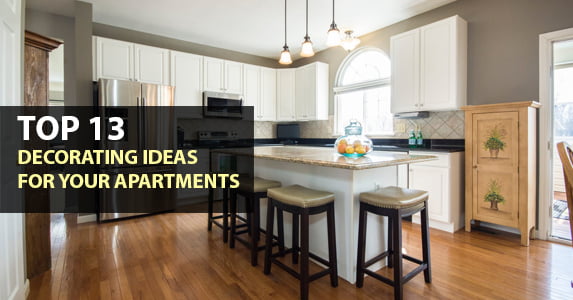 Top 13 Decorating Ideas For Your Apartments
Posted By

hilife_admin

On

Tue, Oct 9, 2018
Shifting into a new apartment essentially comes with a little adjustment session. You don't know the unit your neighbourhood, thus the foreign place isn't as comfy as you wished it to be. However, the best part is that the discomfort doesn't last forever. Before you actually feel the difference, your apartment and the people around you, make you feel like home. You can also add some interesting apartment decorating ideas to make it more appealing.
However, you certainly need to speed up the process by trying some of the apartment decorating tips mentioned below:
1. Lighting
Lighting is a strong, unnoticed and not so much appreciated aspect which can actually make your apartment feel warmer and affectionate. A good lighting ideology turns a dull space into a cosy and intimate location, so it is the first thing that you should handle while you planning to shift in- after settling down all the major necessities.
2. Decorate as Per Your Taste
Once your furnishings and other basic necessities are decked in your new studio apartments, squeeze in the stuff of your personal taste. It means decoration! Choose artwork, showpieces, knick-knacks and other details which make you happy. Right from the painting of your drawing room to your shower, lamps and even curtains should be as per your style. Be selective in what you decorate your apartment with- only select those items that sync with your overall decor scheme and match your taste. When you're planning to shop for stuff, do not just pick items because you like them. All the stuff should be cohesive with other belongings of yours or they'll be a mismatch and feel out of place. Also, read about Interior Decoration Ideas
3. Bring in Sentimental Stuff
Looking for how to decorate an apartment? According to your decor scheme, you should also bring in your personal items which mean a lot to you. A painting from your father's room, your study furnishing, blanket knitted by your mother are just examples of decorative items which you can bring. They don't only look good, but also have sentimental value attached.
4. Cleaning
Usually, most of the apartments are already cleaned before the new people move in. However, it is not always the case. Before keeping your stuff, do a complete clean. This helps you with a fresh start, plus, you'll get to know your new space more closely. Also, read Summer decorating ideas for living room
5. Make Your Own Space
You won't get time to decorate your apartment instantly, so pick one. Commence with the place which makes you feel cosy and make it completely yours. Once you settle in the apartment, the complete place will make you feel like home.
6. Treating Windows
Nothing makes a room look incomplete quicker than uncovered windows. Also, you'll be inadequate in security. Regardless of whether you run with blinds or straightforward shades and a drapery bar, make a point to add window treatments to each room in your new loft. Don't know what kind to purchase to bring the best apartment decorating ideas? Pick a neutral shade which is simple. You can simply include a second shade panel in a geometric print or intense colour. Also, check Low cost interior design for homes in Kerala
7. Narrow Table
Are you searching for how to decorate an apartment wisely? Consider narrow table, bench or cabinets. This will be your passage point of convergence and the catch-for keys, purses and mail. A narrow thing will shield the zone from feeling shut-in. Search for a piece that has extra stockpiling like drawers, racks or cupboards. If you require a place to sit and remove or put on your shoes, consider including a seat that can fill in as a section table and dressing seat. Pick one with storage capacity, or one with tall legs where you can tuck in bins for shoes and different items.
8. Mirror
Drape a mirror over your table or seat. A mirror adds vertical stature to the setting and enables you to give yourself a check when you're travelling every which way. Mirrors likewise complete an activity of extending little spaces in apartment decorating ideas.
9. Mattress  
If you are searching for apartment bedroom decorating ideas, then mattress holds a major role. Buy the most comfortable and affordable mattress for your bedroom. Spare your inventive budgeting for other rooms of the apartments.
10. Headboard
A headboard perfect for small bedrooms when looking for apartment decorating ideas. Regardless of whether you don't have space or spending plan for a bedroom, never avoid the headboard; it finishes the look of your room like nothing else.
11. Nightstands
Based on the size of the new room and first apartment decorating, you may pick a little side table or a customary nightstand. Try not to feel like you need to get a match. Make your bedroom always attractive with apartment bedroom decorating ideas as you need a peaceful mind according to your taste.
12. Throw a Party
Bring in your loved ones and friends and your new space will feel like your old home right away. There is nothing like enjoying time with older people. Even an unknown place looks known and friendly.
13. Explore Your Neighbourhood
Once you've selected the apartment, you should check out the neighbourhood. Go for a walk and see what restaurants, stores, markets, coffee shops are available. Find about your neighbourhood and it will make you happy and predict your future there. You can also check out Clever storage ideas for small bedroom
Don't worry; this new apartment of yours will really commence feeling like home in no time with the above-mentioned tips.
Are you looking for flats in Thrissur? Then contact Hi-Life Builders today to become a member of the satisfied customer's group. Besides building beautiful houses, we provide home care, home loan assistance, after-sales service and property management services. To know more about us visit our website.
Recent Posts
Recent Posts
Category