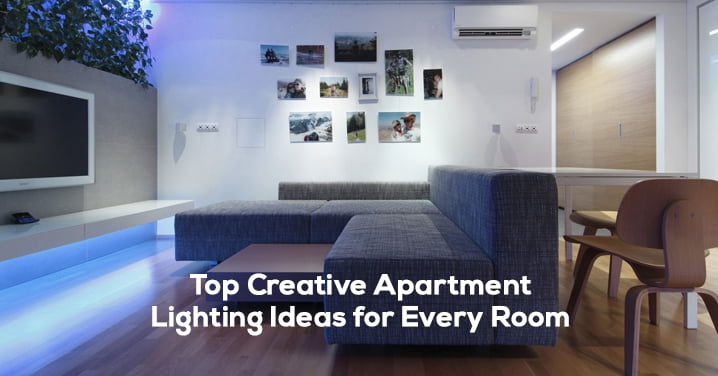 Top Creative Apartment Lighting Ideas for Every Room
Posted By

hilife_admin

On

Wed, Sep 30, 2020
When you're exploring lighting ideas for your apartment, you also need to know how much space you have to cover, in square feet, how much furniture you have, and so on.
Ensuring the right lighting for your apartment is not rocket science, but it has to be done right – you need adequate lighting and aesthetics as well.
Your apartment layout also needs to be considered – are the rooms plain rectangles, or do any of the rooms feature odd shapes?
In that case, your job can get a tad tricky.
You will need to make sure that there are no dark areas in any part of the house through some clever apartment lighting ideas.
In this article, we'll talk about how to create the right ambience for each room, as well as how different types of light fixtures can help create different effects, and so on. Also consider some of the top interior decoration ideas for your apartment.
Apartment Lighting Ideas For Your Space
1. Apartment Living Room Lighting Ideas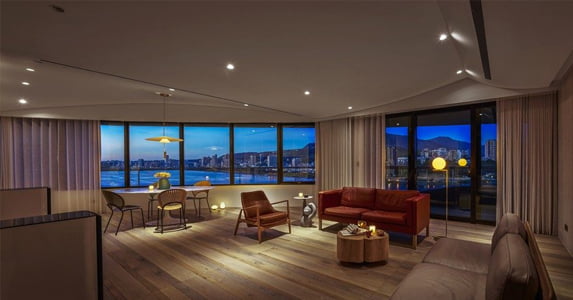 To create an artistic ambience and really showcase your apartment, you need to use a variety of lighting sources – floor lamps, table lamps, ceiling fixtures, and natural light as well.
This can help make your living room cozy and comfortable, a place to hang out, spend family time, or entertain friends.
Multiple layers of lighting layers – showy, focal, and ambient, can be created with a large floor or table lamp, or even a hanging pendant shaped lamp – and make it look warm and inviting.
Installing dimmers is an excellent idea – it helps set the mood.
You can also avoid having too many light fixtures if you have big lamps or chandeliers on dimmers, as you can always increase the brightness when required, and keep it on low in general.
Dimmers allow you to change the ambience of a room in seconds.
Ideas for Living room lighting in your apartment are only constrained by your imagination – the possibilities are literally endless.
If you feel your ceiling is low, you can create the mirage of a high ceiling with a flush-mounted chandelier – and let it be large, even oversized.
The idea is that it provides both light and artistic satisfaction.
When you choose a layered flush mount chandelier, you can add visual interest and provide multi-dimensional lighting to give your living room more character.
A bold, artistic light fixture on the ceiling invites attention, creates a dramatic effect, and creates the illusion of a larger living space.
But keep in mind that if your living room has very little natural light coming in, you need to supplement your ceiling light fixture with floor lamps, table lamps, or even picture lights. Get some low cost interior design for homes in Kerala.
The last, though conventionally used to highlight wall art pieces, can be used as a reading light; simply hang it over a chair or in the corner of the living room and turn it into a reading nook. It also glams up the room, making it look more expensive than it is.
Those of you who have a bookcase or built-in bookshelf on a wall in your living room can consider installing a small lamp inside, for a quirky effect, and adding dimension to your lighting without hogging an entire table.
Look for an arty looking lamp – that will fit in nicely with your books.
2. Kitchen Lighting Ideas
If your kitchen only has overhead lights, it's time for an overhaul.
A plugged-in light or a task light on the wall will render a chic, modern appearance and create a layered look.
It can also set the mood for cooking, and you'll be surprised to find yourself ordering fewer takeaways!
With task lights, you can showcase what is essential, in a playful yet impactful and graphic manner, adding character to your space.
In a modular kitchen, you can also install LED strips or slim LED tube lights under the cabinets so that the light falls directly on the kitchen counter when you're working.
Using a light that casts light on the ceiling gives you indirect light. There are some stunning modern kitchen design patterns in Kerala to consider.
3. Lighting Ideas For Bedroom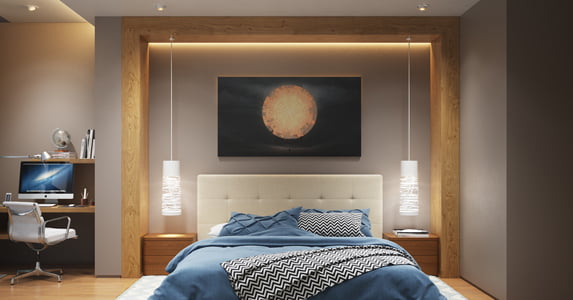 The bedroom also has ample scope for you to play around with light.
Have a few different types of wall sconces, overhead lights, and table or floor lamps that can be switched on at different times to set the ambience and mood.
You can swap out your bedside table lamps for a sconce or pendant light, so that you get more space on your nightstand or table.
When it comes to master bedroom lighting ideas, you can play around with the fixtures till you find something that you find that you like.
If your bedroom is sufficiently big, you can hang sconces on the sides of your bed, but otherwise you can hand pendants above the bed.
Globe lights look romantic and soft in addition to being functional, and are great for the bedroom – they can be in table lamps or pendants.
The diffused light they radiate warmth and coziness, and can lull you into relaxation and sleep.
Indirect lighting from globes also makes the space more inviting, eliminating the harshness of direct light. Also consider some clever storage ideas for small bedrooms on a budget.
4. Bathroom Lighting Ideas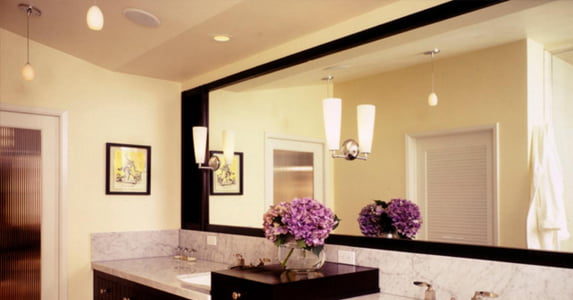 It is common to find only overhead lights in most apartment bathrooms – not the best idea when you want to get ready quickly for work, that too when natural light is low.
Install an elongated light above your mirror, or sconces on either side of it – you can even go for a low hanging pendant from the ceiling that will stay at the height of a sconce.
If you have a dressing area adjacent to the bathroom, sconces in addition to an overhead light can really flood the tiny space with light, creating balance, and making it look cozy in the bargain.
You can also throw in a small table lamp, or a slim floor lamp.
5. Apartment Balcony Lighting Ideas
Balconies in apartments are always a great addition to your living space or bedroom. You can consider some apartment balcony ideas.
It's a place where you should be able to chill with your morning tea, read something, or have mellow conversations.
Hang fairy lights over the balcony railings, and even along the wall opposite.
You can have a slim floor lamp in the corner for that soft, cozy feel.
We are not crazy about overhead lights in the balcony – lighting here should preferably be artsy and quirky.
How to Use Different Types of Lights
Look for sculptural table lamps to lend personality to a room; a huge table lamp can be your main source of light for that room, as well as create a focal light.
For small rooms, get tall, slim (torchiere) lamps that cast light on the ceiling or the floor as per your choice. Some models have a reading lamp attached to them, so they are great for balconies or living room corners. It takes minimal space on the floor but provides ample light.
Wall sconces work best when you have precious little floor space to waste. Sconces are not only functional, but they look absolutely eye-catching.
When you're exploring lighting ideas for your apartment, make sure that the lights you choose go with the overall aesthetics of your apartment décor ideas. You can choose metal, wood or glass finishes for your fixtures to match the theme of a particular room.
Choose light colored lamp shades if you want brighter light in the room, and darker lampshades if you want muted, soft light. You can also choose shades of mesh or glass to flood the room with light.
Incandescent bulbs emit soft, yellow light that sets a mellow tone and makes the room warm and inviting, and helps you to relax, and sleep better at night as well.
A lot of thought needs to go into the lighting for your flat in Thrissur, as it can drastically improve or spoil the aesthetics of a room. With the right lighting choices, you can reinvent your Thrissur apartment and transform it into an ethereal space.
Hi-Life Builders is one of the best builders in Thrissur. Apart from building wonderful homes, our portfolio includes home care, resale, and home loan assistance and you will be happy to know that we have a dedicated team for after-sales service and property management service. For further information on our project contact us now!
Recent Posts
Recent Posts
Category