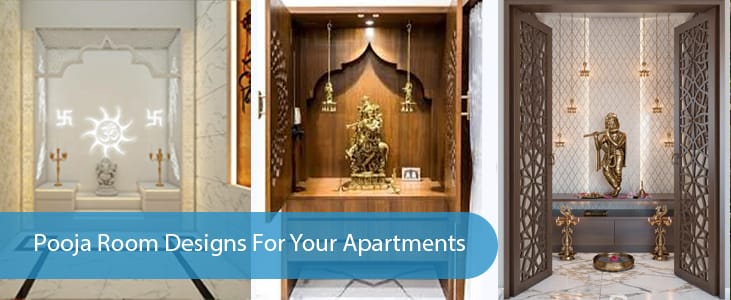 Pooja Room Designs: Top 18 Things You Need to Know About
Posted By

hilife_admin

On

Mon, Aug 30, 2021
The most spiritual and holy place in our house from where we get positivity, kindred-spirit, and inspiration is only a pooja room. Pooja room is a pure place where we worship and gain some purity, a kind of positive energy that empowers us deeply to our souls. God always takes care of our life, house, family, everything and in trouble, we only remember one name "God". So, taking care of them, house, somewhere it's our responsibility. Pooja room is considered one of the most important features to consider when building a new home in kerala especially Flats in Thrissur. So a place like Kerala where everyone is a devotee should have the best designs for a pooja room.
If you are searching for some best pooja room designs in Kerala, then this article will provide some leading ideas for pooja room designs in Kerala.
Points to Remember while making Pooja Room and Innovative Ideas for Pooja room designs in Kerala
1. Place for Pooja Room
For a pooja room, place is very important as it is a holy place, and a pooja room should be placed in a perfect place. Don't place your Pooja room near the bathroom, kitchen, and bedroom as it may affect living conditions. Placing a pooja room in the living room is a good decision and the direction should be north or east or west, northeast and while praying, the face should be on the side of east or north.
2. Wooden Pooja Room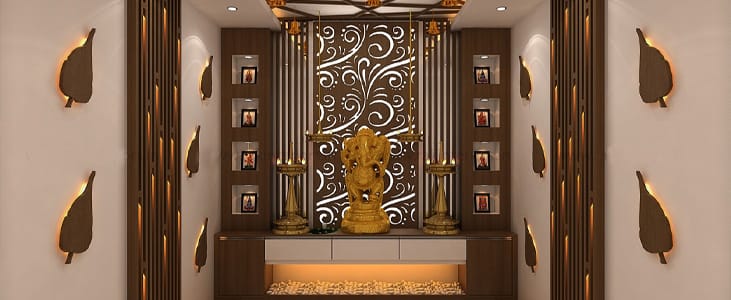 The use of wooden panels will beautify the pooja room. Woods you can use for pooja room design in Kerala is Sheesham wood (rosewood), teak wood, (sagwan or sagun) and mango wood. You can build some designs on wood which will look pretty and a traditional one.
3. Pleasant Colors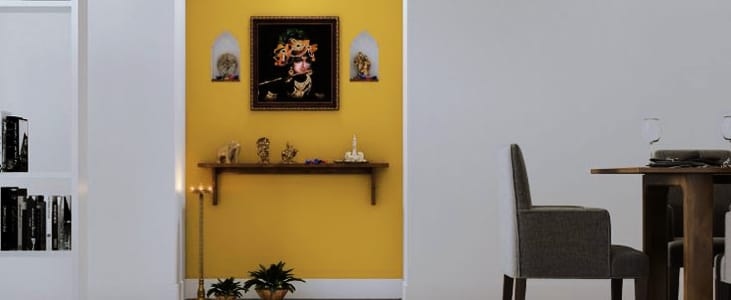 First of all, for a pooja room don't use vibrant colors as it may look bad. Using calm and serene colors like white or yellow. All fine you can use mustard yellow and red, this also beautifies the pooja room.
4. Lights will Make more Brighten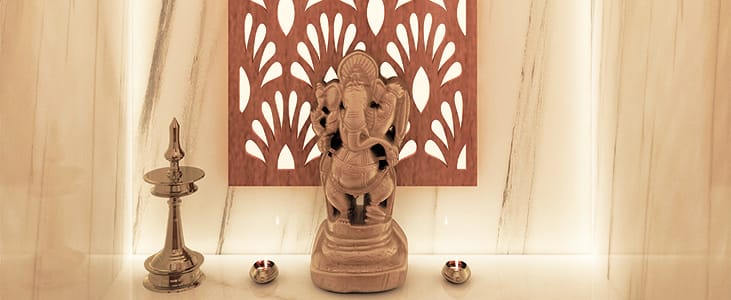 Putting lights in the pooja room is a good idea and it will enhance your pooja room design too. But don't use multiple color lights, try to use lights that match the room, especially choosing of white light is a good option. Lights will brighten your pooja room more.
Spot brass lamps, which can likewise be utilized as diyas, on one or the other side of the mandap. Also read about apartment lighting ideas.
5. Give Traditional Look
Pooja room roof should be in a pyramid dome shape, it is recommended. A wooden door with some designs on it. And a bell hanging. Always use copper vessels for pooja rooms. It is good to choose them rather than some metal. This all is needed for making a traditional pooja room designable in Kerala.
6. Take care of the Things should be kept in  Pooja room
Don't keep any unnecessary items in the pooja room, put things that are meant for the pooja room. Incense, pooja material and holy books are enough things.
7. Foldable Cabinet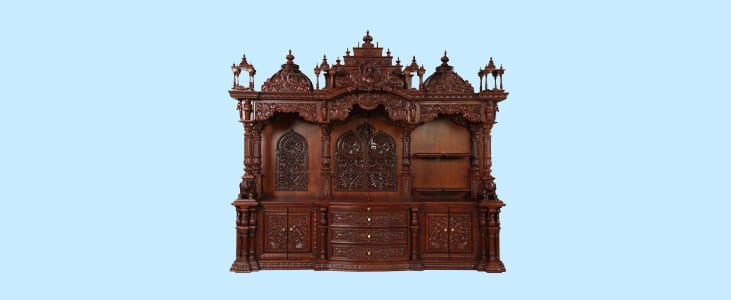 A contemporary pooja room. It is for those who are living in a small apartment you can shift it according to you anytime. You can easily adjust your foldable cabinet pooja room on the wall and be able to keep deities. Even this doesn't need any worker for designing and decorating your pooja room, you can design at your home on your own only.
8. Separate Pooja Room
If you have a big villa then having a separate pooja room is good. You can decorate your separate pooja room with more extensive decorative ideas with all the necessary elements that a pooja room should have.
9. Four Pillars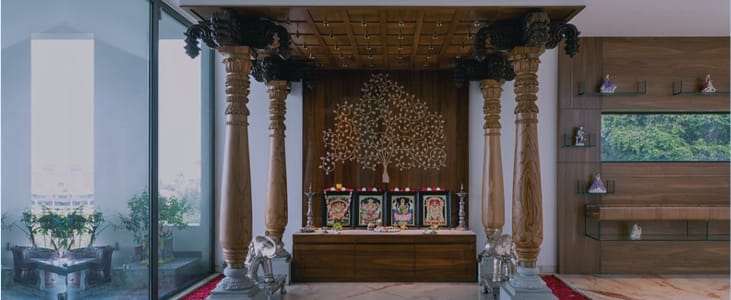 Making four pillars around the pooja room each in every corner will definitely show a traditional and designable pooja room.
10. Colors of the Wall
For a separate pooja room colors of the wall is the main thing which helps in empowers the look of a pooja room. Again, the pooja room always uses some calm and bright colours as they give a positive energetic vibes. You can paint some combination colors on the wall such as white and yellow, mustard yellow and red, and also green. Red color is very holy for a pooja room as it refers to a kumkuma and holy dhaga divinity. You can pick  and mirror- cushion covers for decorating your room.You can pick beautiful colours and mirror- planned  pad covers for enlivening your room. 
11. Shelf
Making a shelf is very helpful to you as you can keep many things in it. You'll get a better space for you, nothing will mess up. You can make a shelf up on the wall. Mount the unit at a fitting stature and keep the design minimalistic with dull wooden overlays to get the ideal look. You can save a lot of floor space with this and you can install it in any corner in minimal space.
12. Wallpapers
Sticking on wallpapers is better than an empty wall. You can stick some wallpapers of deities, Om, is good.
13. Marble Surface
The surface for a separate pooja room should be made up of marble. It will be easy to clean. Marble is a "very material" for pooja rooms.. You can also put marble down the ideals and pictures. Also take a look at contemporary floor plans.
14. Carpet
You can cover your entire pooja room with carpet. If you use red or yellow color for the carpet it will be perfect for a pooja room.
15. Door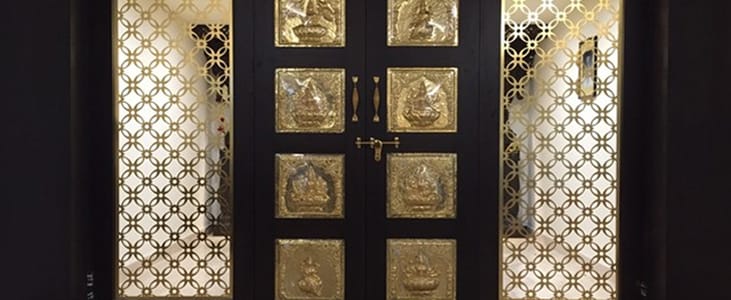 Pick an attractive door design: Ensure that the pooja door designs are recognizable from different rooms. Pooja room should have two shelter doors. Adding decorative screens or jaalis to the door will show a traditional and pleasant look.
16. Applying High Pedestals
Again for small apartments it is very appropriate for them. You can place it in a small area as well and easily to keep the deities there. Using marble is beneficial for cleaning.
17. Make a Pooja Niche
If you are living in a small room and don't have much space for making a separate room for pooja, you can make a pooja niche in little space. It will look like a separate space for pooja. Even in a little space you can easily make your comfortable pooja niche. Also consider latest interior design trends.
18. Things not to keep in Pooja Room
Broken portraits, pictures and pictures of dead people should not be kept in the pooja room as this is not good for your living condition. While facing the portrait and pictures of God remember their face should not be face south. Acquire the old-world appeal of antiquated sanctuaries, with sculpted segments, natural deck, and large-sized idols. Fresh Flowers and indoor plants are the best things to keep in a pooja room, as they add to the promise of the space
Hope you get your best idea which will help you in making a pooja room in small as well as in a big space. We never miss worshiping our idols, and if you add some of these above ideas to your pooja room, you'll feel more happy and pleasant. Pooja room is a sacred place, it should be designed and well placed. Always maintain and clean your pooja room from time to time. so, make your pooja room adjustable, designable and lovely according to the space.  Also consider low cost interior design homes Kerala.
Hi-Life Builders is one of the best builders in Thrissur. Apart from building wonderful homes, our portfolio includes home care, resale, and home loan assistance and you will be happy to know that we have a dedicated team for after-sales service and property management service. For further information on our project contact us now!
Recent Posts
Recent Posts
Category