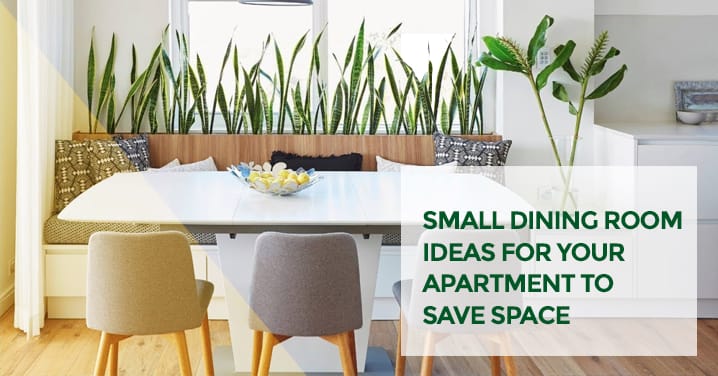 Small Dining Room Ideas for Your Apartment to Save Space
Posted By

hilife_admin

On

Wed, Mar 17, 2021
Designating an area in your small apartment as a dining room or dining area can not only be very tough to accomplish but can also seem like an extravagance.
When every square inch in your apartment needs to be used cleverly, getting this right can become quite challenging. Those who are naturally creative and plan a lot may be able to create the perfect dining space without sacrificing precious square footage.
For those of you who are not so creative, or simply don't have the time to devote to thinking about small apartment dining room ideas, do not despair!
We have a few tips and tricks that can help you get it right.
ALSO READ: BENEFITS OF INVESTING IN APARTMENTS IN THRISSUR
How To Create A Dining Area In A Small Apartment
In most apartments, there is no specifically designated area for dining – unlike the bedrooms or the kitchen. Usually one finds a large living area, and it is up to the occupants of the flat to come up with apartment small living dining room combo ideas and do the interiors accordingly.
Depending on your preferences, you can decide on the size, as well as the style of your dining area, and create a unique look.
Remember, the dining area of your apartment is the place where the family has their meals together – so you need to ensure that it is warm and inviting, and uncluttered.
1. Combine it with Your Kitchen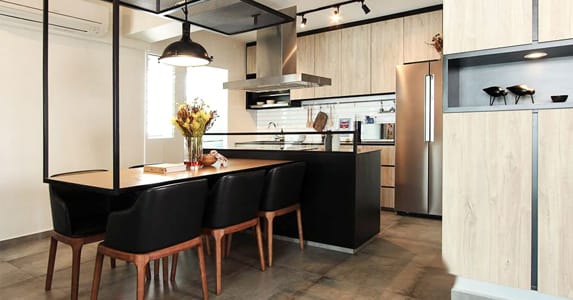 This is one of the simplest and most convenient dining room ideas for apartments.
In some apartments, the kitchen is pretty big. If this is the case in your apartment, and you have a small family, you can easily accommodate a small table and 4 chairs in the kitchen. Not only is this cozy and warm, but it is very convenient as well. Especially with the Indian style of cooking, where we make chapatis, or dosas, which are best eaten hot off the griddle – you can simply slide it into the plates. No more running from the kitchen to the dining room!
It also ensures you have the entire living area free – which is especially great when you have young children, as they can run around and play in the open space. This way, you need not have a kitchen and dining room partition – just a happy place for the family to cook, and eat. Also, consider some modern kitchen design ideas.
2. Make Use of  Your Windows
Most apartments have huge sliding windows, and they let in natural light. There are many window design ideas for apartments.
You can put the dining table near the window, and enjoy the vistas outside. If it gets too sunny in the afternoons, you can always pull the curtains; but dinner times will be made all the more special with views of the sunset or starry skies.
This way, you can have a living room with a dining table – no need to demarcate a huge area as a dining space.
3. Get Circular Tables with Pedestal Stands
Circular tables with pedestal stands look lovely and don't take up much space either. What's more, they offer a lot more leg space than the rectangular ones too. Pair the table with minimal chairs (nothing with big armrests), a colorful table cloth, and voila!
You can also choose to go with an oval table, which looks very chic.
4. Pendant Lights for Effect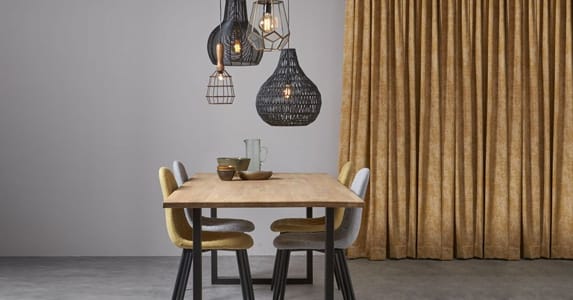 Pendant lights above your dining table not only lights up the area but helps create an illusion of spaciousness.
It also renders a unique, individual look to space, without precise demarcation of borders, and anchors the space with panache. Oversized pendants create the most impact and is one of the unusual, yet striking ideas for dining room designs for small spaces. Also, consider the apartment lighting ideas for every room.
5. Patterned Nook
Dining areas in apartments can be boring; one thing you can do to make it more interesting is bold and use patterns.
Get creative, and use bold patterned wallpaper (stripes, either vertical or horizontal, or any prints you like). Use furnishings that contrast, but not clash, and place patterned carpets for extra effect.
6. Pastel Walls
This is one of the simplest yet most creative small dining room decorating ideas we have come across; because it lets you do a lot, décor wise.
You can hang a few photographs or paintings in a collage-like pattern on the walls – brighter the better, to contrast with the pastel walls.
Layered rugs on the floor, pedestal dining tables with cane chairs, completes this rad look. Use your own imagination – a pastel wall is like a blank canvas. Do up the area with things you love. Also, read some summer decorating ideas for the living room.
7. Make Use of your Wall Space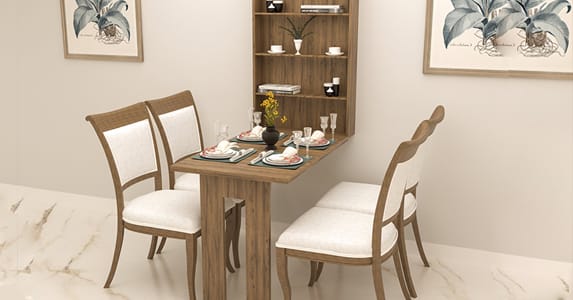 This is another great small dining room idea.
Place a cushioned bench against a wall, a rectangular table (pedestal is always better), and chairs on the other sides. This helps to save space immensely. It is also wonderful when you have young kids – they will love sitting on the bench as it is more comfortable than chairs. You can also seat more people, and if you have guests, it is especially useful.
8. Foldable Tables
This is a great space saver, and one of the best small dining room ideas on a budget. You can simply fold the table and put it on the wall when you are not having your meals. The chairs can double up as living room chairs too – saving even more space. You can also consider the tips to choose the right furniture for your home.
How To Combine Living Room And Dining Room In An Apartment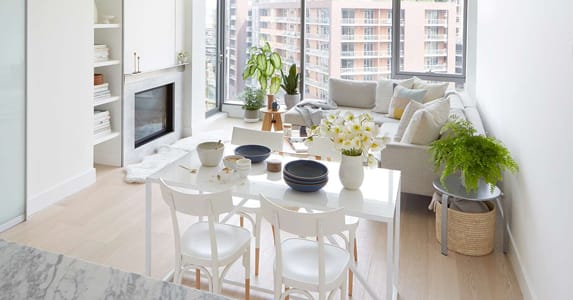 If your apartment has an unbroken living room space, you might want to think of these ideas to mark off your dining area:
Use a movable wooden partition to separate the areas
Arrange to parallel seating, especially if you have a longish rectangular room; this can double up as a living and dining room. Simply set the dining room in one end of the room, and the living room sofas and related décor in the other end. This will give you sufficient space in the middle.
Colour coordinate: when you are combining both spaces, the interior décor and colors should complement each other.
Match the upholstery as well, so that there is no clash, and it looks harmonious.
Create a common theme with wooden accessories, potted plants, similar lighting, and so on.
With these ideas, you can definitely create a warm and unique dining area, regardless of how small your apartment is. These tips can also serve as building blocks, and inspire you to come up with more ideas of your own.
Hi-Life Builders in Thrissur are one of the most prominent home builders, who have completed and successfully delivered 18 apartment projects in Thrissur, thus becoming the best builders that provides the top apartments and flats in Thrissur. Apart from building wonderful homes, we are also providing home care, resale and home loan assistance and you will be happy to know that we have a dedicated team for after sales service and property management service. Contact us and enjoy your relationship with your dream home builder.
Recent Posts
Recent Posts
Category