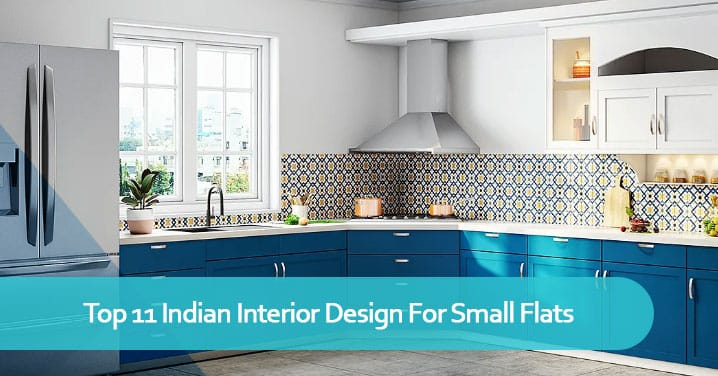 12 Small Modular Kitchen Design Ideas For Every Home
Posted By

hilife_admin

On

Thu, Mar 16, 2023
The modular kitchen design ideas of the present world have been currently a topic of hot debate. A clean, sleek, and highly functional modular kitchen is a dream for every dweller, especially for those who reside in the cosy Flats in Thrissur.
Before you revamp the kitchen to design the small modular kitchen in your apartments, it is important to be aware of the various ideas you can implement in the kitchen that makes it function great.
This blog throws light into the modular kitchen ideas you must consider while choosing its design.
Top Small Modular Kitchen designs To Consider
A small kitchen needs ideas and tips to create smart yet creative designs for an unparalleled finish. The kitchen should not only be comfortable while you work but also functional and aesthetic to suit the charm of your interiors.
If your flat incorporates a small kitchen and you wish to make the best of the available space, let's bring ideas for your small modular kitchen.
1. Excellent and clean flooring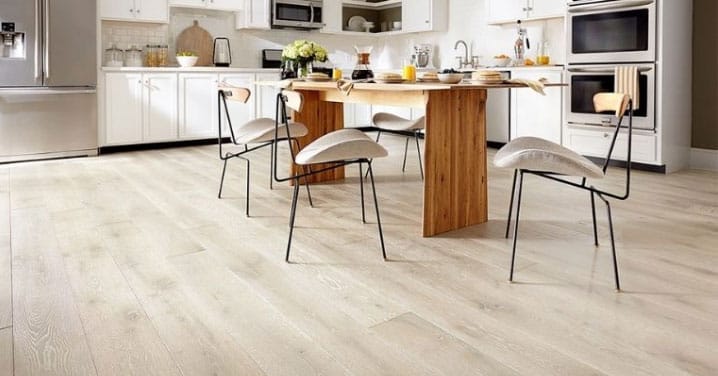 Great flooring makes the kitchen not only functional in terms of its material and tone but also its entire finish. Since the kitchen is a space where you have the maximum traffic, a slippery floor could be dangerous.
An easy-to-clean, anti-scratch, and stain-resistant flooring is all that you need. Ceramic, laminate, and vinyl are the best options to implement advanced kitchen flooring. 
Amongst them, the most affordable one is ceramics with a wide variety of colours available. The appearance of a modular kitchen depends on the type of floor.
You can also prefer a modular kitchen platform granite design to match granite kitchen flooring.
A smooth, clean, and amazingly finished flooring gives the kitchen a great foundation to let you live life with satisfaction. Also, read more about Apartment Kitchen Storage Ideas.
2. Modular Kitchen Decor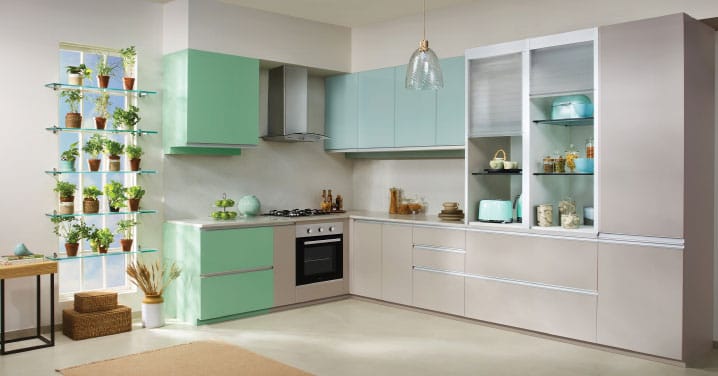 Ever imagined decorating your kitchen with fancy items like lamps, lighting, cutlery holders, stands, and other accessories?
Apart from the storage methods, accessories, and regular kitchen essentials, some spunky decor can add to its elegance. Unlike in the olden days, the kitchen is no anymore a place where you come to cook meals.
This has turned out to be a place where people in the family chit chat, friends cook together, crack jokes or parents and children spend quality time.
Add decor pieces and transform your kitchen to look something similar to the rest of your interiors.
3. Multi-purpose pull-out drawers
Drawers are the best solutions to all your storage-related concerns. The modular kitchen cabinets should incorporate multiple drawers which have built-in storage mechanisms.
This helps to keep the cutlery, vessels, and pots safe with a neat arrangement. You can allocate a unique proposition to every drawer based on the use.
For instance one drawer for spoons, forks, and knives and the other for big vessels and containers.
The multipurpose drawers can help you keep the items in place, while not having to get confused while trying to find the items.
4. Kitchen Island to have time for fun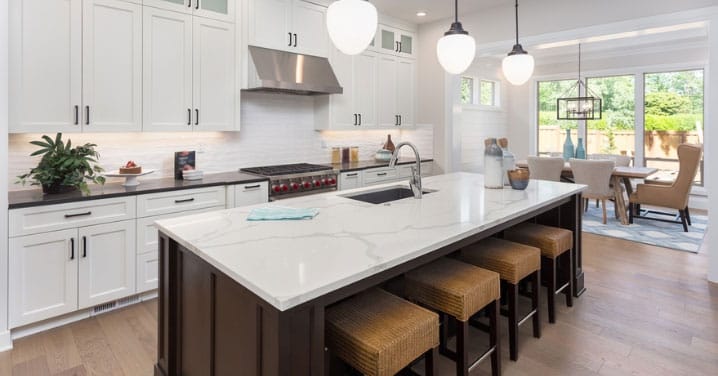 Wouldn't it be exciting to gather with the close ones for lunch or dinner?
If you feel cosy with the homely atmosphere, then a kitchen island is the best choice you can go for.
It is not only a major point of attraction but also a functional asset you can have in the modular kitchen.
Certain kitchen islands incorporate inbuilt stoves to enable quick preparation of meals.
The best option would be to have a Sunday lunch with a kitchen Island set up for the ideal time to spend with family. Also, read more about Stunning Pattern of Modern Kitchen Design.
5. Incorporate Textures and patterns
The patterns and textures add to the interest, flavor, and depth of your entire kitchen. There is a wide variety of elements you can add to the kitchen keeping it casual or trendy as you wish. 
You can choose either stone, wood, metal, glass, or mixed combinations that add essence to your modular kitchen.
A visually appealing brick wall, stools, and hardwood floors work beautifully. The tiles with styled patterns create a retro appeal and present multi-dimensional aesthetics for your kitchen.
6. The elegance of the Kitchen Color
Including vibrant colours in the modular kitchen increases the aesthetics of the kitchen with the best appearance and awe-inspiring look.
Try out your favourite tones that can bring more life to the kitchen interiors— choose dark, bold colours or soft colour hues to give the preferred look for your kitchen.
For example, colour the cabinets with a white colour tone and coat the background with a candy apple red.
You can also use grey and blue combinations, in case you are in love with the lushing shores of a seaside view.
This provides a cool contrast of shades with various colour splashes—go for warm and cool colour combinations for a more plunging look.
7. Declutter your kitchen with kitchen lifts
Struggling with space concerns for keeping your cups and plates? Are your drawers/cabinets full?
How about having kitchen lifts to declutter the space? It is not about the escalators we are talking about, but the compartments above the countertops you can fold up.
This is an ideal place to store all your crockery. With this modular kitchen idea, you can beat the space issues with minimum effort to open/shut them.
Certain lift systems also have buttons to open and shut automatically— this is a sleek method and advanced to suit every kitchen style. Also, read more about Partition Designs Between Living Dining.
8. Smart units for storage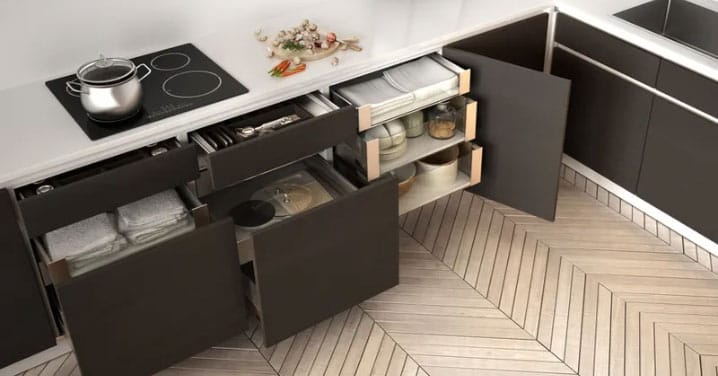 Have a new crockery set and wonder how to store all these items safely in the kitchen?
Storage units are an excellent pick that comes to play when you need to store a wide variety of utensils, food products and other items in an organized way.
The tall units offer the best space to store things with a clean and clutter-free kitchen area that ensures an effortless cooking experience.
9. Choose kitchen tiles to carry fashion in decor
If you wish to give a unique touch to your personality with fashionable add-ons, kitchen tiles can make a great accessory.
With plenty of tile concepts you can go for a trendy look, the market has left them to your choice.
The most coveted designs among these include the zig-zag patterned tiles which carry the beauty of the home in its true sense.
Another breakthrough in tile design is the floral prints you can use for your modular kitchen.
Tiles not only make your kitchen appealing but also talks about the entire kitchen design with its splash of patterns.
10. Stack up Kitchen Shelves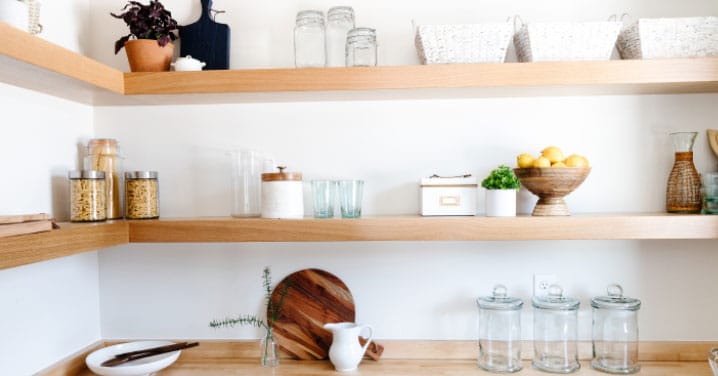 Indian Kitchens are usually popular for the cooking ingredients and condiments that we use in everyday life for preparing delicious dishes.
In this scenario, you need a perfect place to store the essentials. Kitchen shelves are the best ways to enhance your Indian household.
You can build the shelves on the top of the counter, in the corners, or stack them up along with your daily dishes.
If the area for kitchen shelves is small, you can use L shape modular kitchen design to get rid of all your cooking woes.
11. Utilize multifunctional furniture
Multifunctional furniture is an essential part of a modular kitchen since it provides adaptability and versatility to the kitchen spaces.
Since this is a space-saving idea, it helps you resolve all the necessities in one go. You can store cutlery, spoons, condiments, and other items in a single and easily accessible drawer. 
Multifunctional furniture improves the efficiency and comfort of the small modular kitchen design allowing great use of the available space. Also, read more about Dining Room Ideas for Apartment.
12. Get pot racks to save space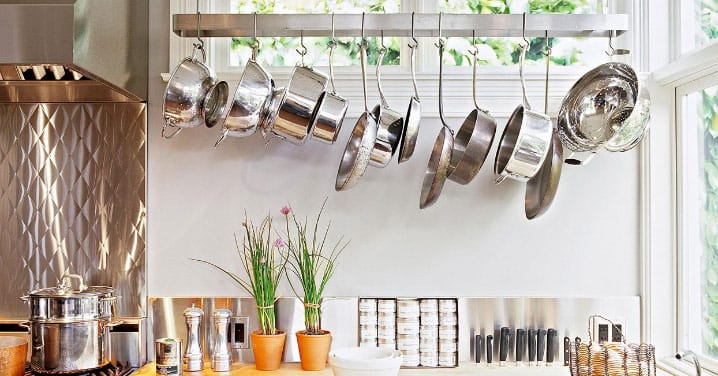 More and more homeowners look to install attractive yet space-saving pot racks within their kitchens.
They offer beautiful and functional spaces since they are much more accessible to the users.
Heavy pans, vessels, etc. take up too much space if tried to store in cupboards.
In the case of small kitchens, the use of pot racks can help you to store the items easily while installing them on the top of the counter, stove, or windows. 
Some additional tips to keep your modular kitchen stand out
Open shelves help you keep all the frequently used essentials within easy access.
Small cabinets can reach anywhere, go towards the ceiling, be placed in the walls, or even over the windows.
White cabinets would look the best with many combinations of wall colours.
Copper shelves are the most simple to open and those which mimic the old times – the colour of Copper is an elegant addition to the modern kitchen. 
Mirrors augment light reflection and magnify the rooms to let them glow and appear large enough.
Silver sheen can be a wise choice to reflect the environment, and make the room seem larger in terms of dimensions.
Glass doors would look amazing for the small modular kitchens since they offer the illusion of a cooking area that stretches to the dining hall.
Replace the conventional gas top that takes too much space with an electric cooktop to double the space and increase the area.
In a Nutshell
The modular kitchen and its layout is not always about materials and colours. Many aspects like the cabinets, flooring, decor, colour scheme, and style contribute to the design. 
Apart from budget, these factors need to be taken care of while considering the best functionality of your apartment kitchens.
We hope the above design ideas might help you to outline how your modular kitchen setup should be to remain comfortable and happy with its vibe.
Hi-Life Builders is one of the best builders in Thrissur. Apart from building wonderful homes, our portfolio includes home care, resale, and home loan assistance and you will be happy to know that we have a dedicated team for after-sales service and property management service. For further information on our project contact us now!
Recent Posts
Recent Posts
Category