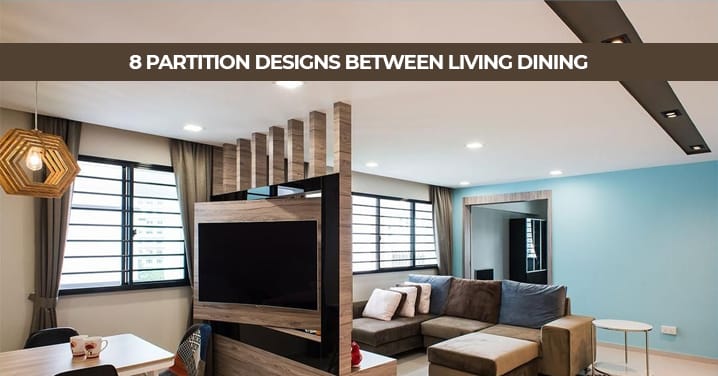 8 Partition Designs Between Living Dining
Posted By

hilife_admin

On

Mon, Nov 7, 2022
Open living rooms are a trend in the contemporary interior design style. However, a partition adds to the privacy of your interiors. The partition appearance in the living area can give you space to experience privacy.
Without any need for conventional dividers, the partitions between the living and dining can separate your living area from the parts of the home such as the dining area, kitchen, home office, etc.
Flats in Thrissur have accommodated innovation in the partitions to emphasize maximizing the home dining area space. When you strategically position the partition designs between living and dining, it can add to the visual treat of your home.
Interior design experts and decor experts use various color schemes and mirrors to trick minds to magnify the room spaces. Ready to get inspired by the 8 best partition designs between your living and dining spaces? Read on to explore the latest partition ideas we have for you!
How Can you Decide on Partition Designs Between Living and Dining?
Home is definitely a private space where you can relax and enjoy being yourself. There are numerous ways to divide your room, however, choosing the best from them would be hard.
What should be the width of the partitions? Which materials can make great partitions? You might face many questions before you can give hall dining partition ideas a try.
Generally, an ideal partition wall consumes a maximum of up to 1/3rd of your overall room space. You must take care of having ample space to walk between the dining hall and your living room.
When you think about the materials, it depends completely on the opacity you wish, the cost concerns, and the capability to maintain the partitions.
A transparent or frosted glass offers a cool and modern look to the partitions, making them easy to manage. However, the wooden partitions give more warmth to these spaces. If you wish to give a more comfy and luxurious appearance, you may use metal items for partitions.
Also, read more small dining room ideas for your apartment
8 Elegant Partition Designs You Can Go For
Partitions Using Shelves and Cabinets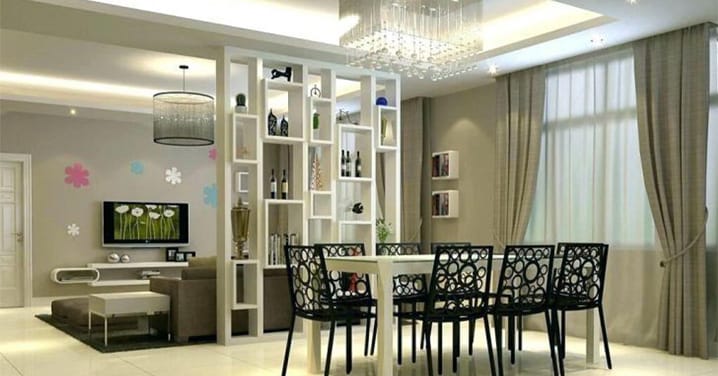 If you have fewer available spaces in your homes, you may use the dividers for both storage and display units. This is best done using shelves or cabinets.
With a crockery cabinet, you can use an ideal kitchen partition that separates the living room and dining room effectively. When you use shelves as a part of modern partitions, you use the space in the best way.
This offers a great source of light and gives a good visual connection between the living area and dining halls.
Glass Partitions in the Dining Area
Ever thought of glass partition designs between your hall and the dining area? You may use either a folding or sliding glass divider to divide these spaces.
Colorful glass partitions that include patterns and intricate designs will elevate this space. You can also go for chemically treated designs or etched glass designs to make the partitions look more interesting.
The glass partitions give your dining area and living room amazing visual access. It also welcomes more natural light to these spaces.
Glass partitions have been favorite among many homeowners these days since they bring a touch of glamour to your interiors.
Slatted Wooden Design Partitions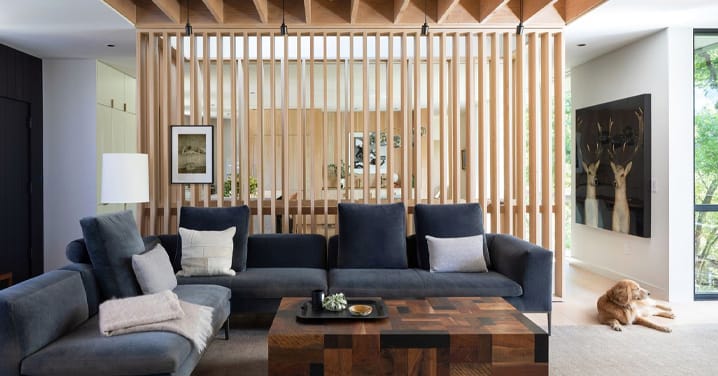 The wooden slats laid in parallel can make your partitions extraordinary. The wooden partition designs between living dining complement all other interior decor styles.
Though this partition trend is simple, they can be more outstanding if you carefully play with the thickness of the wooden panels used. Take care of the width and spacing with which the panels are arranged.
Since wood is the most classy and long-lasting component you can use for dividers, they are high in demand. A wooden room divider is always a favorite among people that suit almost every decor pattern.
They form a simple yet elegant partition pattern to distinguish the living rooms from the dining hall. As Indian households consider incorporating major wood in their furniture, having a wooden partition is a widely adopted idea among Indian households.
Airy Partition Designs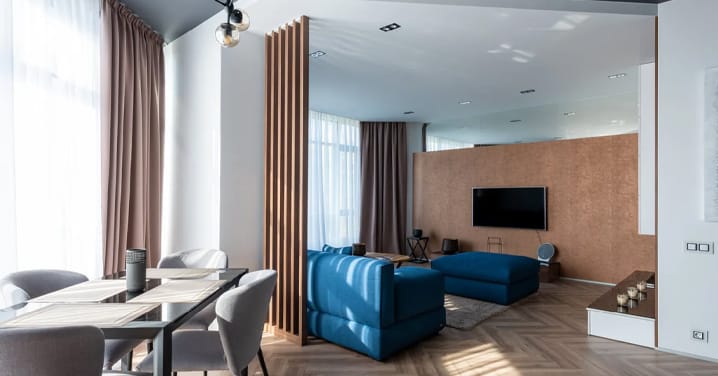 The partitions don't necessarily mean that they should inhibit the view of the spaces.
The functional partition designs between living dining should be in such a way that it defines the two different spaces. When you have a huge dining hall with a big window on the other side to let light in, these partitions can help.
These partitions can broadly divide the space and let natural light flow without facing any obstructions.
Personalized Laminate Partition Style
The laminate partition is a unique partition design that can scale the appearance of your living and dining areas.
This customized partition is unique and one of the finest designs trending at the moment. A great idea would be to use these partitions as the display unit and customize it with the initials of the house owner.
The living room partition wall with laminate style also adds a touch of excitement to the interiors since it serves as a multifunctional partition design.
Jali-Style Partition Design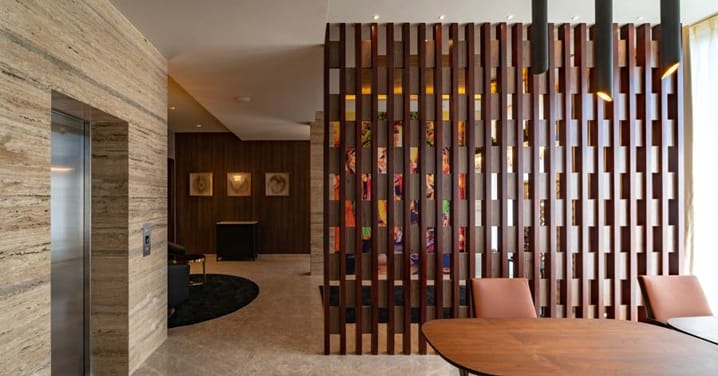 If you are in search of an Indian architecture-based partition to be accommodated between the dining and living rooms, jalis are a must-try option in the list.
The design elements and patterns of jalis fit ideally with Indian homes. With an elegant combination of wooden doors, you can make the jali hall partitions more stunning.
The ornamental patterns of jalis with wooden frame, geometric and other beautiful patterns make it stand out. The contemporary jali designs use a latticed screen that can break the open floor spaces, to make it look awesome with a decorative accent.
Stone Finish Partition Trend
The carefully engineered stone patterns are easily accessible to create stone partitions. You can get polished finish stones to make it more bright. Since they have high impact resistance, you can use them even in extremely moist environments.
As they make waterproof material, you can ideally use them in the kitchen and dining partitions. This unique partition design can help to convert your open living spaces into more separate spaces to offer privacy.
You can also try marble dividers which allow the natural light to pass through and ensure the privacy of dwellers at the same time.
Also, read more about modern kitchen design
Planter and Hanging Light Designs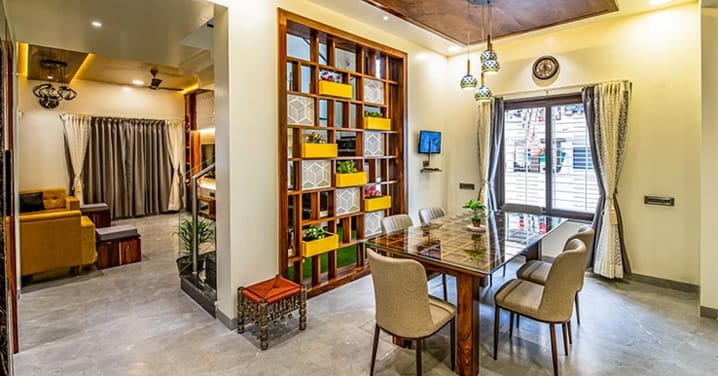 It need not always be a divider that extends from the ceiling to down the floor. Hanging plants in a serial pattern can add to the beauty of the modern partition design. Add some lights in bright colors in series to make it more beautiful. It is more elegant than using a physical division to create distinct spaces.
You can use wooden partition designs between living dining and design it with plants. You may also use shelves and keep potted plants on them. Try vines and hanging plants to make it look classy.
Go for wood, glass, or flora in the partition decor. In contrast to the natural plants, you can also use artificial plants, if it is difficult to take care of the natural ones regularly. The design with minimal decorative pieces can keep spaces neatly divided and perfectly conceal the dining area.
Also, read more about living room window design ideas
5 Tips to Partition Dining and Living Units
Let it be designing your spaces from scratch or thinking about a complete renovation, the following steps can keep up the appearance of living and dining rooms and separate the spaces as you wish:
Make use of the partitions that take the role of a focal point in your design.
Keep a neat floor plan with mats that divide your living and dining areas.
Lay a wooden paneling right behind your dining area, this can go from the walls to the top portion and build separation.
Create an accent wall as a minimal decor style, which separates the living unit from the dining space.
Use various lighting in the rooms and minimal spaces. Try placing a beautiful chandelier to maintain the classic appearance of the dining space.
Final Note
Apart from using exact partitions to divide the spaces, you can try other options to maximize the open spaces. Using mirrors can make the partition spaces between living dining interesting and create an illusion of space. When you use big mirrors, they can reflect the available space to magnify the size.
Even tiny mirrors can help to reflect light and transform compact modern homes into brighter spaces. You should try sleek wooden furniture and keep them a bit away from the walls to highlight the spaces.
A limited decor style with thoughtful placement of decor items can help. Also, a single big decor piece can keep you away from cluttering the space unnecessarily. Finally, if you have limited space, you can choose multi-functional furniture.
Search for tables that chairs can fit in, and sofas or beddings with storage underneath. In your compact homes, these tips can let you save space and use multifunctional accessories to keep them clean enough.
Hope the above aesthetic partition ideas have helped you to get an idea about how to distinguish spaces with creativity. If you think we have missed out on any useful partition designs, add them in the comments.
Hi-Life Builders in Thrissur are one of the most prominent home builders, who have completed and successfully delivered 18 apartment projects in Thrissur, thus becoming the best builders that provides the top apartments and flats in Thrissur. Apart from building wonderful homes, we are also providing home care, resale, and home loan assistance and you will be happy to know that we have a dedicated team for after-sales service and property management service. Contact us and enjoy your relationship with your dream home builder.
Recent Posts
Recent Posts
Category