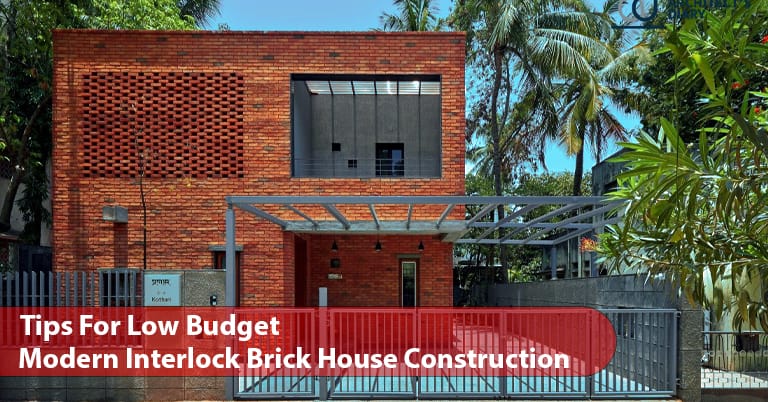 Tips For Low Budget Modern Interlock Brick House Construction
Posted By

hilife_admin

On

Wed, Jun 8, 2022
Nowadays, the construction cost is increasing day by day and Engineers are constantly researching on the durable and low-cost construction method. Clients hire builders who can build their house at the lowest cost and at the same time provide quality work. Construction using interlock brick is the latest low budget construction. Low budget modern interlock brick houses are picking up stream since their cost is 30% to 40% less compared to conventional construction. Flats in Thrissur are not implementing low budget modern interlock brick house construction techniques as it is not good for more than two storeyed buildings. Interlocking bricks – as the names indicate, these bricks lock together to form a sturdier wall. No cement is required for bonding. Instead, a projection is affixed to one side of a brick and is designed to fit into a depression on the brick next to it. A depression on the other side of the brick is designed to fit the projection of the brick in the contrary direction.One of the most attractive features of modern interlock brick house construction is that interlock bricks have a shiny outer surface and the putty can be directly applied outside and then the paint can be applied. These bricks are as sturdy as conventional mud blocks or laterite stones, and they can withstand massive loads. Interlock brick size is greater than baked bricks and hence it is 2.5 times more expensive.
Making of interlock bricks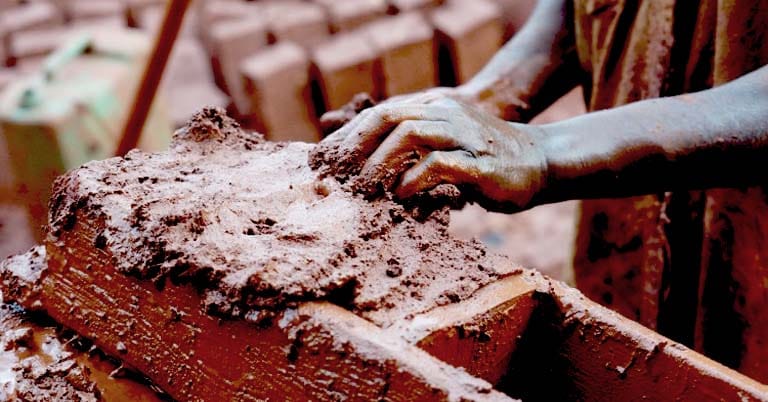 Soil, sand, and cement are blended together to make interlocking bricks. After that, the mixture is compressed in a machine to create interlocking bricks. The bricks are then cured for seven days. When compared to traditional brick building, this could save cost.
Advantages of Interlock brick house
1. Earthquake resistance
Earthquakes impose a series of stresses on the building. Conventional bricks couldn't withstand the stress because they couldn't evenly distribute the seismic force over the construction. Interlocking bricks have strong earthquake resistance, which is one of its major advantages. Only mortar is capable of transferring seismic stresses, and if it fails, the entire structure would collapse. Interlocking bricks, on the other hand, are equipped to transport seismic pressures evenly over the whole building due to their self-locking pattern. Also, read low cost interior design homes kerala.
2. Low maintenance cost
Another excellent feature of interlocking bricks is that they might reduce the need for plastering. As a result, compared to traditional wall building, it saves time and money. Plastering works may be fully laminated by creating smooth finished bricks. A thin layer of paint can be applied to the wall to give it a smooth surface. Building walls with these self-designed bricks results in a clean finish that cuts maintenance costs dramatically. Also, read more about
3. Easy constructions and Dismantle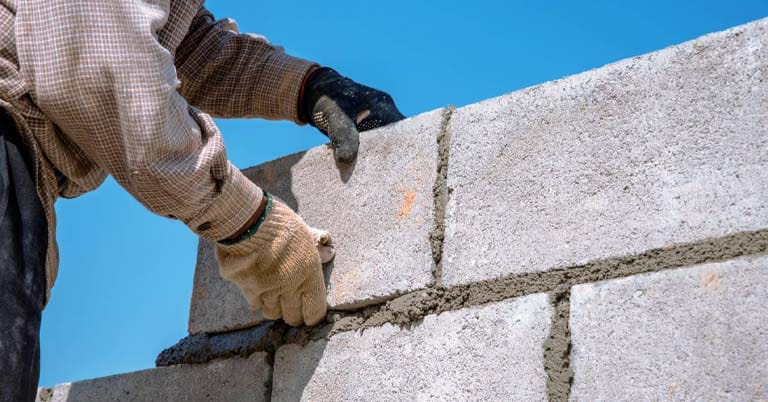 If you want to construct a house quickly, a low budget modern interlock brick house is the best option. It is quicker since it needs no plastering and its curing needs less time compared to conventional methods.
Same way, if you want to dismantle a structure made up of interlock bricks, you can easily separate the interlock bricks as it won't get damaged.
4. Cooler interiors
Interiors with high compacted brick walls are often warm. It's because the high density of the high-compacted bricks causes them to resist airflow, resulting in heated interiors. Interlocking bricks, on the other hand, have a lower density than traditional bricks, allowing for better airflow. As a result, modern interlock brick houses are substantially cooler. As a result, air conditioners are not required, reducing energy usage and saving money. Also, read interior decoration ideas.
5. Less labour cost
Expert labourers are needed while constructing with traditional bricks since checking the water level, spirit level, and other skilled work is necessary. That is why it is challenging for unskilled labourers to build conventional walls. Unskilled labourers, on the other hand, may quickly learn how to build with interlocking bricks. Furthermore, building using these bricks requires fewer labourers. As a result, it reduces labour costs, which is a huge benefit for entrepreneurs.
6. Less time and construction cost
Since there is no conventional construction process involved, it can significantly reduce the cost of buying cement, sand, stone dust, and mortar. Moreover, it also reduces the cost of labour and transportation. On top of that, the construction process is time-efficient. Usually, conventional bricks need 21 days of cure, whereas interlocking bricks need only seven days of cure. As it does not require plastering work, it saves money and time.
Disadvantages of interlock brick house
1. Wear and Tear
Since plastering is not used, it results in more visible wear and tear. Since there is no plasterwork, the lines between the bricks might serve as a breeding ground for insects.
2. Cannot withstand extreme weather
Extreme weather conditions like heavy rain may affect the building as it is more likely to leakage
3. Not good for high rise buildings
Not good for construction of more than two storeyed buildings as it cannot withstand the heavy load. Also, read more on types of apartments.
Types of Interlock Bricks
Interlock mud brick
Sand, cement and a special type of adhesive are used for the preparation of interlock bricks or compressed soil earth blocks. The sand is first ground into a powder in a crusher, then combined with 3% cement in a mixing machine. These blocks have an earthy tone that looks fabulous after a coat of terracotta-colored paint is applied. Low budget modern interlock brick house construction looks fabulous when a water-proof paint is applied. Interlock brick can be used for the outer walls of modern interlock brick houses. The outside walls can be strengthened by applying a thin concrete covering.
Concrete interlock bricks
The light grey concrete interlock bricks have a dazzling outside surface. Putty might be applied directly to the joints on the outside walls and then painted over. The inside walls do not need to be plastered; instead, putty might be used and later painted. Another benefit is that it is suitable for concealed wiring and plumbing. As the bricks are heavier, drilling nails is better.
Fly ash Interlock bricks
Fly ash interlock bricks are made from reusing fly ash industrial waste. Fly ash industrial blocks are also known as eco-friendly building materials and are commonly used for eco-friendly house construction. The making cost is comparatively cheaper as it is the industrial waste used for making. As these are made with special design and shiny outer surface, these don't need any plastering. For protecting it from outside weather and insects a coating of putty can be used and paint can be applied to it. These bricks are easily removable and can be used to build new houses. It can be easily transported to a new location.
Techniques for modern interlock bricks house construction
The base should be laid and a more solid foundation is necessary on the heavier interlock bricks.
After the basement has been completed, it is covered with a layer of typical baked bricks. The width of this layer will be equal to the thickness of the interlocking brick wall.
Above this layer, the interlocking bricks are placed.
When laying the concrete for the roof, make sure the roof's sides are slightly higher than the wall. It is necessary to withstand rain.
The corners of the wall are entirely coated with cement once the building is finished.
Once the construction is complete the corners are plastered with cement. As a result, installing interlocking requires sufficient pressure from all four boundaries.
Conclusion
If you want to build your house within a low budget , it is better you opt for modern interlock brick house construction. If you want consultation or help regarding low budget single floor house design, we have an expert team of architects and interior designers who could help you create mesmerising house designs.Interlocking brick building is gaining popularity since it decreases the cost of construction materials, construction costs, and construction time. If you are a nature lover and you opt for an eco-friendly house construction, then an interlock brick house is the best option.
Hopefully, the information above has helped you understand the benefits and drawbacks of low budget modern interlock bricks houses. If you have any questions, please leave them in the comments section below or contact us.
Hi-Life Builders is one of the best builders in Thrissur. Apart from building wonderful homes, our portfolio includes home care, resale, and home loan assistance and you will be happy to know that we have a dedicated team for after-sales service and property management service. For further information on our project contact us now!
Recent Posts
Recent Posts
Category