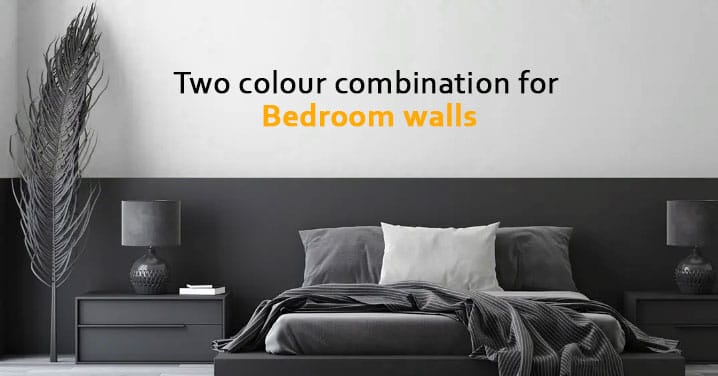 Two Colour Combination for Bedroom Walls
Posted By

hilife_admin

On

Wed, Feb 15, 2023
The interiors of your homes reveal much about your preferences, interests, and personality. A bedroom is the best place where you can spend me-time and remain relaxed. Flats in Thrissur have seen more people inclined towards the finest bedroom wall combination design ideas for a welcoming and refreshing appeal. How about keeping your rooms more charming and relaxing with the excellent two colour combination for bedroom walls? Let's check the latest trends and colour combinations which you can use to keep your bedrooms extremely elegant.
Colour Category that makes amazing colour combinations
Before delving into the most popular two colour combination for bedroom walls, let's get to know further about the colour schemes that make the perfect choices. The colours are categorized generally into two types such as warm and cool shades. Choosing a colour palette for your interiors relies on the purpose and intent of the bedroom is it an entertainment-rich room or a place just to relax? To pick the simplest but stunning two colour combinations, let's first understand the two colour categories:
Cool colour category: 
Since blue is a primary cool tone, all blue undertone shades constitute a cool colour. They could range from grey, purple, or green colours. Since they resemble cool water, they give a serene, cool, and soothing impact on your complete psyche and mind. The ideal choice for a cool colour would be normally blue or some other lighter shades.
Warm Colour category:
In contrast to the cool tones, warm colours cater to stimulated feelings like passion, joy, love, etc. Warmer shades can make your rooms more comfortable these could be red, yellow, orange, etc. Warmer colours go well with the flooring/upholstery of the house to give the living space a soft finish. The ideal cool colours include bright orange and other colours with yellow tones. Also, read more about Small Bedroom Decorating Ideas
Top two colour combinations for bedroom walls
We've now got to know about the various colour categories; now let's deep dive into the best two colour combinations you can utilize for your bedroom walls.
Terracotta & Ivory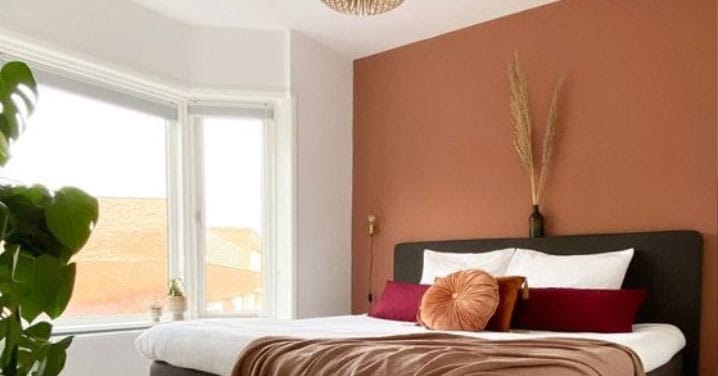 If you love earthy tones, then terracotta would fit you the best. When combining terracotta with ivory, keeps the shade balanced. The colour combo suits rustic bedrooms the best with shades to complement the wooden furniture and the single-toned upholstery. There is no doubt that you can give an elegant touch to your interior with this wonderful combination.
Light Brown & Pastel Green 
Wish to sleep in a cosy, earthy, yet natural space? The combination of light brown and pastel green is a must-try if you wish to give an organic finish to your interiors. If you are an avid nature lover and need a peaceful vibe for your private rooms, then this combo suits you well. This ideal colour combination offers your home a spacious look while giving freshness to the eyes with a natural and aesthetic touch.
Lavender & Off-white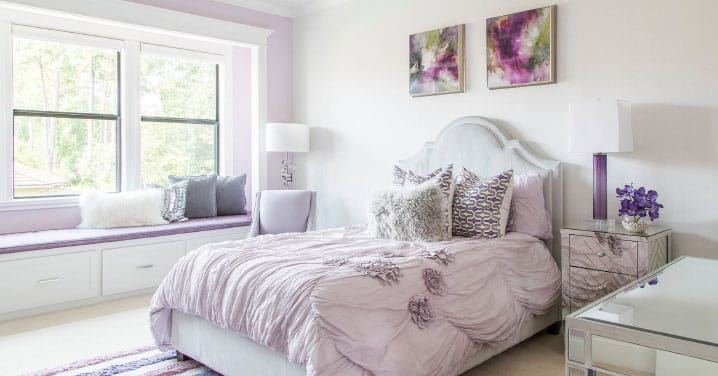 A derivation of the cool colours, lavender is eye-catching and has a tone to please your visitors. Lavender invites a blend of emotions and keeps the eyes relaxed. While the off-white tone is soothing and serene which blends well with the lavender shade. Both these colours together can work well, when you have soft and light-coloured upholstery and accessories to back their charm.
Charcoal & Mint shade
This combination has a golden feather on its cap– guess what? Dulux won the best two colour combination award in 2020, for this amazing combo. Mint green is refreshing and gives an evergreen appeal to your home interiors. Warm charcoal makes the green magnify and show its utmost elegance. This combination is a good-to-go option for a relaxed, calm, and easy-to-live bedroom space.
Coral & white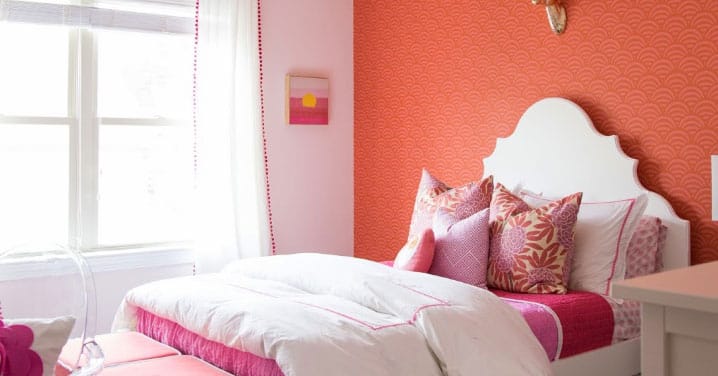 This combination is a stunning colour pop blend, where warm white creates a soothing vibe and complements the mesmerizing coral shade. If you have a residential property with waterfront, seaside, or flats with private pools, you can be confident enough to try this design. The combination resembles beach sides and makes it the best when you live near water.
Grey & Citrus Yellow 
Grey and lime yellow make an exciting combination for your bedrooms. This is a rare yet stylish wall colour combination, making it an ideal colour palette that exhibits your adventurous and creative side. While grey makes the wall sophisticated, the citrus yellow gives it a brighter version with a vivid tone of sunshine. This blend gives an artistic look to your rooms and gives enough light that keeps them warm. Also, read more about Bedroom Ceiling Design Ideas
Dark Blue & White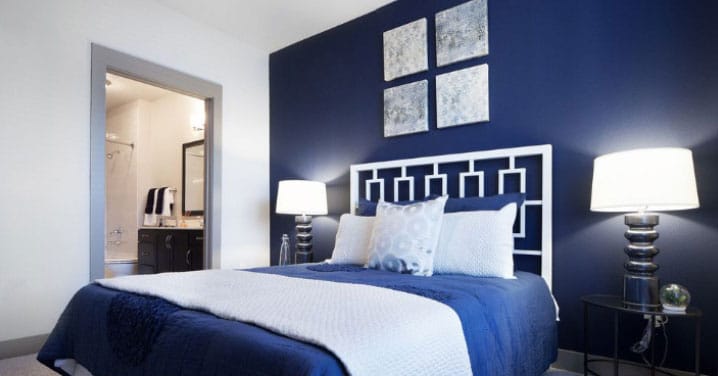 Choosing the shade of blue for your bedroom walls would be the best decision you can ever make. Dark blue, purple, or indigo can add more hue to your rooms. They keep the rooms trendy while giving a visual treat to the guests and visitors. Combining dark blue with white gives the room a heavenly, pleasant, and comfy vibe. White can also make your rooms well-lit and spacious. How can you ignore a combo made in heaven?
Cream and Brown 
Most of you might love a cup of coffee and milk–don't you? A real coffee lover can't stop watching the lovely and most pleasing shade of brown that gives it a perfect blend with creamy milk. We're not dragged away from the topic, yes this is something you can expect from a two colour combination of brown blended with cream. With the right accessories, you can still elevate the urban aesthetics of your rooms.
Teal & Mink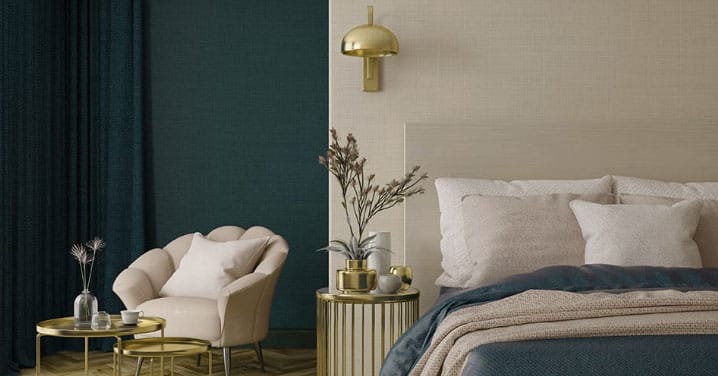 Ever gazed at the beauty of a peacock feather or a peacock dancing? Teal and mink have something to reciprocate with their shine and glossy nature. The optimal pop of color that doesn't have to beg for attention is something to boast about this combination. While the teal and mink combo keeps your room calm and cool, they look stylish with a modern touch in every sense.
Peach & White 
A never-boring and evergreen combination you can always choose for bedrooms and living rooms is the blend of white and peach shades. This pair is for pastel lovers, who need a light-toned combination for their bedroom walls. Peach presents a calming effect and comfort to your entire room sets. It also welcomes you with its cozy finish, when combined with the pleasant vibe of white colour.
Mint Blue & Grey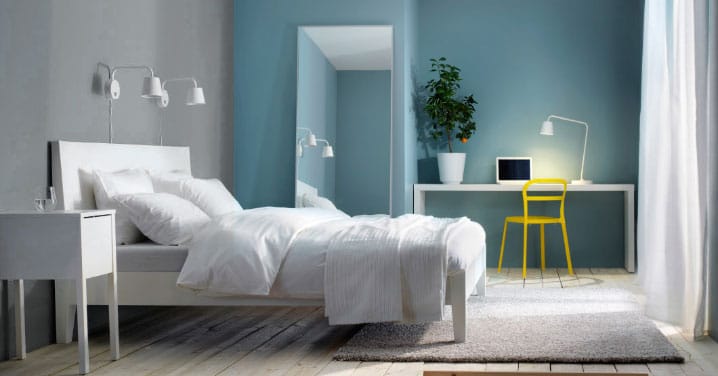 This shade is breezy; with a combination that fills your bedroom walls to complement the neutral and dull shade of grey with the outstanding visual appeal of mint blue. Since the tone is airy and looks creative, these can look the best when you have them for the master bedroom, making them unique. Mint blue is an amazing pick if you paint them on the broader walls while painting grey on the others.
Luxury Flats For Sale In Thrissur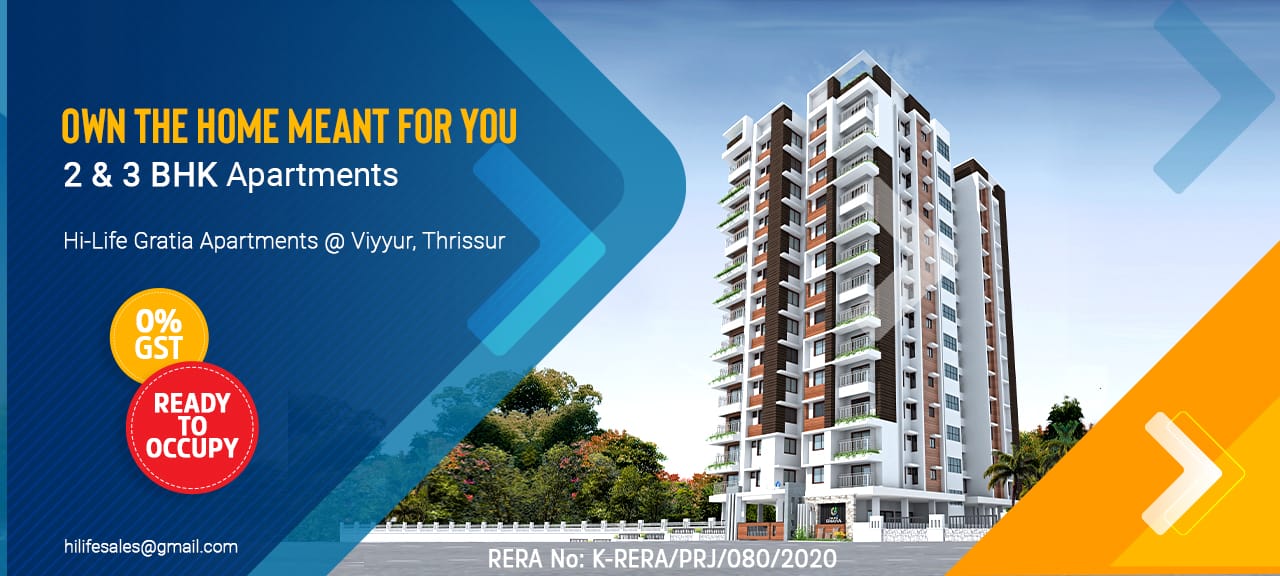 Hi-Life Gratia
Experience the exquisite design and comfort that only a masterfully crafted Flat can offer Luxury 2 & 3 BHK Flats for sale in Thrissur.
The Flats That Blended With Very Detail in Perfection With World-Class Standards.
Enquire Now& Get The Best Assured Price
Red & White 
Red and white remind you all about being romantic and loved. A match made for those who love fits well for those who are in love, isn't it? If you wish to get the most enchanting shade that keeps the romantic moments of a couple alive, then the red and white combination creates magic. Give your rooms a touch of comfort with the pure white and bliss of red— how about wall decor with roses and photos of your best moments beside them?
Olive Green & Dusky Rose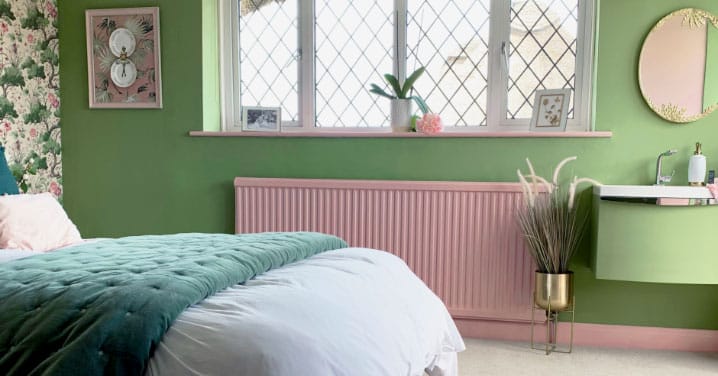 Olive green and dusky rose combinations when brought together, bring magic to the walls of your bedroom. If you are a classy and romantic person at heart, then this combination is your most preferable one. The olive green with rose pink again makes a romantic pair, making it exceptional. While rose pink creates a romantic ecosystem, olive green makes it look classy with its natural and mind-blowing vibe. Also, read more about Small Bedroom Cupboard Designs
Burnt Orange & Off-White 
Let your room look a bit unique with a burnt orange colour to the walls. Burnt orange is a bit more classy shade compared to the actual orange and works well for one accent wall. With a classic and standard tone of ivory, you can bring down the over-brightened feel the burnt orange shade could give. Use lamp shades, pillows, mats, and carpets to gift your bedroom an awe-inspiring look.
Pink & Grey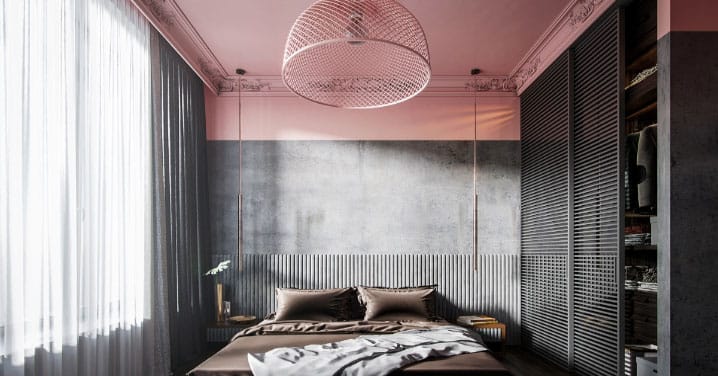 This is the finest two colour combination for bedroom walls which you can use for the rooms of your little girl. When you want the room perfect for a girl kid, but don't need it to look too girly, then this combination works the best. Since the pink and grey combination marks the sophisticated feminine shade, the pair creates the right charm you need for your bedroom.
Turquoise & Beige 
Another classic colour combination is beige and turquoise. This is more special since it makes a combination of bright and neutral colours for your accent walls. While the beige tone warms out the bluish tone of the turquoise tone, you can use this combo for a beach retreat. With the right accessories that resemble a beach experience, you can make it look quite more attractive.
Grey & greyish shades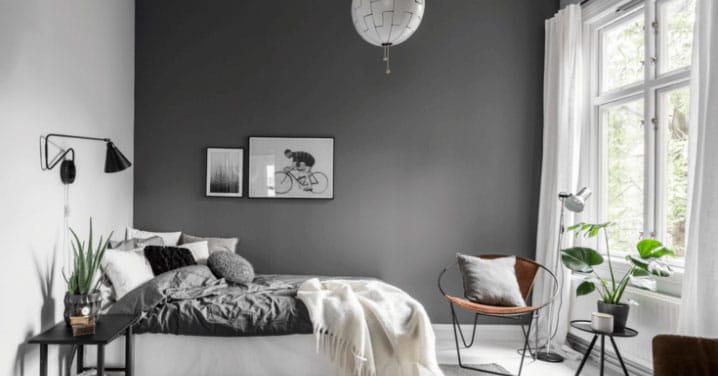 Grey is a natural shade, hence there are a lot of experiments with grey and other colours which businesses make to decorate the rooms for a splendid experience. To make a monochrome look, you can also try blending grey with its related shades, which looks authentic. To improve the appeal of your rooms, two colour grey combinations for bedroom walls would be the best choice.
Burgundy & Beige
A choice you'll never regret making– this would be the combination of burgundy and beige. A perfect combination for your master bedroom, burgundy, and beige make your room beautiful with the elegant mix of rich wine-like shade and a neutral tone. Get this rich tone to break all conventional themes and shades, making it a perfect blend of vibrant tones.
Burnt Yellow & Warm Blue
These two tones which include blue colour combinations and vibrant yellow create a lovely pair of positivity and happiness. The yellow lift your level of bliss and positive vibe, which forever gives a sunshine kind of vibe to your hearts. While blue keeps you calm and serene like a flowing ocean. The unique combo of warm and cool colours gives you a contented experience in your bedrooms. Also, read more about Clever Storage Ideas for Small Bedrooms
Purple shades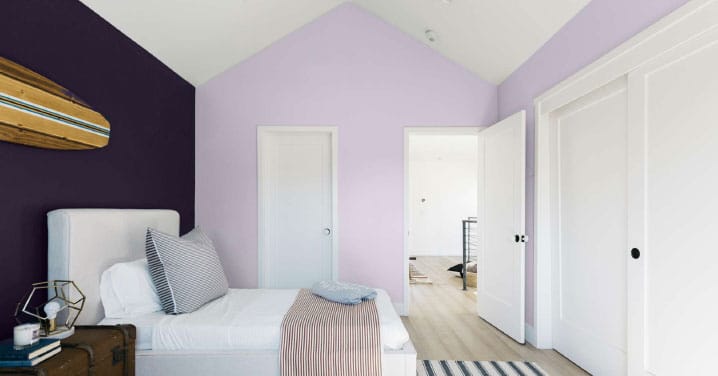 The purple colour and its shades have been the modern craze, and many use these combinations to eliminate the stereotype of using only multiple shades for depicting daring decisions. Shades of purple can give your room a rich yet luxurious look, which is also a rare shade you'll see in the bedrooms. However, purple is the visually pleasing and awesome shade you can go for if you love being different.
Summing Up
We've brought you the 20 best two colour combinations to keep your bedroom walls pleasant, stylish, and trendy. We hope you've enjoyed reading through these two colour decor tips and got the best colour choices for your bedrooms. Keep your bedroom most welcoming with the perfect hues that remain close to your heart.
Hi-Life Builders is one of the best builders in Thrissur. Apart from building wonderful homes, our portfolio includes home care, resale, and home loan assistance and you will be happy to know that we have a dedicated team for after-sales service and property management service. For further information on our project contact us now!
Recent Posts
Recent Posts
Category