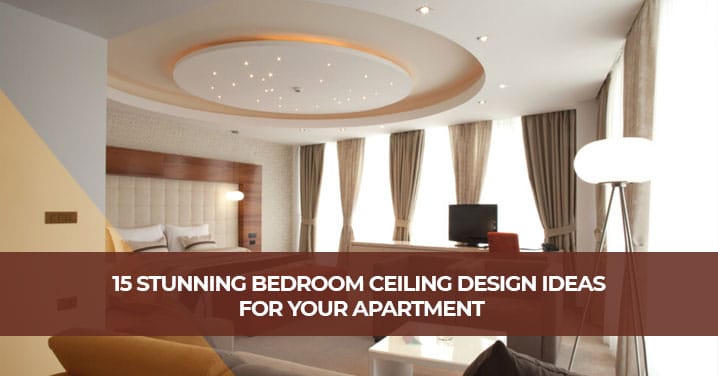 15 Stunning Bedroom Ceiling Design Ideas For Your Apartments
Posted By

hilife_admin

On

Mon, Nov 28, 2022
Conventional bedroom ceiling designs were confined to only master bedrooms and huge bed spaces. But, modern designs have surpassed this thought, making bedroom ceilings stylish and trendy even in small spaces. A well-designed bedroom space can make your moments relaxing after an exhausting day. When you incorporate a unique ceiling design with matching furniture and other eye-catching elements, your bedroom renovation turns worthwhile. With an awe-inspiring bedroom ceiling design, you can match your vibes with the bedroom interiors and create the right mood to spend time in. Many residents in apartments and apartments in Thrissur have adopted the best ceiling design ideas to maintain the elegance of small homes. In this blog, we bring you the top 15 ceiling design ideas for your new apartment you can choose to effectively transform your bedroom ceilings.
Why is Bedroom Ceiling Design Important?
Even if you own a great bedroom, an unfinished ceiling can destroy its appeal. With a beautiful ceiling, the viewer gets satisfaction due to its completed design. It also lets the people feel that the spaces enclose great emotional contentment with a warm and supportive environment. The bedroom ceiling is all that adds new dimensions to the private spaces, providing happiness and positive vibes to the residents and visitors alike. Nevertheless, ceilings are the best options you can use to cover the beams and electrical wires, facilitate acoustic/thermal insulation, and support the fireproofing solutions for buildings.
Best 15 Ceiling Design Ideas to Transform Your bedrooms
Let's take a look at the small bedroom ceiling design ideas that you would love, to effectively plan your ceilings and offer a positive impression.
Try a Well-lit Geometric Ceiling Design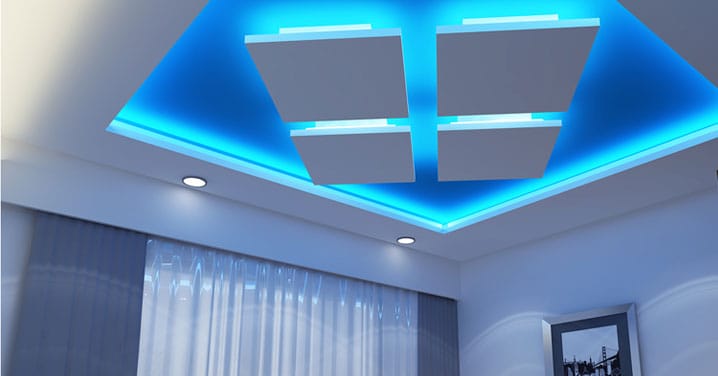 Let your ceilings look magnified enough with modern patterns and geometric designs. While you decorate your room, size shouldn't be a concern. You can think and convert the smallest spaces to the best with careful plans and strategies. A balanced ceiling design that incorporates geometric pattern and lights in the voids give your ceilings more elegance. This design is undoubtedly the most craved and ideal design choice among apartment dwellers.
Go for a false tray ceiling with a designer fan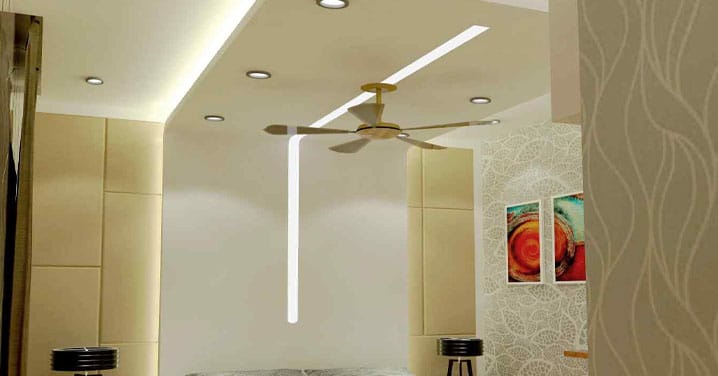 Your compact bedroom demands comfort with a serene atmosphere to crawl into as soon as you wish to. A false tray ceiling along with a fan at the center of the ceiling makes the room look neat and feel relaxed. The interesting fact is that the edge pattern of the false ceiling feels similar to the patterns on the fan blades. You may use a series of tiny light fixtures in the spaces to control the brightness of the room. Try some neon bulbs to support your activities like reading.
Luxury Flats For Sale In Thrissur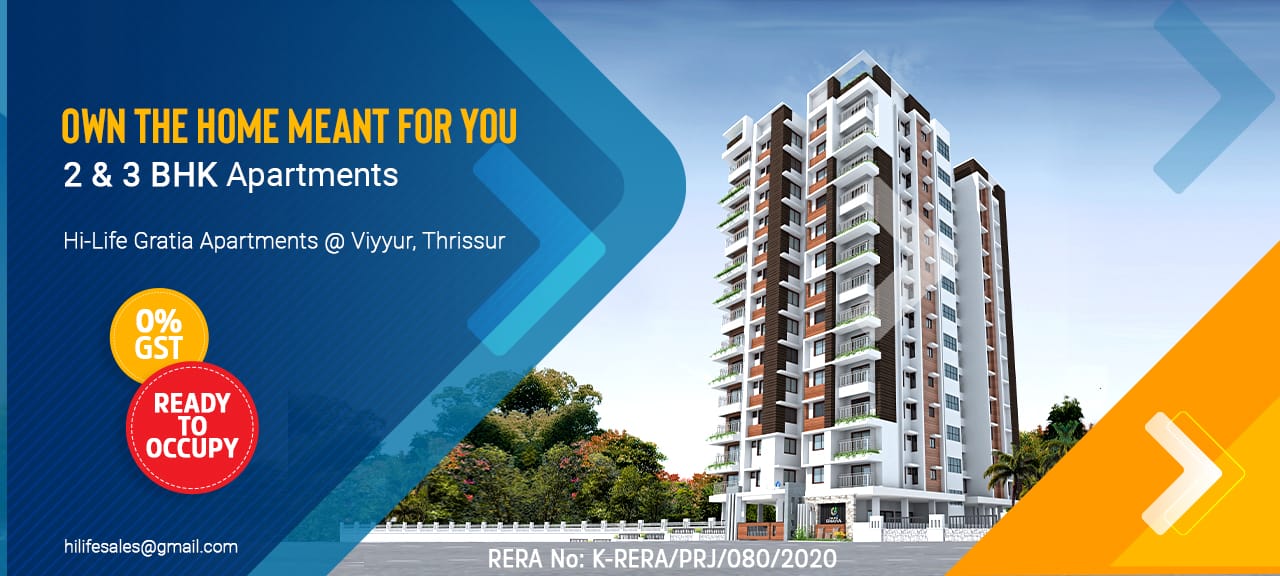 Hi-Life Gratia
Experience the exquisite design and comfort that only a masterfully crafted Flat can offer Luxury 2 & 3 BHK Flats for sale in Thrissur.
The Flats That Blended With Very Detail in Perfection With World-Class Standards.
Enquire Now& Get The Best Assured Price
Invoke traditional elegance with wooden rafters
Who wouldn't crave a vintage feel that keeps your bedroom ceiling design pleasing? Choose wooden ceiling designs with rafters in the false ceilings to give it a classic feel. It would look cool when you add wooden window blinds and classy-style wooden rocking chairs. This can keep you moving back to your childhood, with the aesthetic elegance and traditional mood the wooden ceiling creates.
Incorporate a perfect combination of wood & glass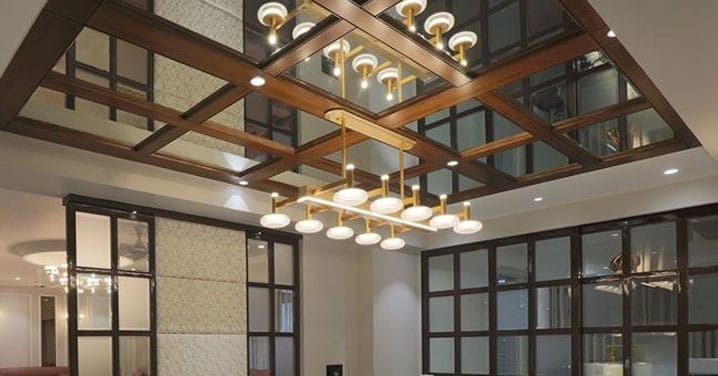 A beautiful ceiling design is worth keeping your bedrooms magnified with long-lasting charm. Try a false ceiling design for bedroom that accommodates glass elements and wooden patterns. This design looks even more stunning when you incorporate interior decorative lights to welcome a traditional style. You may also use a combination of conventional and modern techniques to make the ceiling design pretty.
Also, read more about Clever Interior Design Tricks
Build customized designs with coffered ceilings
Nothing seems more satisfying than giving a touch of your style to your bedroom spaces. Keep coffered ceiling tile patterns with any color of your preference to add beauty to your ceilings. These are budget-friendly and creative designs you can use for bedrooms with confidence. There are many types like gold ceiling, lavish ceiling trim, or styling tiles you can choose from. Coffered tiles are one of the old patterns used in houses you can make with rectangular and square panels. It helps the ceilings to appear taller than the original size.
Criss-cross designs to stand out from the crowd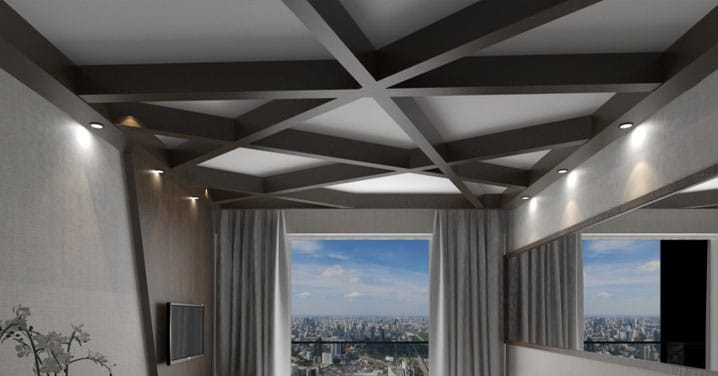 If you wish to try something apart from the usually elevated modeling false bedroom ceiling design idea, criss-cross ceilings would be the best. These use lights and shapes to offer amazing dimensions to your entire ceiling. You can also accommodate the cove lighting to give the entire room a positive appearance and feel.
Give it a modern finish with circular design ceilings
When you opt for a false ceiling design for bedroom, you can try something innovative while keeping fans and other aesthetic elements in mind. The circular designer ceilings have an extravagant appeal and give new dimensions to your bedrooms. These ceilings have circular space in between the ceilings. You may accommodate a fan in the available circular area.
The vaulted designer ceiling for traditional appeal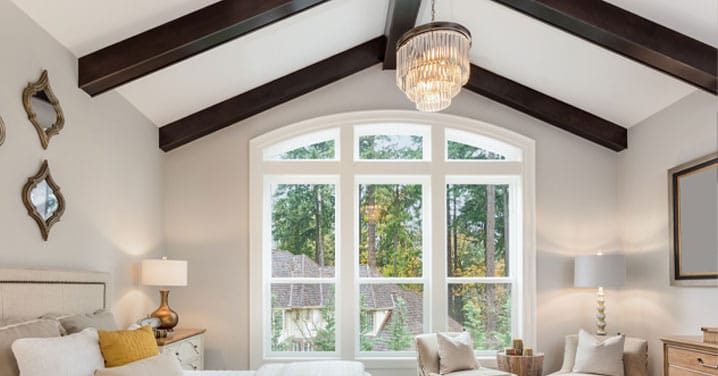 When you need a simple ceiling design for a small bedroom, it is always great if you can keep it neat but traditional. For small bedrooms, you can choose a vaulted ceiling solution, because you can easily build them to let them appear higher. These bedroom designs give a rustic feel to the room and constitute a traditional style. The self-supporting arch can make these ceilings look the best if you decorate them with flowers or hanging accessories.
Thin POP border with a slight makeover
If you wish to keep the small bedroom ceiling design truly simple, why don't you try it with POP designs in the ceiling borders? Being one of the best false ceiling ideas, this adds a simple layer to your bedroom ceiling with an appealing look. Bedroom POP ceiling design is a great option since it stays for a long time and needs low maintenance. To add more charm to the ceiling design, you can also hang lamp shades or a cute chandelier.
Also, read more about Small Bedroom Decorating Ideas
Go curvy with gypsum paneling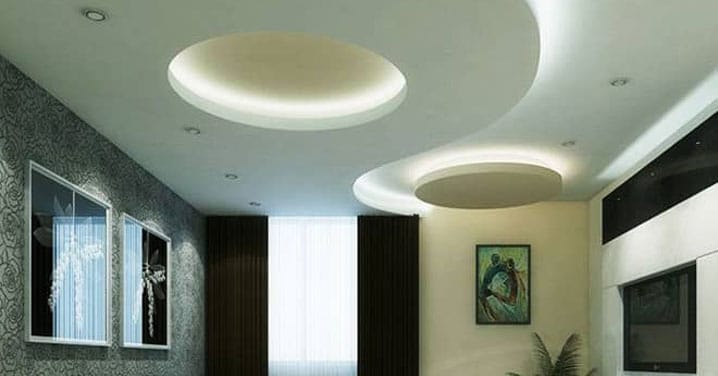 These modern bedroom ceiling designs give a theatrical finish to the bedroom space with great gypsum paneling. This also provides sound insulation and maintains a luxurious feel to your bedroom. Also, you may use designer wallpapers or a 3D wallpaper that extends from the ceiling to the walls and offers a different mood to your room interiors. You can choose the wallpaper designs based on the emotion and the feel you wish to impart to the entire bedroom. It's completely your choice— give it your version!
Light up your ceiling with string lights and an inverted cove
Ever tried wooden cabinets with an inverted cove? You can add a white coat to the POP ceiling to make this a graceful ceiling design. In this design, you can include string lights and embed them in a circular pattern to beautify the central panel. With the starry effect of string lights, you can get a night sky illusion in the room interiors.
Make it girly with a Pink ceiling design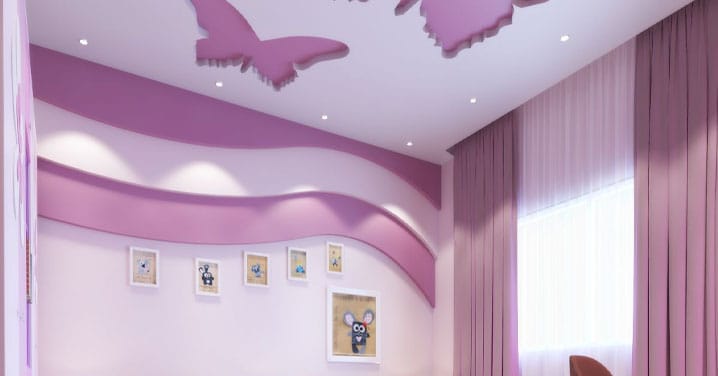 Girls always search for things that stand close to their beauty and trend. Pink is a popular girly shade, which every girl can go for along with lovely pink hues all around. If the ceiling design is for girls, give it a perfect appeal with twin beds, and gypsum boards carved with two variant tones. Use small lights in the back of the piece that stays as an extension to the walls. Use study corner spotlights to make the space well-lit.
Use Recessed lighting to highlight the ceilings
No matter what design you take for your ceilings, recessed lights or false ceiling lights can magnify their beauty. You can use them in the hollow openings of the ceilings to highlight the features of room interiors, and magnify the dark areas with brightness. These sleek designs speak a versatile story of fashion and give a comfortable feel to the eyes.
Paint false ceilings to grab more attention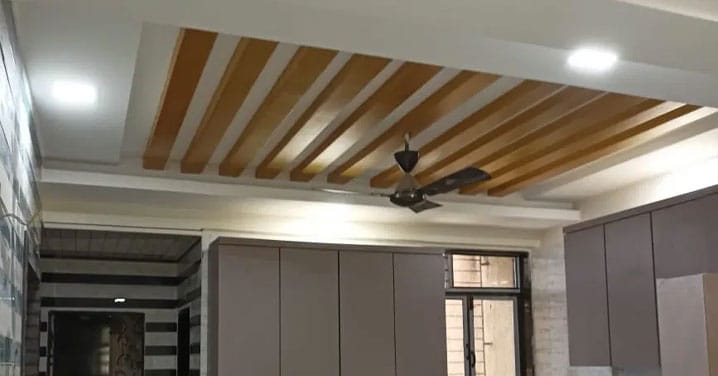 Ceiling designs are highly attractive in a bedroom, and it looks even more convincing to your eyes when you paint them with soothing colors. What about applying yellow paint that suits your ply panel or headboard? Try giving a pop of colours to your bedroom ceilings. Balance the color scheme and make sure the color coated false ceiling is well-magnified with even colors.
Also, read more about modern kitchen design
Keep it cute and budget-friendly with platform panels
False ceiling bedroom designs usually hinder the wiring and other unnecessary elements of your room spaces. It's fun when you add platform panels to transform the natural ceilings, but keep it neat and simple. In modern ceiling styles, you can also accommodate the design above the headboard, ie. to the periphery with great lighting options. Look for spotlights, backlights, pendant lights, etc to make it rich with effects.
Things to take care of for your ceiling designs
Make sure, your bedroom ceilings have the following features while you plan to design them:
Make certain that the bedroom ceiling design element gives uniform lighting and also enhances your sleeping mood with fancy lights.
Let the ceiling completely conceal any wires on the ceilings.
Keep the ceiling designs perfect enough to hide the exposed beams after construction.
Keep the ceiling design insulated or acoustic ceiling to stay away from noise.
Choose waterproof and fireproof false ceilings for safety purposes.
Lighting fixtures can make the ceiling look more magnified and bright.
Use good materials for ceiling design so that they last long.
Wrapping Up
When it comes to bedroom ceiling design, there are a lot of attractive patterns available in the marketplace for you to choose from. However, the main focus is to keep you satisfied and use the patterns that your mind opts for. It is even tough when you think of ideas to find a small bedroom ceiling design idea that also suits your needs. We have handpicked the above ceiling design styles based on the current design trends and interior styling patterns highly in demand. When you use them cleverly in your plan, this can make the small bedrooms in your apartments, flats, or homes look spectacular.
Hi-Life Builders in Thrissur are one of the most prominent home builders, who have completed and successfully delivered 18 apartment projects in Thrissur, thus becoming the best builders that provides the top apartments and flats in Thrissur. Apart from building wonderful homes, we are also providing home care, resale, and home loan assistance and you will be happy to know that we have a dedicated team for after-sales service and property management service. Contact us and enjoy your relationship with your dream home builder.
Recent Posts
Recent Posts
Category