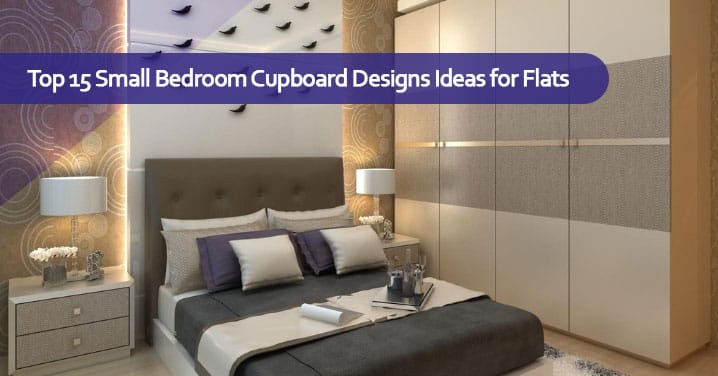 Top 15 Small Bedroom Cupboard Designs Ideas for Flats
Posted By

hilife_admin

On

Mon, Jan 9, 2023
Everyone would wish for an organized and well-spaced bedroom with cupboards that don't disturb the usual setting of the room.
A bedroom cupboard houses all your personal jewelry, clothing, documents, valuable items, and other things.
Flats in Thrissur have witnessed the style and spirit of interiors with the trending modern cupboard designs for apartments and flats.
This blog discusses the best small bedroom cupboard designs that cater to your storage, space, and layout requirements with modern comfort.
Space Saving Cupboard Design Ideas for Small Bedrooms
From simple to complex, vintage to contemporary, and classy to stylish cupboard designs, you have a plethora of ideas to choose the best from.
Let's dive deep into the top cupboard design tips to make your small apartment bedrooms neatly organized and clean.
1. Sliding Shutter cupboard design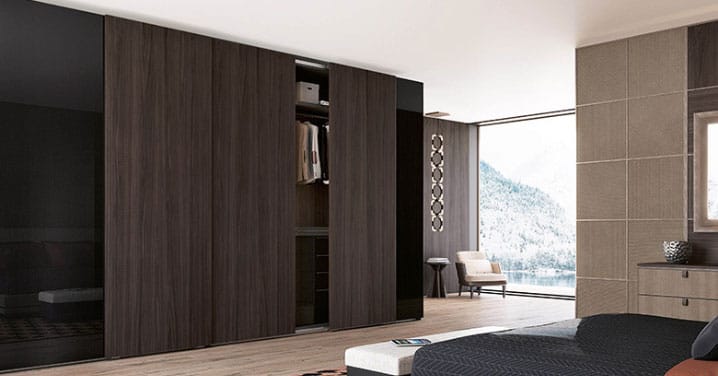 This design is one of the most in-demand small bedroom cupboard designs in the modern world. When you have the wardrobe shutters that open up, it consumes a lot of space in the bedroom while having access to it.
You can instead choose sliding shutters so that they open within the frame of the furniture and don't affect your activities within the area.
A sliding option can look more elegant with sleek and modern designs– you can even go for bolder colors to add to the charm.
2. Cupboard attached to the dressing table
These are the excellent contemporary bedroom cupboard design ideas you can go for. The cupboard extends to the ceiling to give you additional storage space. The handleless storage space gives more elegance to the cupboards. You can utilize the small corner and convert it to a dressing table. Have a tiny mirror and chair, you can also give proper lighting to make sure you have brightness near the mirror to get ready. This is an ideal design to build compact bedrooms with a dressing table and associated cupboards.
3. Corner cupboard design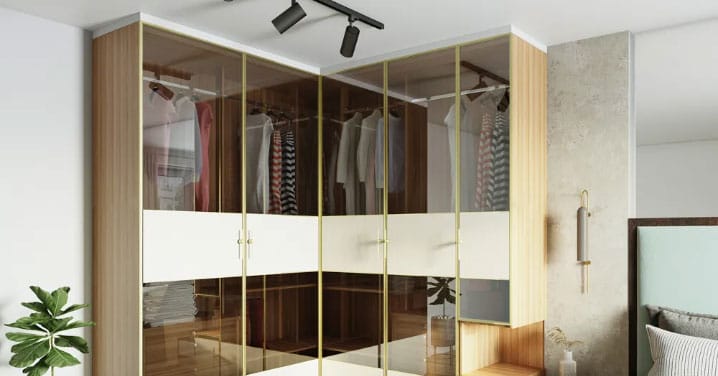 Corner cupboards are the most vibrant small bedroom cupboard designs in demand. You can use the corners of the room to develop these bedroom wardrobe designs. Make use of an 'L'- a shaped closet that lets you save a lot of space. This is an ideal design for compact bedrooms. Lined-up cupboards are useful to consider the corners of the dressing table. If you choose the nook of your kid's bedroom, then take the corner cupboard with a study table. This makes the cupboard perfectly aligned, symmetrical, and sleek design.
Also, read more about Small Bedroom Decorating Ideas
4. Frosted Glass wardrobe design
When you find it difficult to choose a bigger wardrobe design in a small space, you can select the internally organized units that easily help you store all your essential items and clothes. To arrange things well, you can also include drawers, hangers, belt holders, and so on. Also, frosted glass is a space-saver, making your bedroom cabinets neatly arranged within the scope of the room.
5. Cupboard with seating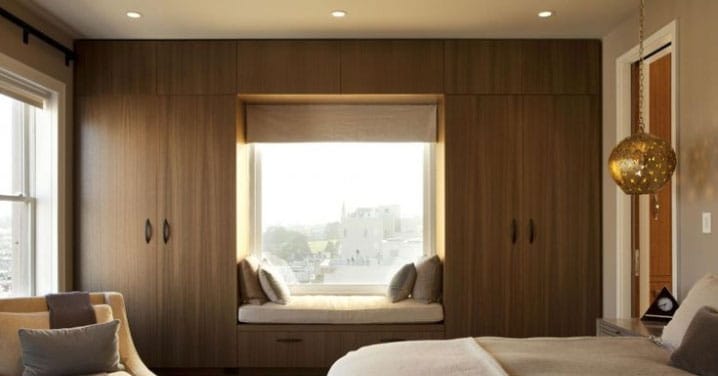 Why don't you take a break from the conventional cupboard design and switch to a contemporary-style cupboard? To build modern bedroom cupboard designs, you can make a seating arrangement in the center of the cabinets. This would give a glossy finish when you have the entire setup near the window. You can utilize the space for tea, conversation, or a relaxing nap. You can make this corner comfy using bedding and cushions. The storage underneath can be converted to a place where you can stack bed linens.
Luxury Flats For Sale In Thrissur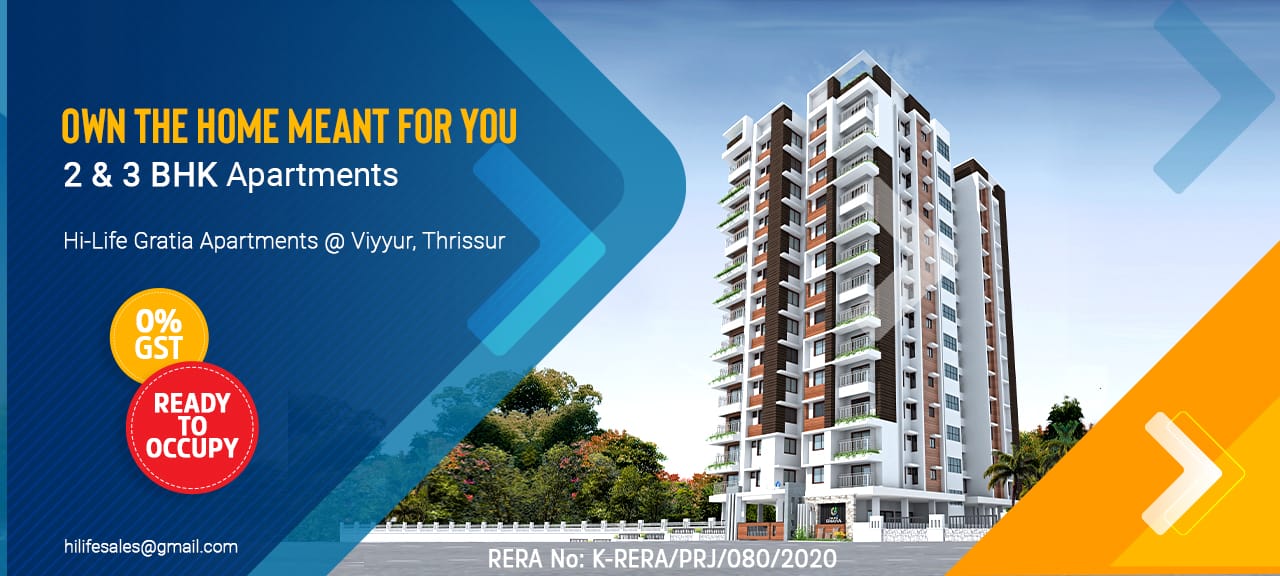 Hi-Life Gratia
Experience the exquisite design and comfort that only a masterfully crafted Flat can offer Luxury 2 & 3 BHK Flats for sale in Thrissur.
The Flats That Blended With Very Detail in Perfection With World-Class Standards.
Enquire Now& Get The Best Assured Price
6. Slatted Cupboard design
The slatted cupboard design is one of the finest master bedroom modern wardrobe designs for bedroom spaces you can go for. The parallel slats give more elegance to the cupboard without having to portray everything inside. It provides even and ample ventilation while allowing wind and sunlight to the wardrobe. The wooden cupboard design gives the bedroom a rustic appearance. The fresh aesthetic of the bedroom tree house that the design gives is worth living with add wooden finish for chairs, tables, ceilings, and floor space for a perfect finish and ample storage space.
7. Get mirror shutters to enhance the space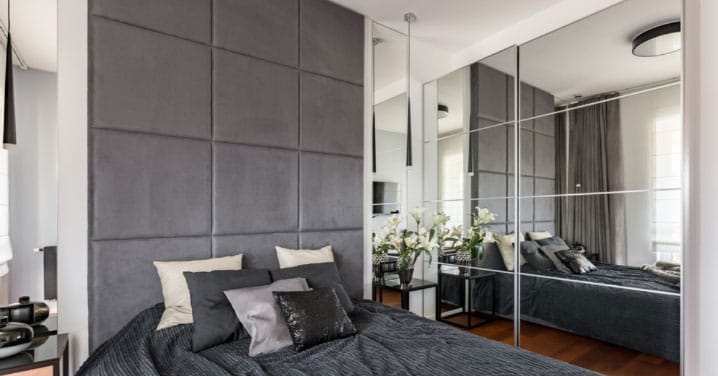 You can't expect to utilize the small room spaces for a lot of mirrors. Still, having mirrors can let the natural light in and help it reflect in the room. Also, a full-length mirror makes the sense of space larger than they are. With mirrored wardrobe shutters, you don't need more bedside tables. You may also use a combination of table shutters in corners and another piece of furniture for a comfy interior. Mix wood like Sheesham wood, mango wood, or solid wood for dressing tables and a mirror, to keep the theme of the primary bedroom alive.
8. Open closet-type wardrobe
If you wish things to be cleaner and well-organized, then you can choose a simple open closet kind of wardrobe for your compact bedroom space. Here, you can place every item on open cupboards or make them semi-open or even closed shutters. It makes the wardrobe look less heavy, and gives the room an airy environment. Keep the focus on the dressing table storage, or study table wardrobe, other than only the main wardrobe.
Also, read more about bedroom ceiling design ideas
9. Utilize lighter colors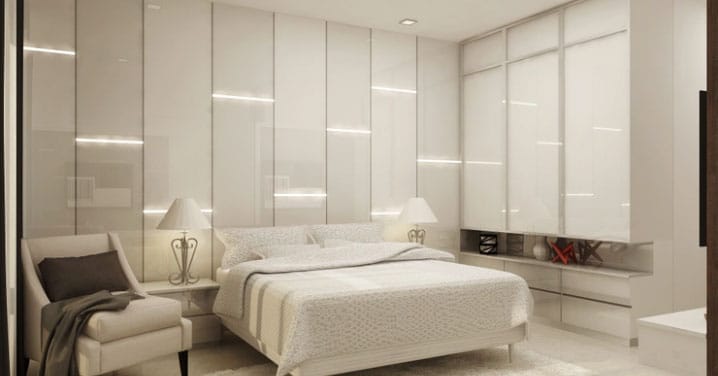 You can choose a contrasting floor color against the color of the shutters. This confuses the brain to consider this as an ambiance bedroom. The same or related colors for the room and cupboard can build a seamless continuity that helps you to combat wardrobe designs for a compact space. You can also try to transform the sharp edges of furniture into a rounded pattern that gives a seamless appearance.
10. Take wardrobes to a vertical style
A regular wardrobe design limits the height to almost 7 ft. after which some build lofts and others keep it blank. Built-in cabinet inhibits your desire to get more storage space in the small rooms. You can hence take the wardrobes to a height of up to the ceiling and utilize the extra space to store things you don't choose for daily use. Ceiling cabinets could house a crockery set, additional mattresses, suitcases, and so on.
11. Smooth camouflaged door pattern
Bedrooms usually need a door to enter which takes up the wall space. You can use the cupboards around the sides and above the door. Mirrored doors, swing doors, etc. were the only options that existed earlier. However, now you can build a camouflaged door to give your room an excellent finish. This modern cupboard design leaves no idea about where the door to the bathroom lies in it. You can also add bedroom decor and make this design a space saver, moreover have a clean look for the cupboards.
12. Glass-made wardrobe design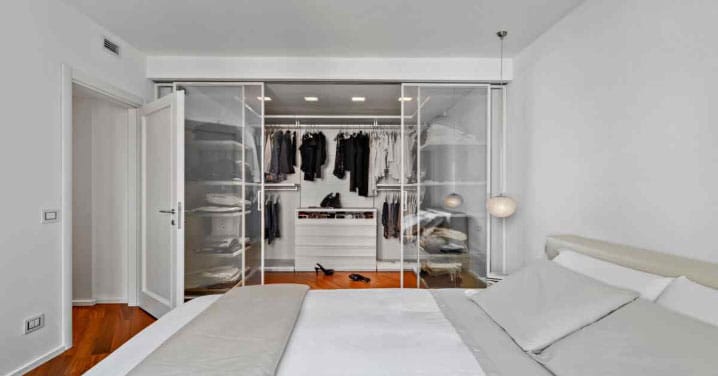 A cupboard design needs to be always light, irrespective of the material, size, color, or pattern. Glass is a less dense material, and a brilliant idea–the glass-made wardrobe shutters lighten up the room like magic. Glass is accessible in several forms with wide ranges of designs like fluted, frosted, grounded, beveled, back painted, etc. Choose your favorite kind and give the bedrooms all luxury to store the valued items safely.
13. Cut off wardrobe width to a few inches
Wardrobes are usually 7 ft in height and 2ft in depth. You can consider the requirements of the occupant and can adjust the height, whereas the depth would be the same. This is ideal since you would crave a 2ft depth wardrobe to fit the clothes the best without having clothes on hangers. If you feel good about folding clothes and you buy hanging hooks, you can reduce the wardrobe size. Even the reduction to a few inches can help you to add an ideal amount of space to the room.
14. Headboard walls storage design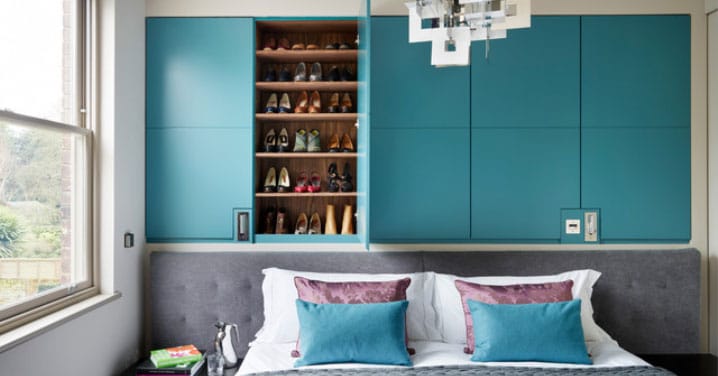 A wardrobe design on the wall can help you to keep the headboard simple and elegant. There are leather headboards that extend up to the ceiling which could be avoided. But open shelves, small boxes, and open units can let you add great design and ample space to the house. Books, cosmetics, medicines, and such tiny items can fit in these types of storage.
Also, read more about clever interior design tricks
15. Consider Bathrooms cupboard designs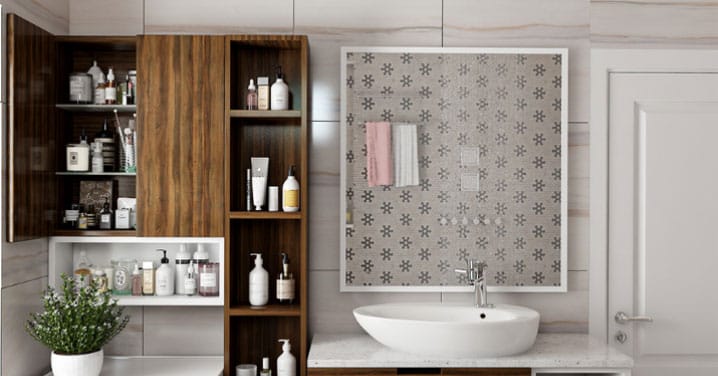 Why would you leave some advanced storage units which contribute to the storage of your essential items? You can utilize the space under the sink to store hair dryers, towels, cosmetics, medicines, etc. You can make a unit to enclose the cupboard or make an open shelf through wicker baskets. Wicker baskets can hold your clothes and detergents separately, to make them easily identifiable for your access. This is an intelligent way to keep your dirty laundry away from the mess. You can also include hooks in the shower unit of bathrooms and open spaces to keep things based on your convenience.
To Summarize
With the best tips and strategies, you can make your small bedroom cupboard designs picture-perfect and contribute to the neat arrangement of all your essential items without hurting space concerns.
The above-mentioned interior bedroom cupboard design ideas let you lead a happy life with the capability to store many items in the cupboards or shelves. While we have mentioned the design ideas and tips, the best practice you should learn is to declutter the space.
Crowded rooms and items can make the area look smaller, with the surface area used up to create a mess around. You can choose to throw out the unnecessary items, and store only what you exactly need. This helps you to find mental peace within and lead the best lifestyle with improved habits.
Hi-Life Builders is one of the best builders in Thrissur. Apart from building wonderful homes, our portfolio includes home care, resale, and home loan assistance and you will be happy to know that we have a dedicated team for after-sales service and property management service. For further information on our project contact us now!
Recent Posts
Recent Posts
Category