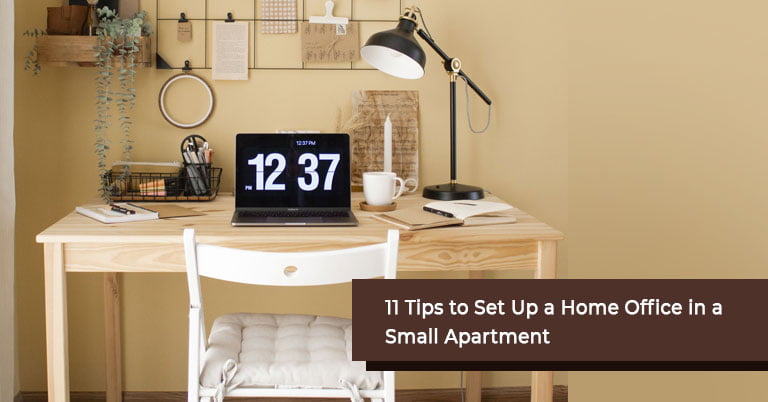 How to Set Up a Home Office in a Small Apartment?
Posted By

hilife_admin

On

Thu, Aug 27, 2020
The pandemic situation has changed the way many companies work. Today, a lot of people are working from the safety of their homes. And the trend may be here for long after the pandemic ends.
This is because remote working helps companies save money on renting large spaces for offices, and on infrastructure and utilities. Productivity is also higher as employees don't waste time commuting, and can work flexible hours.
Those who have never worked from home till now may be confused as to how to go about setting up a home office in a small apartment.
Sure, you can work by keeping your laptop on your dining table, but are you really going to be comfortable, and will it be peaceful? Highly doubtful.
Without a proper home office, your productivity will likely suffer. You need a dedicated office space. In this article, we'll share some secrets of apartment home office ideas.
Your home office doesn't have to be a whole room; just a part of a room will do. But it needs to be serene and inspiring, where you can productively work.
You should feel focused and motivated, even in minimal space. You may think it's a Herculean task, as your home already has loads of furniture and other stuff. Well, it won't be a picnic, but there's no reason to panic either. Also, read about the advantages of living in an apartment.
How to Set Up a Home Office in a Small Apartment?
1. Find Your Work Desk
There are two things you can do for your office desk for a small apartment: upcycle an existing table to be your work desk – it could even be one end of your kitchen table, or a coffee table, or even a side table in your bedroom.
Just add a few essentials like a desk pad and an organizer, and it will seem a lot more office-like.
You can also squeeze in a slim desk. Push a table against an unused portion of a wall, and voila!
Make sure that whatever you do, choose a desk with the height that is appropriate for you.
2. The Chair is Important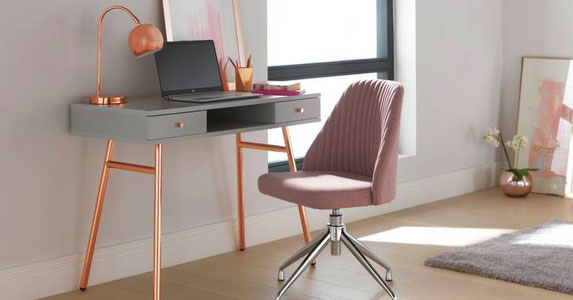 Once you've decided where you're going to set up your home office, look for an ergonomic chair that fits into that space.
When you lean about 100 to 110 degrees to the back, your eyes must be at a level of a couple of inches just below the top of your monitor's frame. Ideally, your elbows should be at right angles and close to your body and your hands should lie flat on the keyboard.
Look for a chair with armrests that can be adjusted. It's a good idea to get a chair with wheels so that you can slide across your living room (or wherever you have set up) to grab some essential stuff.
Ideally, your chair should be the right height for you, or its height should be adjustable. That it should be comfortably padded is a no-brainer.
Sitting on plastic or wood the whole day will seriously hamper your productivity.
3. Storage Space
This is a crucial factor in any home office in a small apartment.
Install slim floating shelves that can be attached to the wall just above or to the side of your desk that offer additional storage for your stationery, files, and more.
This will help keep your work desk uncluttered.
Another option for storage is to have a work desk with built-in cabinets and drawers; you can also consider a storage basket that you can simply keep on the floor next to your chair.
4. Lighting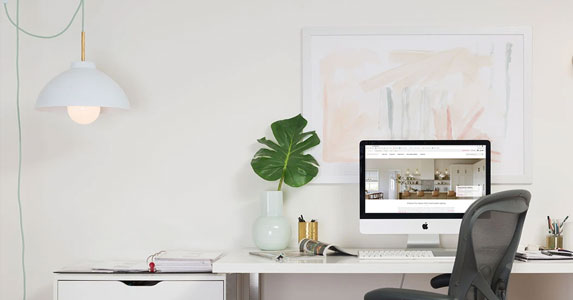 You need to have adequate lighting in your office space in a small apartment, but keep it simple.
After all, you're managing with a small desk. Look for something that can be put away after you're done for the day.
Nowadays, you have several options like folding or flexible LED lamps that are small but powerful enough for your purpose.
Consider some low cost interior design for homes in Kerala.
5. Cable Clutter
If you have a printer or fax machine in addition to your laptop, you're likely to have a tangle of cables. This not only looks messy, but it can also create problems during cleaning, or if you have to change the cartridge or toner and so on.
You can bunch the cables together and use a plastic tie or any other strong cord at intervals to make sure that they stay in place without getting entangled.
6. Laptop Stand
A laptop stand can help you raise the height by 6 to 12 inches, making work more comfortable.
It can be folded up so that it doesn't occupy space when you're not working.
You can also adjust it to get the height you want so that you don't have to crane your neck too much.
7. Go Wireless
Get a wireless mouse to reduce the cable jam. It's a remote employee's best friend.
Also, if your job involves a great deal of typing, you may want to invest in a wireless ergonomic keyboard, which is larger than the normal keyboards.
It makes typing very comfortable – even if you do it continuously for hours.
You can also think of getting yourself an ergonomic mouse.
The ergonomic design of the mouse and keyboard can prevent your hand from getting cramped frequently. These accessories can be connected to your computer either via Bluetooth or USB hub. Check out some of the smart home devices for apartments.
8. Headphones and Speakers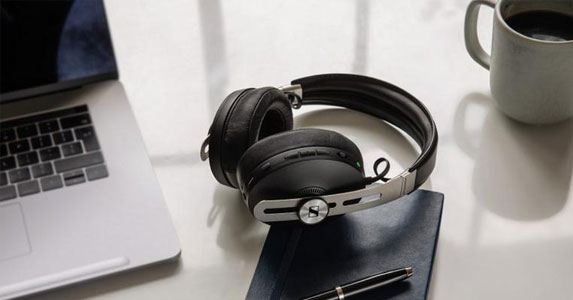 You may wonder how to work from home in a small apartment, with children running about and playing, or others talking, and the sounds of daily household chores being carried out.
We have the answer for you "noise-canceling headphones!" Block out the noise, and focus on your work.
You can even take part in meetings whether you're at home, or even on the go.
Wireless Bluetooth headphones are a good choice – again, avoid cable tangle.
You can also invest in a good quality Bluetooth speaker to listen to some energizing music when you work, or even to listen to presentations.
It offers good sound effects, and you can give your ears a rest from the constant press of earphones or buds.
9. Use a Second Monitor
This can be useful when you need to check a lot of different things at a time. Of course, this depends on the type of work you do; if a second monitor seems too much, think smaller – a tablet will do the job just as well.
10. Protection for Your Laptop
Use an anti-skid mat or laptop case to prevent your laptop from sliding off your work desk in your apartment home office.
The case can of course be used to safely carry your laptop with you everywhere.
11. Stationery
Make sure you have a pen holder and have enough pens, markers, glue, and whatever stationery you normally require.
Also have sufficient paper handy so that you can quickly take prints when you need it.
A small clock on the wall is also a nice touch for your home office in your apartment in Thrissur. Also, read smart home automation kerala.
Work from Home Apartment Bonus Tips
While these following things are not essential to set up your home office in your small apartment, it will certainly make your working space very cheerful and inspiring.
Here are some things for you to consider:
Keep a kettle handy with your favorite mug and a range of teas (herbal teas like hibiscus, chamomile, tulsi, etc. in addition to your regular green or black tea; if your preference is for coffee, have a percolator on your desk or shelf nearby. Take a coffee/tea break as you would in your office. It will also help to perk you up and keep you going.
Buy a small succulent plant – it hardly occupies any space on your desk. A tiny living, breathing being in your workspace will give a 'fresh' feel. Succulents are available in different colors and look pretty. You can place them inside small ceramic pots or old coffee mugs (with broken handles) for a more colorful look. They don't need constant watering and thus make for great indoor plants.
Place a couple of framed pictures of family and pets on your desk or wall, just as you would in your office. It adds to the appearance of being in an actual office.
When you go looking for flats in Thrissur, make sure that the builder has a good reputation, and check out some of their earlier projects.
Hi-Life Builders is one of the best builders in Thrissur. Apart from building wonderful homes, our portfolio includes home care, resale, and home loan assistance and you will be happy to know that we have a dedicated team for after-sales service and property management service. For further information on our project contact us now!
Recent Posts
Recent Posts
Category