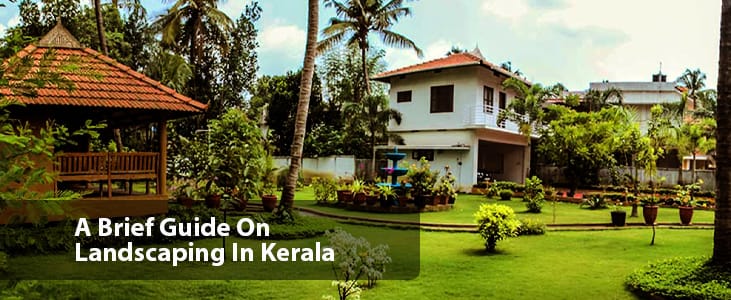 A Brief Guide On Landscaping In Kerala
Posted By

hilife_admin

On

Wed, Dec 29, 2021
Kerala is a land of tranquility and rich with culture and heritage. The beauty of God's own country is beyond words, and there are abundant spices, herbs, traditional serene lands, coconut trees, fertile soil and blessed with sufficient rain.
When you have homes or Apartments in Kerala, and seek house renovation ideas for conceptual design that makes your flats in Thrissur better with Kerala-style landscaping, this blog can be a guide that lets you explore the best ideas for landscaping Kerala. The lush green surroundings, traditional Kerala home landscaping styles, dazzling designs, and amazing geography can let you implement the best designs for your apartments, homes, etc.
You can also seek the advice or design services of Landscape designers, garden designers, and landscape architects to get a master plan for a landscape project or find ideal solutions to any landscape problems. Unlike drawing the designs, master plans involve an in-depth plan of action that also incorporates accurate design specifications. It enables you to feel confident that your landscape contractor is on the correct path toward building the landscape that's right for you and your property.
Benefits Of Landscaping designs in Kerala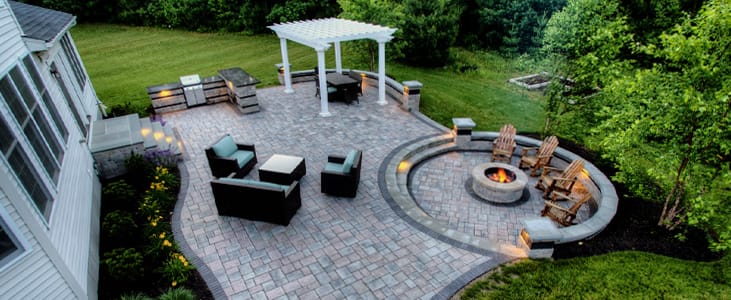 Improves the value for your home
When you consider adding resources to the exterior of your homes through the best design of landscapes, you can improve the value of the home to a certain amount. This is also ideal for resale and can trigger the looks of your homes to a great extent. For those with ideas of sale, this is the best way to make homes or apartments more appealing to the targeted buyers.
Peaceful and Welcoming homes
When you have more greenery and shade in your yard, you can find the space more convenient and welcoming. The space looks more pleasant and lovely when you have greenery, vertical gardening, bushes, shrubs, or grass around the home. Landscaping home exteriors with plants and trees can also make your home cool down with great shade to protect you from the warmth of the sun.
If you plant trees, plants, or bushes, these can make your home yards look satisfactory and pleasant, and they add to the preservation of our beloved nature and help in air pollution control. We already know that building new homes paves the way to cutting down trees and plants, hence this design can let you preserve the environment with your dream garden. However, ensure that you give garden care and give it water and manure to stay as beautiful gardens for a long time.
Make your Home more Pleasing
Everyone wishes to have a wonderful and welcoming home. The best Landscaping in Kerala homes looks vibrant and different with the maintenance of their classy appearance. Great landscaping with cool garden aspects and structural plans can make the home landscape designs wonderful.
Builds an area for Relaxation
Once you invest in landscaping your homes, it can make an area for leisure and relaxation. Green corners and shades are preferable especially when you wish to spend time with your dear and near ones.
Landscaping Ideas in Kerala
There are many creative ways to transform your homes in Kerala with the best landscaping designs and patterns. Landscaping needs excellent ideas and blueprints regarding the land to be used, resources, budget, design, and a lot more. Some of them even look for home waste management systems in the design process to be deployed along with the landscaping to hide them from the vicinity and make eco-friendly house construction.
Let's now look at both traditional and modern landscaping ideas for front of house in Kerala
Traditional landscaping in Kerala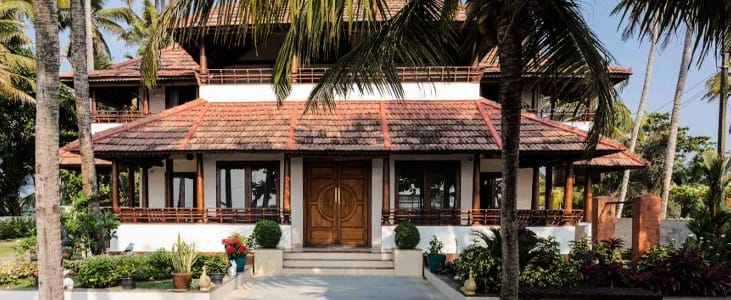 Ancient Kerala and its rich culture have given birth to the traditional landscaping patterns or Tharavadu conceptual designs that reflect the goodness of tradition while maintaining the true essence of beauty.
Let's go through the various traditional landscaping creative ideas that prevail in Kerala, and can be used as sole focus on impressing the visitors or adding value to your homes with the best designs.
Lotus Pond or Kulam
The most vibrant and elegant element of the landscape pattern is the pond. A traditional element that incorporates an artificially made water body, along with the lotus, water plants, etc. leaves a long-lasting impression for the outdoor space on the guests and the home dwellers. There are also ponds designed with facilities to cultivate tiny fishes, both edible and ornamental.
Thulasi Thara
The traditional Hindu homes of Kerala are much aware of Thulasi Thara. It was then very important to have Thulasi Thara at home's exterior as a part of tradition and heritage. A stone-made structure called Thulasi thara with Tulsi plant grown, and lamps lit every day by the ladies, was believed to be a part of welcoming Goddess Maha Lakshmi. This Thulasi Thara is usually placed in the central courtyard of the homes.
Wells
The most important traditional landscaping pattern is the use of wells. As per Vastu Shastra, wells are dug in the northeast side of your homes. With the best positioning of wells, it was then believed to improve your prosperity, wealth, etc. Wells are now useful as the best utility structure, and also an addition to the overall traditional appearance of homes.
Central courtyard
The central courtyard, also called Nadumuttam, is an evergreen masterpiece loved by most of the home dwellers. People spend a lot on converting their homes with Nadumuttam, called Nalukettu. This ancient setup usually has Thulasi Thara at the center, along with Nilavilakku or a combination of green herbal plants and ornamental plants. The courtyard can also consist of pebbles and plants along with concrete walls to experience the rich heritage.
Modern and stylish Kerala landscaping
Kerala is a land of history and culture. However, Keralites are always keen on trying new trends and styles which have been replicated also in the design of urban landscaping styles for homes and apartments. Malayalis welcome new styles adopted from various parts of the world and also try unique landscaping patterns from other countries too.
Now, let's have a look at these modern home landscaping patterns that can let you give new dimensions to the home exterior.
Lawn
If you have a lawn area basically for the backyard design of your home, this is going to be best for the pleasure of having meadows or green bushes around where you live. This requires very little maintenance and is also the least expensive option. You can use great ideas to set up gardens like making them more beautiful with stones and more resources. You can also use timber and other wooden planks, pots, etc. to make the premises look pleasant. Also add a clover garden, hanging garden, moss gardening, beautiful flower garden, etc. With home garden landscaping in Kerala, you can make the home exteriors outstanding and serene.
You can also use blanket technology where the freshness of the lawn can be retained even in the absence of gallons of water. With this simple idea, you can save more than 50% of the water used. This can also control the use of pesticides and let you relish the beauty of the scenic green garden. Rainwater harvesting methods apartments use can be helpful to utilize for the collection of water for various purposes, and can be hidden with the growing greenery.
Ground covering
Landscape ground is divided into sections such as the driveway, kids play area, pedestrian walkway, leisure area, etc. You can use river sand to make the way for the play area. Even the small stone chips can make the area natural with acupuncture effects. Make sure that the ground is properly leveled and thickened. You can also use the stone pavements above the synthetic shade nets which will let the rainwater easily seep into the earth. You may also use wooden decks that can enhance the beauty of the home exteriors.
Xeriscaping
Xeriscape is a wild yet dry kind of garden and needs very little water. This type of garden system can survive in harsh weather, and they are grown even under tough topographies. Walkways, when paved using decorative and attractive stones can make the xeriscape eye-catching. This is pleasing because the blend of rock garden, succulent plants, and cacti make an amazing combination for landscaping.
Container gardening
To grow a trendy and comfy indoor garden space, you can try container gardening. Container gardening is useful because it needs only little maintenance when you equip the container with a drip irrigation system. This can be helpful especially when you have to leave the garden for some days and wish to keep it fresh and greener. Try to make sure that the garden has enough sunshine or set an indoor garden lighting system that incorporates LED lights emitting VIBGYOR light rays. You can also use water-saving gels and natural elements like geo blanket, moss pit, and coco put to let indoor plants grow without taking excess water.
Conclusion
There are many ways to keep your home landscaping elegant and heart-welcoming. It is important to take care of the space considerations, exterior view, trend, designs, building materials, and a lot more before you finalize how the landscaping must look like. You can curb appeal for the homes with rooftop gardens-planned gardens for seasons, lights for the garden paths, small flower beds, or certain tweaks using pebble garden, decorative stones, wooden planks, and other resources to add to the beauty of your homes. You can also try basil, neem, spices, herbs, and other medicinal plants to keep up the traction and at the same time have the advantage of growing plants that give you good health. By updating the home landscape designs, you are improving the value of your homes, hence be sure that you follow the ideal options from any of the above-stated options to transform your homes into beautiful living places.
Hi-Life Builders is one of the best builders in Thrissur. Apart from building wonderful homes, our portfolio includes home care, resale, and home loan assistance and you will be happy to know that we have a dedicated team for after-sales service and property management service. For further information on our project contact us now!
Recent Posts
Recent Posts
Category