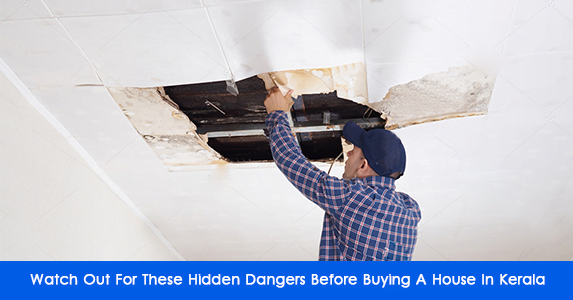 Watch Out For These Hidden Dangers Before Buying A House In Kerala
Posted By

hilife_admin

On

Sat, Jan 21, 2017
A thorough home inspection is a paramount step that every buyer should do before buy a home or house. But in most of the cases, buyers usually try to skip this important step and eventually, end up regretting it later when problems become prominent. Because your home is such a place where you want to discard all your mental stress, strain and agony and would like to spend some cosy time with your family and near and dear ones. So, you must be reassured that the home that you are going to purchase is absolutely safe and in good condition. Hence, you need a proper home inspection, which will reveal you if there is any hidden danger in the house.
Over the past few years, the real estate industry is thriving in Kerala and it is evolving day by day. Moreover, the state is equally developed in the healthcare, IT, tourism, and education sector. Hence, many people are preferring Kerala as their permanent residence and are showing keenness for buying a property in Kerala. Usually, people seeking for flats in Thrissur, Kochi, Calicut, and Trivandrum as these cities provide more facilities. You may find many residential and commercial buildings and skyscrapers are burgeoning in every nook and corner of Kerala.
But, before buying a house in Kerala, you should check all hidden dangers so that you can stay safely and contentedly at your newly purchased home.
1. Leakages:
Image Source
Before investing a single penny in your new home, you should check whether there is any leakage exists in the property or not. Specially you need to check thoroughly the bathroom and the kitchen because leakages are mostly found in these two places. It is recommendable that you should check the entire plumbing system of the house before making your final decision. If you found any leakage, then it's better not to proceed further with that property or you may consult with an experienced and adroit plumber who can give you some fruitful solutions to overcome this problem. Even if you are purchasing a new projects in Kerala, then you also need to check it carefully and meticulously because a newly constructed house can look really good even if it's built with defects and faults. If required, you can also consult with some house inspection service providing companies to avoid any hassle in the future.
2. Mold:
This is another hidden danger that you need to check before buying a home in Kerala. You should check indoor air quality with professional and trained persons before you start any further progress with your purchasing decision.
Image Source
Mold is basically one type of fungus which usually develops from different airborne spores. Mold spreads rapidly in damp and warm conditions without much airflow and that's why household bathrooms and loft spaces are more susceptible to any mold infestation. Though the prime reasons behind the mold infestation are humid conditions and lack of ventilation, but sometimes mold can also be grown on walls due to plumbing seepages, both inside and outside the house. Most molds are visible and they usually form black spots on the walls, doors and other damped areas of the house. An infestation of molds could be devastating and it not only cause huge property damage but also cause several adverse effects to your health.
The hidden danger comes from living in an environment that contains high level of mold and fungi in indoors. Though some of you can smell it while others are unable to do that. You can check the mold level with DIY kits but you may not get an effective result. So, its better that you should take help from professionals. If you are purchasing a used or second-hand home in Kerala, then it won't be a prudent decision for you if you don't conduct an indoor air quality check test. If you are going to buy a brand-new home, then there is a less chance of mold and fungi. But for your safety and security, you should check the ventilation and also, check thoroughly whether there is any damp in the wall of your new home or not. And if you own that home, then you can implement some Home Remodelling Ideas.
3. Squeaky Floor:
Image Source
The squeaky floor is common if you are going to purchase a second-hand or an older house with timber floor. If walking over a wooden floor, you may notice that a squeak or two when foot pressure is applied. So, if you have noticed any squeaky floor, then go for an immediate repairing. It is also true that if you are going for a marble flooring home or new home, then there will be no squeaky floor. Nowadays, developers & builders in Kerala are preferred to use engineering floor joists because these are straight and possess a low moisture. And most importantly, they can prevent twisting and shrinking, which means there will be no gaps and thus no squeaks. So, if you are purchasing a new wooden flooring home, then make sure that your builder should use engineering floor joists.
4. Electric System:
Image Source
Check all electric systems properly before making any payment for your new home in Kerala. You must check that all plug points and connections are working properly because short circuits can always be annoying as well as dangerous for you and your family members. Specially if you have kids, then you must have reassured that the house is insulated properly. If you find issues before moving in, then you should negotiate with your landlord or builder to get all problems fixed before you make the purchase.
5. Check your home siding:
Image Source
Home siding is often overlooked by new home buyers, but if you are planning to buy a new home in Kerala, then you should keep your focus on the home siding. Usually, most of the houses employ vinyl siding because of its sturdiness and aesthetic look. But it is true that vinyl is more susceptible to fire and hence, any poorly managed barbeque or cookout outside can turn into a disaster for your home if the vinyl siding is applied. So, you should insist your developer to use non-flammable siding for your new home to ensure your safety and security.
6. Check all locks and keys:
Image Source
Very often, you may forget to check the locks and keys of the houses due to the excitement that you feel when you entered the house that you are planning to purchase. But this is not at all a healthy habit, so you should check all locks and keys thoroughly before initiating any payment. If you have children or elderly persons, then you can't ignore this step. This is one of the important home buying tip.
Above we mentioned some of the major things that you need to check explicitly before buying a house in Kerala. Your home will be the most precious asset that you have ever made before. And it is also true that purchasing a home is always an expensive endeavour, so you need to check every minute detail before making your conclusion. This is a onetime investment because most of you can't afford to purchase two, three or more houses. Hence, by evaluating all things you should proceed wisely so that in the future you don't need to regret this investment.
Hi-Life Builders is one of the best home builders in Thrissur. Apart from building wonderful homes, our portfolio includes home care, resale, and home loan assistance and you will be happy to know that we have a dedicated team for after-sales service and property management service. For further information on our project contact Hi-Life Builders Professionals now!
Live the high life………………
Recent Posts
Recent Posts
Category