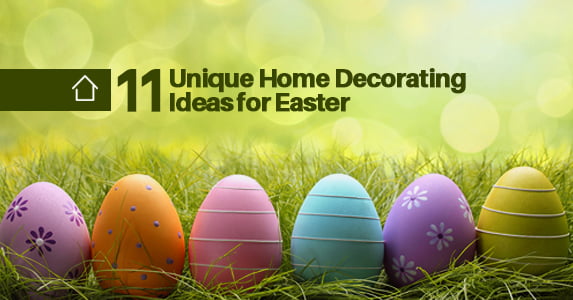 11 Unique Home Decorating Ideas For Easter
Posted By

hilife_admin

On

Fri, Mar 23, 2018
Easter means fun and festivity and indubitably, Easter is a festival to enjoy and exult. Fun, creativity, food, and family are the prime highlights of Easter. This year 1st April 2018 is the Easter date. Only a few days are left and you need to decorate your home in a unique way so that your guests will get amazed with the decoration. Here, we are mentioning some unique Easter decorating ideas for your home which will mesmerize your guests.
Also read some of the best and latest interior design trends in kerala.
1. Bunny Décor:
Bunnies are one of an integral part of the Easter festival. You can use bunny decor in all the small places of your home to make it more enchanting and beautiful. Bunny napkin rings, bunny place cards, bunny salt and pepper holders, bunny napkin holders, bunny flowers holders, bunny teapots, bunny banners, bunny garlands, etc. would be the ideal choice to decorate your home for Easter. Bunny crafts are an exciting activity for this festive occasion. You can even dress up small kids like Easter bunnies, this will add more colour and fun to the festival.
2. Egg Décor:
Eggs are another important part of this festival. You can colour various egg shells or even paint them or you can adorn them with other decorative items. They can even also be painted with various funny patterns like funny faces. You can place all of them on the dining table as a centrepiece or you can keep them on an egg holder. This can be an interesting Easter house decorations within a small budget. You can even organize an egg hunt competition among the children to make this festival more colourful and joyous.
3. Easter Basket:
If you want to make your Easter decoration simple, then just put an Easter basket on your master table. You can decorate it with various decorative items and can also fill it with various gift items. This can be a simple way to express your joy and happiness. You can assemble the basket with some flowers, books, small teddies, chocolates and other items that will be loved by your guests and family members. You can even fill the basket with some colourful animals and can use ribbons to handle them. You can easily find various coloured baskets and animals at an affordable price during Easter.
4. Hang A Wreath:
Nowadays, the markets are crammed with Easter wreath which could be an ideal choice to decorate your home. From straw wreaths to evergreen wreaths to flower will make your home for Easter ready. If you are a crafty or a creative person, then you can make home-made wreaths by using plastic eggs or by joining various egg shells together. Your front door will be the main attraction for your guests and friends. So, why not decorate your front door with a home-made wreath to impress everyone.
Checkout some of the best tips for designing staircase in small space.
5. Easter Dining Table Decoration:
Easter without food can't be imagined. And when you are talking about food, your dining table plays an imperative role. But it would be always a challenging job for you to decorate your dining table in the spirit of Easter without consuming much space. For this, you can try, Easter-themed crockery sets. These days, markets are thronged with many budget-friendly Easter-themed crockery sets which will make your festive memorable and funny.
6. Eggshell Candles:
This is another unique way to decorate your home for Easter festival. For this, you don't need to spend a hefty amount rather this decorative idea can easily be fit into your budget. You need to collect eggshells and then, paint them with multiple colours. You can also make various funny designs on them. Now, put them on cute candle stands. This will certainly entice your guests and you will receive a lot of compliments for this.
7. Decorate With Flowers:
You can easily use potted flowering bulbs as a centrepiece for your table. You can even use small pots which are filled with crocuses in the kitchen and living room to add colours. You can replant those pots on the outside after Easter so that in next year, you can again re-use them. Try to avoid flowers which are heavily scented rather you should go for some Easter flowers like Faster lily's, daffodils, etc. These Easter flower arrangements ideas will make a good impression on your guest.
8. Indoor plant decoration:
If you are looking for some unique and cheap decoration for your home, then must consider your indoor plants. You can amazingly decorate your indoor plants with eggshells. For this, you just need to paint your eggshells with multiple colours and then, need to place them on your indoor plants. You can also organize an egg painting competition among the kids to get the job done in a faster way.
Checkout the best tips to design your kitchen in kerala.
9. Go For a Floral Chandelier:
A floral chandelier would be a unique way to celebrate the Easter festival. A floral chandelier will not only make your Easter décor special but it also uplifts the look of your home. The strands of cut flower and greenery will add a perfect touch to your floral chandelier. You can easily hang it above your dining table or above the Easter basket.
10. Go For An Egg Embroidery Art:
If you are a crafty person, then why don't you go for an egg embroidery art to decorate your home for the Easter. You need only a piece white fabric, needle, colourful threads, and a pencil. At first, sketch the design of eggs on the white fabric. Once it is completed, then start stitching with the needle and the threads. Use colourful threads to make the design more attractive and enchanting.
11. Pastel Feather Tree:
Though egg plays an important role in the decoration of the Easter, you need to think something different from the eggs if you give some special Easter touch to your home. Why don't you collect feathers, branches from the backyard, and paper leaves to make a pastel feather tree? Use pastel colour to paint the feathers and paper leaves. Now, put the tree into a pastel-coloured vase and keep it in front of your entrance door. This pastel feather tree will certainly make your Easter unique and special.
These are some 11 unique home decorating ideas for the Easter. With the help of the internet, you can get some more intriguing Easter decorating ideas for your home. If you are a creative and crafty person, then use your creativity and imagination and bring some unique and exciting home decorative ideas for the Easter.
Are you looking for flats in Thrissur? Then contact Hi-Life Builders today to become a member of the satisfied customer's group. Besides building beautiful houses, we provide home care, home loan assistance, after-sales service and property management services. To know more about us visit our website.
Recent Posts
Recent Posts
Category