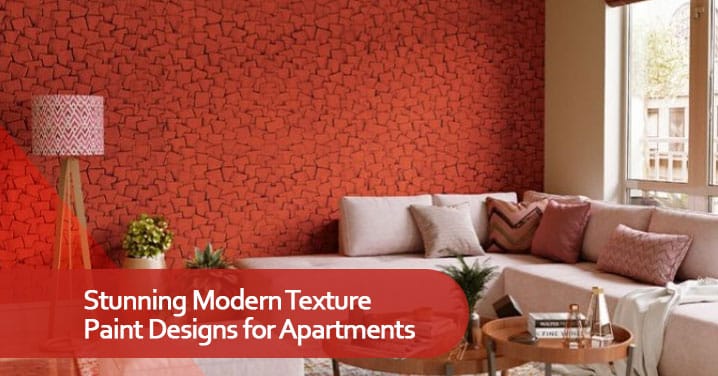 Stunning Modern Texture Paint Designs for Apartments
Posted By

hilife_admin

On

Mon, Mar 13, 2023
All folks think that their home must be the best place to live in this world. For that everyone will try to do their best in their homes. Smearing paints on the apartment or home wall are the easiest, quickest, and most economical, method to amplify your home space and decor. By giving a modern texture design, it will convert the appearance of your room. Texture paint design will provide new dimensions, new style, and glamor to your rooms. Nowadays in apartments, most folks prefer modern texture paint designs. It is very common now to see modern texture design in apartments. Flats in Thrissur provide modern texture paint designs. Colors perform a vital role in the home interior. Colors help in transforming our mood and the appearance of the room. Therefore, it is very necessary to select the right wall paint. Residents can pick out personalized textures and color wall designs that are ideal and unique for their homes.
Let's go through some of the texture designs.
We can experience texture with its feel and experience the consistency, or heaviness of the area even if it is natural or unnatural. Contemporary texture paint design will give you a fresh look. Modern texture paint designs are of various types. You will get several choices for paint textures for your apartment.
Below you can see some unique modern texture paint designs for bedrooms, halls, and more.
Benefits of having a textured wall design on your walls
Textured paints last long which will provide the walls a huge resistance against wind, water, and heat. It is hugely resistant to the rays of the sun.
Textured paint is the easiest method of providing a fresh appearance to the interior wall, as it can be easily applied.
Textured paint walls require little maintenance.
Textured painting will provide a long-standing shine to the walls. There won't be any touch-ups required after many years for texture paints.
Royal texture paint design for halls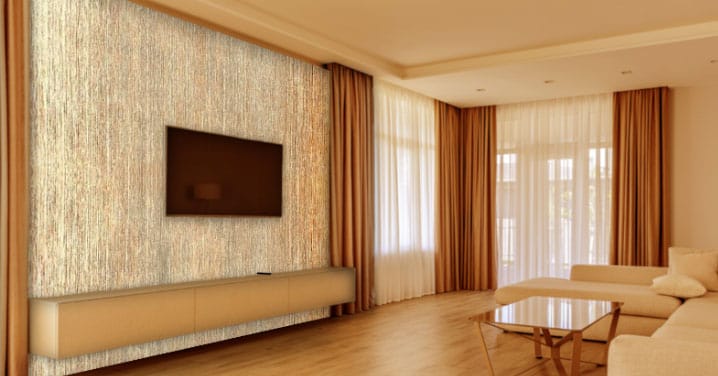 The royal texture paint design for the living room is ideal for the decoration scheme. Modern texture paint designs vary from other paints due to their visually attractive quality. Usually, this paint will not be spattered on the entire wall. It is used in specific parts. Most texture paints are water-based and there are no organic chemicals in them. Also, read more about Terrace Wall Painting Ideas
Modern Mural in Living room
The mural painting in the living room is a different feeling. When you wish to have a mural painting in your space you must check whether it goes well in your space. The potential of the mural is unbeaten. The mural paints permit classical techniques such as handcrafting artwork and abstract sculpture.
Copper texture paint designs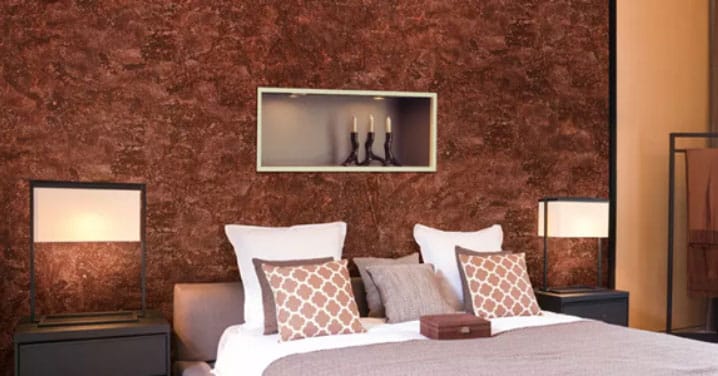 This painting design is a trend in modern homes. The most important thing is that copper texture paint designs complement well with other colors. These copper designs can be paired with furniture that is neutral in color. This design works well in family pictures by adding light and providing a great effect at night parties.
Contemporary texture paint designs for elevation
Modern texture designs are ideal if you want to upraise your space or room.
Color wash texture paint design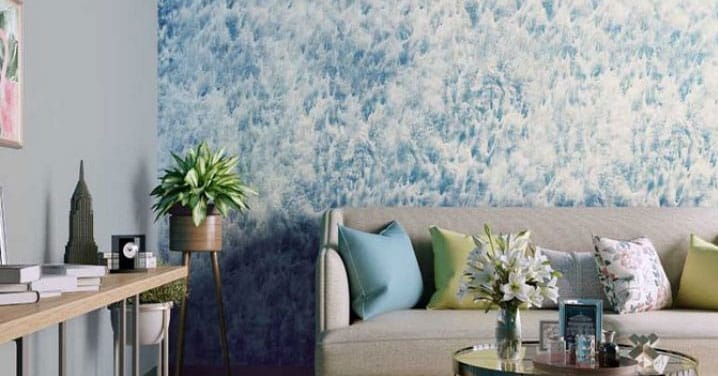 Color wash paint design technique reminds me of watercolor. This texture paint design will convey an older design to the room space. This painting design will shut out you from a tedious scheme, developed by the sky and its fluctuating surface. This design is one of the better ways to uplift your space. Residents can choose two color combinations for color wash texture paint design. Also, read more about Two Colour Combination for Bedroom Walls
Graceful florals
There will be some homes that have less furniture. There comes the significance of textured wall painting in the living room. When the walls dominate your drawing room or living room, folks prefer to choose elegant and graceful texture designs. It is ideal to go for a floral pattern if you wish your wall and space to project or stand out. The wall will get great attention by choosing this texture design. Don't misunderstand that this design is simple and will not go well with your space. Floral designs are stylish, and the residents have many options for this.
Faux Wooden texture paint design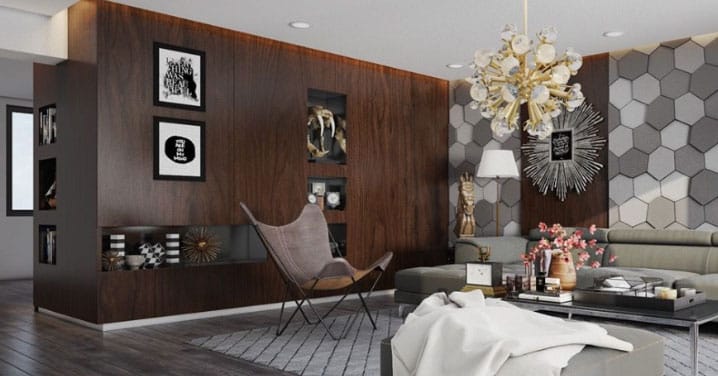 In this texture paint design, the best factor is that wood gives you a soothing and homely texture. Wooden works are seen in many apartments or homes even if they are modern or old. Painting technology is progressing every day. New painting techniques pursue faux wood. Faux wooden paint designs can develop a unique appearance and impression.
Take colors to the window frame.
For experimenting with paints, windows are also perfect canvases. For a perfect look, it is best to give a contrasting color to your windows. Wood works are also a unique feature and when we paint it, it goes well with your room.
Fusion of paint and paneling
It is okay to say that these both are the best partners. In the case of paneling, it gives a structured feel which is visually good. This will also offer a traditional and fresh look.
Smoky texture paint design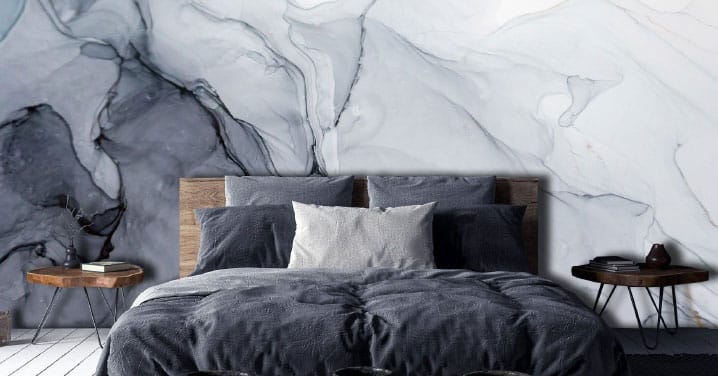 Smoky texture design is the most common modern texture used in halls in homes and apartments. It provides a different feel due to its raw and sandy texture when smeared with colors. It can be used not only in the living room but also in bedrooms too.
Bedroom modern texture paint designs
We can also use modern texture paint designs for the bedroom as it is your private space. Folks choose designs that are calm for their bedroom walls. Below you can see some modern texture wall designs for the bedroom. Also, read more about Interior Design Tricks
1) Grass-cloth Print
Some folks are very much interested in showing their interest in the walls of the hall, especially in art, ornamentation, and design. For such people, grass-cloth design is an excellent way to display their talent in the drawing room. This kind of texture is developed from natural fibers like bamboo, seagrass, jute, and arrowgrass. An expert can transform any kind of dull wall into an extraordinary one with the dazzling look of printed grasscloth. This wall design gives a rich and pleasant feel to your room space.
2) Optical illusion textured paint design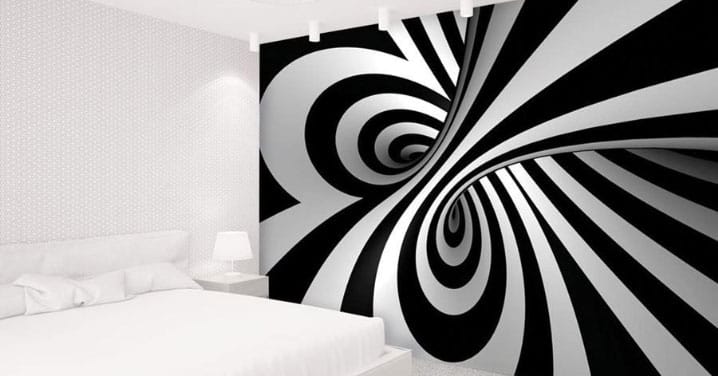 Few people like to paint their bedroom a fusion of light and bright colors with colored polka dots. It is possible to do it in various geometric shapes according to the landlord's choice.
3) Marble texture paint designs
In today's painting technique, contemporary designs will provide a marble finish look on the walls. It complements well in your bedroom due to its very fine texture and stylish qualities. This is not a real marble, and it is low-cost.
Modern exterior texture paint Designs
Due to climatic conditions, dust, and pollution, contemporary outer paint designs vary from inner textures.
1) Seamless Concrete
The seamless concrete wall is the best choice for outdoor and indoor. These texture wall designs appear delicate and sophisticated. It does not look perfect(unfinished). Concrete walls are protected from weather conditions and dust pollution.
2) Rustic paint texture design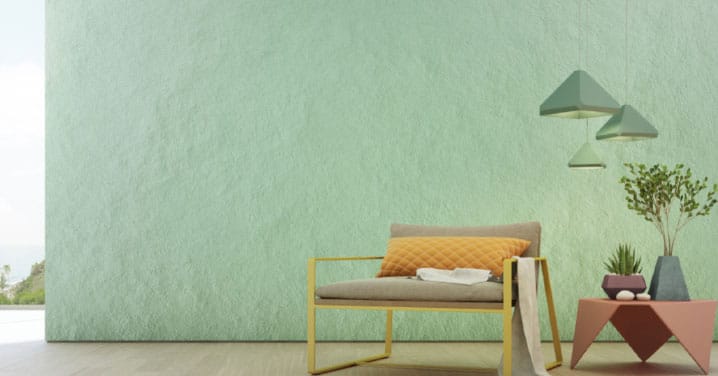 Currently, in modern homes, rustic paint texture design is taken. This style gives a raw, plain, broken, and uneven surface look to the building. This texture design is rough but still stunning and ravishing.
Conclusion
Everyone feels home to be their private space. It is natural if you wish to have changes in your home, whether it is the interior or on the walls, you can go forward with anything that satisfies you. You can transform your space by thinking about the colors, and decors that start from Television to phone. A textured wall can be contemporary with the right paint. Lighting in your space is equally important when you work on the walls. Finally, what is more, important is your wish, pleasure, and appreciation of beauty which makes you joyful and peaceful.
Hi-Life Builders is one of the best builders in Thrissur. Apart from building wonderful homes, our portfolio includes home care, resale, and home loan assistance and you will be happy to know that we have a dedicated team for after-sales service and property management service. For further information on our project contact us now!
Recent Posts
Recent Posts
Category