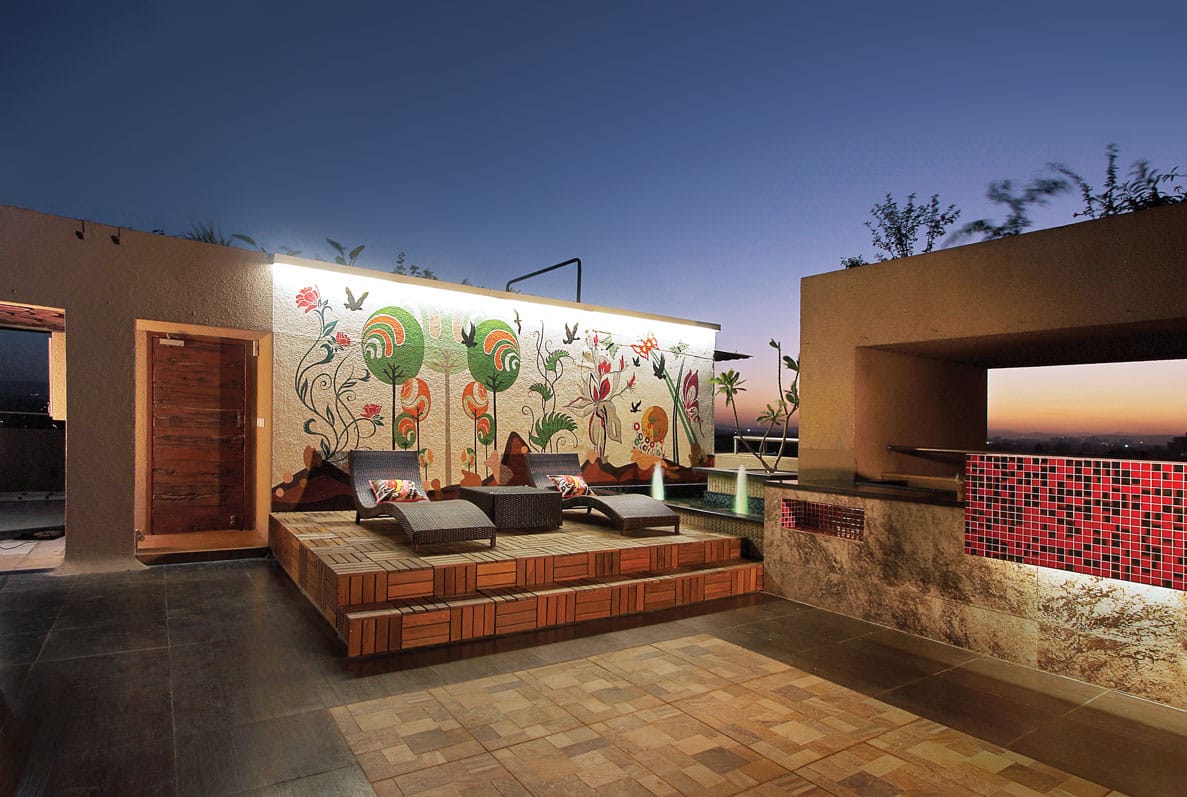 Creative Terrace Wall Painting and Fixtures Ideas To Adorn Your Terrace
Posted By

hilife_admin

On

Fri, May 6, 2022
Adding a different perspective to the terrace is a major innovation in contemporary homes. These days, residents opt to spend quality family time on the terrace. The terrace is a great place to show forth your creativity and taste thereby enhancing the entire aesthetic of your home.
The terrace wall painting gives a complete makeover to the terrace if we implement innovative ideas, creative elements, plants, and drawings. By utilising the space on the terrace you maintain more contact with nature and thereby increase the positivity of each.
Here, we are discussing the latest and innovative terrace wall painting ideas. The key attraction of any terrace is its wall and by giving a new perspective to the wall through innovative and unique painting, you can make it a cosy corner with a fascinating look, and breathtaking designs, or can even utilise the space through minimalist design and adding some plants. Flats in Thrissur are giving a magnificent look to the balconies through mesmerising designs and aesthetic colours which will stimulate creativity in balconies and terraces.
People often research terrace wall painting ideas since it converts an idle space into the most lively space of any home. Let's discuss some of the trending terrace wall painting ideas here:
1. Natural colours
The terrace is alive with nature and all of its features. Painting the walls in natural colours and adding chairs and tables made of unpolished wood or bamboo are the best ways to spruce up your terrace.
Making a bamboo wall is also a great idea. Adding floral drawings to walls often brings a stylish look. You may indeed add small potted artificial flowers to enchant the entire design.
Flowers reflect happiness and serenity with nature, making it a viable choice for wall painting design for terrace gardens also. To make it more lively you can grow hanging plants or can even have love birds, parrots, rabbits etc.
You can even make small shelves on the walls and keep small plants on them. Another brilliant alternative is to make a vertical garden on the terrace's walls and spend an evening with friends and family.
2. Bright coloured walls
You may make your balcony or terrace more appealing and eye-catching by painting it in vibrant colours. Pink or blue are excellent choices for balconies since they are distinctive and rarely used.
It will look much better with lush green balcony plants. They have the ability to enliven the environment. It enhances the space's ambience and rusticity.
These types of wall painting ideas are best suited for cosy balconies of flats. The small space of the balcony can be utilized for having a tea break or can be used to study, write etc.
The balconies are often closed using glass, and the walls are designed and are decorated using statement furniture and elegant pieces of decors. A small and cost-effective way of designing is implemented in the balconies is in high demand.
3. Balcony wall with writings.
An exquisite outdoor balcony wall paint concept is to paint your balcony wall with vibrant colours and do some writing on it. This is an excellent way to personalise the outdoor balcony wall paint with a message or perhaps your favourite phrases.
Including some of your favourite images and writing a message of endearing citations regarding the photos is a truly creative and one-of-a-kind idea. Not just writing, we can also do the artwork.
If you dream of a classical Indian theme balcony, it's better to opt for a wall painting with some Indian classical artworks or using Sanskrit slogans etc.,
4. Neutral Coloured wall
A neutral tone balcony paint would be great if you want a basic yet refreshing styling for your balcony. A sophisticated idea is to keep the wall simple with a neutral tone of balcony paint and some statement furniture or decor to make the other pieces shine out.
There are elegant and unique pieces of decor that keep your space the favourite of your home. It will definitely attract your guests and will always be special. If you are not interested in painting, then you can give a terracotta finish with some tiny pots with plants of light shades that change the complete attire of your balcony or terrace.
5 Wall paintings with picture
Terrace wall painting ideas with pictures or block print is a very cost-effective and creative way. Drawing some bright pictures of nature will give an inviting approach to the space. You can even add some furniture suitable for the space to make it a more stylish yet simple space.You can add some tiles in a different pattern to make it more unique.
Adding some crafted glass bottles with lively plants gives a peaceful approach. In addition, you can keep a fishbowl on the corners to give it a unique and more lively feel.
6. Plain white painted wall
Giving a white colour with white furniture and light coloured rugs or cushions will give a European look to the balcony. But the maintenance of white is quite difficult. If you are sure you can maintain it, then it will give a breathtaking look to your balcony. A lovely effect for your terrace may be created by a sleek, black birdcage with some birds and possibly a tree or fence on a white background. Simply painting the brick with a white colour offers a countryside aspect of European buildings, which is appealing and elegant.
7. Painting of terrace pergola
Pergola is the new name for patio roofs and is the extension of the living area of your house, which protects you from sun, rain and wind. Pergolas are large architectural structures made up of rafters, beams, and posts that can be joined to or separated from home. Painting a pergola and an exterior design with a dining table or couch make that space sophisticated.
8. Yellow coloured wall.
Colouring the walls with yellow has become a great trend nowadays. It goes contrasts with the plants and some cosy colourful rugs and coloured windows give an aesthetic look to the entire space.
9. Grey colour
People who opt for the plain and simple designs can choose colours like grey or just polish over the cement with some hanging using black steel pipes. They minimise the feeling of congested and cluttered space.
10. Wallpapers
The use of wallpaper is a cost-effective and speedy process of designing. In the market, a wide range of 2D and 3D design wallpapers are available. Wallpaper's popularity has skyrocketed in recent years. With wallpaper, it's now simpler than ever to transform your terrace wall in just an afternoon with this wonderful method to add colour, texture, and intrigue. From modern to contemporary, wallpapers make the wall look fashionable and classy.
People living in the city mostly prefer balconies and terraces with wall paintings. If you are in search of the best designers and team to make your terrace and balcony into a sophisticated and mesmerising space, then your search ends here.
We convert dreams into reality. We have a team of enthusiastic designers and painters who can make your dream space a reality. Terrace wall painting ideas with a range of architectural features in various colours and styles give your terrace the look of your favourite art genres – Neoclassicism, Modernism, Expressionism, and so on.
Hope the above terrace wall painting ideas are beneficial for you and it will help your creative work out.
Hi-Life Builders is one of the best builders in Thrissur. Apart from building wonderful homes, our portfolio includes home care, resale, and home loan assistance and you will be happy to know that we have a dedicated team for after-sales service and property management service. For further information on our project contact us now!
Recent Posts
Recent Posts
Category