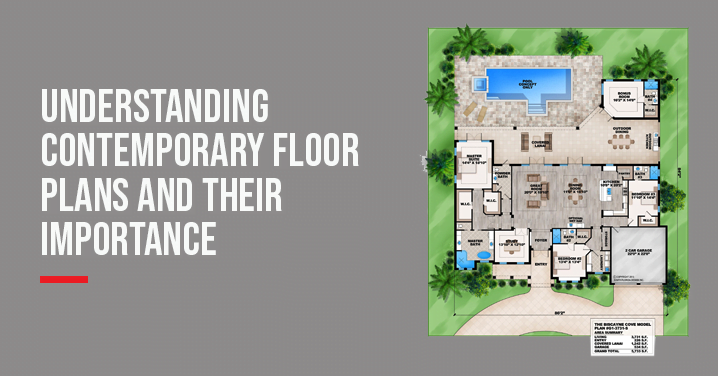 Understanding Contemporary Floor Plans and their Importance
Posted By

hilife_admin

On

Thu, Jun 13, 2019
More and more people today prefer living in apartments rather than individual houses or villas, thanks to the convenience and security apartments offer. So you're planning to look for apartments in Thrissur – congratulations! Thrissur is a land steeped in ancient history, culture and heritage, famed for its temple festivals – especially the extravaganza called Pooram, replete with caparisoned elephants, drumbeats and traditional performances.
However, before you start, there are a few things that you should know about and decide. Some of the most important things you should check out are: the location of the apartment building, the reputation of the builder, whether it fits your budget, and the layout. The layout of an apartment is represented in its floor plan. It is very important that you check out the floor plan and see that you are happy with what is shown there.
What is a Floor Plan?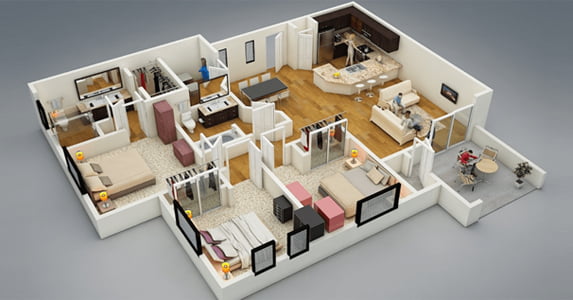 It is, in simple words, a bird's eye view of property without its roof; it's a 2D drawing that displays the location of doors, windows, walls, inbuilt wardrobes, kitchen units, bathroom fittings, and the layout of the room. It helps you understand the basic essence of the apartment; the different spaces and how they interact and flow. It is important that floor plans use an accurate scale so that precise proportions and measurements of actual objects – say, a bed – can be represented in the diagram. This helps buyers like you visualize what the actual apartment will look like. Here is a guide on interior decoration ideas which might be helpful for you.
Contemporary Floor Plans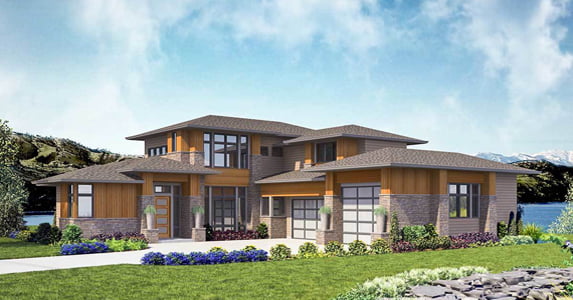 Contemporary literally means – 'belonging to or occurring in the present' – so when we say contemporary floor plans, it means that the floor plan is in sync with the trending design right now; note that this is different from 'modern' plan – which is all about clean, straight lines, minimal décor and monochromatic schemes. Ideally, you should look for an apartment that features contemporary floor plans so that you can purchase an apartment that is designed according to the current trends. If you don't, you may need to spend a lot on renovation and fixing up your apartment to get rid of the 'dated' look and bring it up to speed with the trending designs.
If we want to talk about contemporary floor plans of now – 2019 – you are likely to get simple clean lines with huge windows without decorative trim; balconies are being taken inside the rooms so that you have bigger bedrooms; otherwise you will need to find ultra-spacious apartments in Thrissur, that have large rooms, as well as balcony space.
How to Read a Floor Plan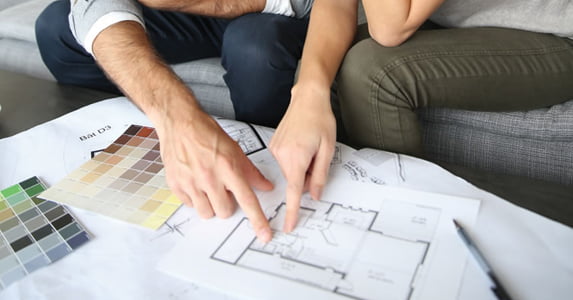 When you look at contemporary floor plans of flats in Thrissur, you may at first glance, be a little overwhelmed; but once you know what the lines, symbols, and shapes represent – it's easy as pie to understand – even fun to go through. These are what the prominent symbols and shapes stand for:
Full unbroken lines – these stand for walls; the outer walls are drawn thicker and bolder, and the inner walls are drawn as thinner lines.
Straight lines perpendicular to the wall – these represent doors, usually along with an arc that shows which way the door opens – into a room, or on the outside. If there are two broken lines, that means there is a sliding door in that place. An arrow indicates which way the doors slide.
Windows are represented as 3-4 thin lines within walls; if they are openable windows, they are drawn similar to doors, with arcs displaying the trajectory.
Stairs – these are usually drawn as a series of parallel lines within a rectangle, with an arrow pointing in the direction of the stairs – up or down.
AC – stands for air conditioner (if included in the apartment)
WC – these show the toilets. WC stands for water closet
Bedrooms – Depending on how many bedrooms are there, they are shown as, Bedroom 1, Bedroom 2, and so on. The largest bedroom is denoted as the Master Bedroom. If your bedroom is small then here are some clever storage ideas for small bedrooms for you.
BIR/WIR – these stand for built-in wardrobes or walk-in wardrobes, and you will be able to see a scaled representation of their size.
Store-rooms, prayer or worship rooms and balconies are usually indicated by their names.
Points to Remember:
When you look at the floor plan for the individual apartment, you can also ask them for the general plans or key plan for the building. A key plan displays the elementary architecture of the building by floors – elevator shafts, plumbing, ventilation, storage areas – are all depicted here. This will give you an idea of how much space is available at the lobby on the ground floor, landings on each floor, elevator space, adequate parking, whether there is a children's play area, and so on.
Importance of a Floor Plan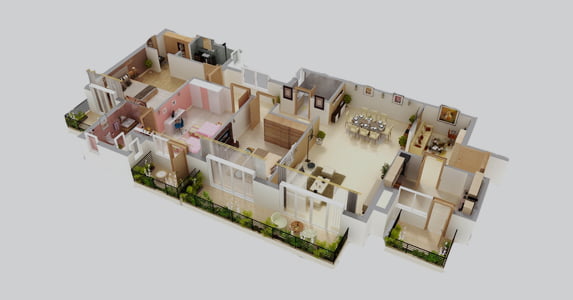 So why is it important to look at a floor plan, and why should you know how to gauge it correctly? Here are some pointers:
1.  If the contemporary floor plan shows bedrooms right next to each other, it may curtain your privacy, and become noisier
2. Check the size of the bedrooms – are the other bedrooms (apart from the master) too small? Will there be enough space to fit children's study desks, their toys, and beds?
3. Are there a sufficient number of windows? If no, it could mean poor ventilation – less fresh air, and inadequate light. Also, check the direction of the windows, and check if that will ensure breeze flowing in.
4. It is extremely important to check which way the doors open – consider if it will hinder the movement of others, or block objects when closing or opening a door.
5. Check if the floor plan includes dimensions – it may not be 100% correct, but it will give you a fair idea of the space.
6. Ensure that the bedrooms don't open directly into the living room, as this could curtain your privacy. Do you prefer the master bedroom to be separate from the other bedrooms? Check if the flat in Thrissur you are checking out offers this layout.
7. If you have older children, you may want your bedroom to be a little away, but if you have younger kids, do you want their bedroom to be close to yours? You need to consider these factors.
8. Is the dining room right next to the kitchen? Are the dining room and living room close to each other? It's important that there is a natural 'flow' in the entire apartment, as this creates a harmonious atmosphere in the house, and helps you to avoid clutter.
9. Has the apartment builder wasted space inside the apartment with unnecessary passages and corridors? Are the rooms rectangular, or do they have odd, many-sided shapes? This sometimes happens when ambitious builders want the whole building to look like a star, or flower, or something like that – when viewed from the top. But this can become a nightmare when you want to plan your interiors.
10. When you visit the property physically, make sure to have the drawing of the floorplan, and make comparisons, to make sure that everything is as was depicted. This will tell you something about the integrity of the builder and give you assurance about the other aspects like quality of the materials used in the construction, fittings, tiles, and so on.
11. You can also check if the floor plan allows for flexibility – for instance if you want to pull down a wall to combine two rooms, or want to divide a room into two – will it be possible?
12. Scrutinize the drawing carefully and check what amenities are provided – like a laundry room, a work area next to the kitchen, a storeroom – is the builder providing any of this? You can check out some apartment kitchen storage ideas to easily make more space in your kitchen.
Contemporary floor plans help in planning your interiors – what size dining table and sofa set you can fit in, where to place your furniture, like coffee tables, chairs, cupboards, and so on. You can also start planning how much fabric and what kind of fabric you will need for your curtains, sofa sets, etc. if you hire an interior decorator, they will definitely want to see the floor plans of your flat in Thrissur – and if you do it yourself, it will come in handy to communicate your ideas to the people doing up your interiors, like carpenters. They will also be able to plan the materials they need to purchase, and so on.
Obviously, the floorplan does not indicate every single detail about the property like the quality of construction, plumbing, lighting, and more, but by analyzing it you can save time; if you don't like the layout as depicted in the floorplan, you need not visit the property. Therefore, it is vital that you ensure that the floorplan is not only a contemporary floor plan, but also one that suits the needs of your family, and your lifestyle.
Understanding the floorplan can help you make the right decision about purchasing an apartment in Thrissur. Buying a flat is a big decision that involves a huge financial outlay, and you need to take your time over it; don't rush the process. Take your time, and be absolutely certain that everything is to your liking.
Hi-Life Builders is one of the best builders in Thrissur. Apart from building wonderful homes, our portfolio includes home care, resale, and home loan assistance and you will be happy to know that we have a dedicated team for after sales service and property management service. For further information on our project contact us now!
Recent Posts
Recent Posts
Category