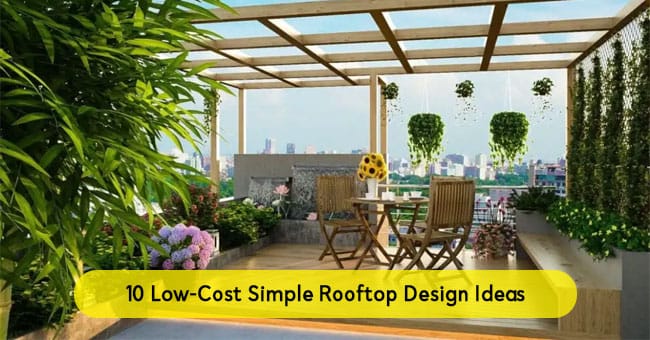 10 Low Cost Simple Rooftop Design Ideas
Posted By

hilife_admin

On

Thu, Oct 27, 2022
Renovation ideas for houses have caught the eyes and hearts of people these days the owners look for complete changeover to their homes, that suit their needs and the modern trends.
A dedicated rooftop design is no way different. In addition to the homes, Flats in Thrissur have also adopted similar ideas marking luxury with numerous terrace top designs.
Rooftops have turned out to be a popular choice for serene living space itself, with a creative approach towards low cost simple rooftop design ideas.
In this blog, let's unwind the top simple design ideas for the rooftops that can transform your lifestyle in flats, apartments, or homes with a comfortable experience.
Why Are Rooftop Designs In Demand?
Interior design has been in the spotlight for quite a long time. However, rooftop designs have newly emerged to revolutionize the way you live.
While earlier, the rooftop was confined to only a place to relax, nowadays the area has been converted for multi-purposes, making it an additional living space of the house.
Can you believe that a rooftop can be made into a cosy dining area? How about a rooftop bar, or a fireplace to power up your parties?
These ideas are only a few among the long list of simple rooftop design ideas in practice. Let's explore them in detail in the upcoming sections.
Low-Cost Simple Rooftop Design Ideas You Must Try
House owners opt for many rooftop designs based on numerous factors like area, budget, requirements, and the latest trends.
Here are the handpicked designs based on the popular choice of most residents, to transform your rooftop into an extra living space. And also read about Apartment Balcony Ideas
1. The Eco-Friendly Bamboo Rooftop Design
If you have a rooftop terrace, this could be the ideal place you can go to breathe fresh air.
Bamboo roofing is a safe and natural alternative to asbestos or Zinc roofing panels.
Unlike these corrugated types of roofing materials, Bamboo green roof stays quiet in the rain and remain cooler under the sun, which makes them ideal for roofing.
You can use anti-pollutant bamboo cool roof products to safeguard the terrace against weather fluctuations.
Bamboo bench and bamboo flooring can add more flavor to your morning/evening tea and snacks.
Try tables and sofas to give you a comfortable time and help yourself relax while spending time on the terrace.
2. Have a luxury rooftop garden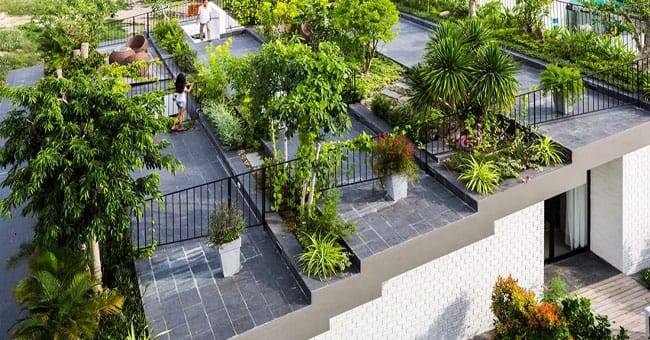 A green space on the rooftop is rejuvenating– Who doesn't enjoy the green covers that give a positive vibe to your rooftop space?
A beautiful garden with planters, decorative plants, flowers, and shrubs can make the area look pleasing.
To add more colour to your spot, you can also use climbers which add more elegance to the terrace.
Try adding a creative wooden gazebo and a piece of light folding furniture, so that you can move them easily under harsh weather conditions.
Why don't you prefer naturally grown veggies for your diet? Grow chillies, tomatoes, fruits, and veggies on the rooftop.
You can also try to grow various plants that contribute to your health like aloe vera or hibiscus.
Being one of the most simple rooftop design ideas, it is listed among the common choices of house owners. Also, read more about Maintaining a Terrace Garden Apartments
3. Include Lighting For Your Rooftop Design
It is eye-welcoming to have lights that create a festive look for your terrace. Illuminate the outdoor spots with hanging lanterns, overhead bulbs, or sconces for both big and small rooftops.
For your terrace pergola, you may choose the string lights that fall across the wall, or wrap the lights along the beams beautifully.
You may also place tiny tea candles on a dining table to build a romantic atmosphere. Use creative apartment lighting ideas to add more charm to your rooftops.
Try placing the art decorations and artwork pieces, and draw attention to them with accent lighting.
4. Create A Stunning Rock Garden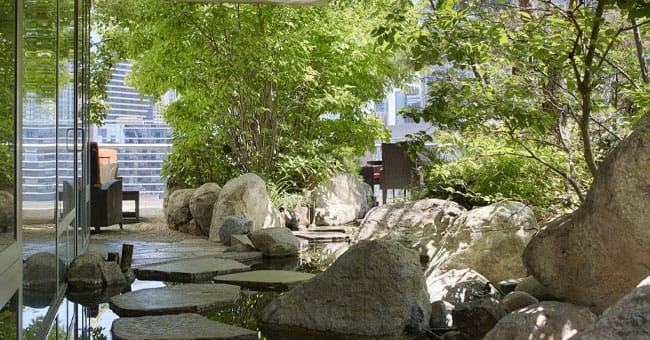 A rooftop rock garden will not only scale the aesthetic beauty of rooftops but also elevate the style factor of the space.
However, it is important to make sure that your rooftops are strong enough to withstand the weight of the rock garden you wish to set up.
It should be able to bear the soil, stones, and continuous watering needed to manage the entire lawn or garden.
The stone wall in the surroundings and stone walkways can add to the elegance of this area.
Add stone seats to make it look like a rock garden and give the perfect ambiance.
5. Place Detachable Umbrellas
An open terrace gives a beautiful scenic view to the eyes. Sipping tea or coffee while enjoying nature from your terrace is a perfect experience.
However, Kerala is famous for its annual rainfall. When you have an open terrace, it is important to take care of the heavy downpour Kerala experiences every year.
To ensure you spend time on the terrace well, and enjoy the beautiful views of nature, you can utilize detachable umbrellas.
Use a wooden roof deck and place colorful umbrellas to spend monsoon effectively on the cool roofs.
Add seatings or chairs around these umbrellas to relax and spend your quality time enjoying the rain.
6. Try Scandinavian Style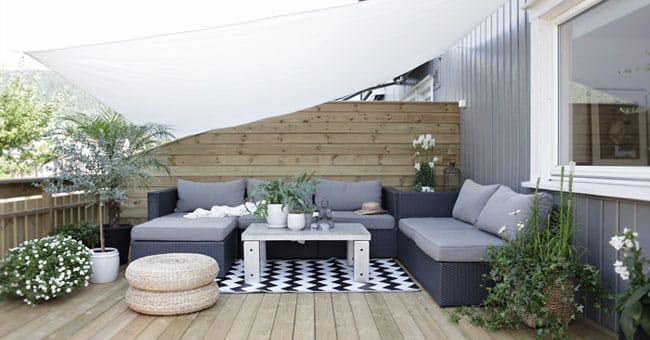 Don't you love to enjoy the blue sky while sitting on a simple but gorgeous terrace deck?
How does it feel when you add a large canopy to stay cool, away from the scorching sunlight?
Give it a touch of modern roof designs with a white terrace deck and latticed wall, to turn the spaces different, but soothing.
Create an outer wall with glass, and cover it with a bed of flowers to give glamour to your terrace space.
7. Go For A Rugged Wall
A rugged wall with rock chips elevates the look of your rooftops.
To give it a more natural and organic appearance, you can keep a wooden deck, decorate with plants, and place wooden benches or tables made with bark of trees.
Try to choose lightweight chairs and furniture you may place them at different corners and give the deck a natural look.
You can also give it a historic touch with a sculpture garden on the rooftop. Place the white cement statues or sculptures on the floor on a stand.
You can keep some green plants and shrubs, or creepers along the statues to magnify the beauty of the place.
You may use the sculpture made using clay, cast stone, metal, or concrete to highlight the garden and give it a classic finish.
8. Use A Water Feature On The Terrace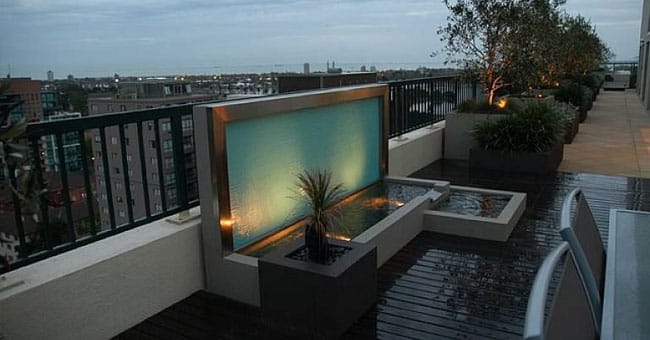 Try to understand the view your house, flat, or apartment presents, and the roof terrace design ideas without hindering the natural light.
When you have a huge space on a rooftop, give it a water feature. This can be a waterfall or a fountain.
Include a coffee table, chairs, and sofas to fuel the beauty of the outdoor space.
This can give your terrace a cool and cosy experience.
The calmness and the soothing sound of running water can let you get out of stress and make your mind relaxed.
A wall design, probably with wall stickers, artificial plants, or creepers can add to the beauty of the space.
You can also try to focus the central space of the terrace with tall plants, or even wooden logs to make screens.
9. Make It A Dining Area
This is one of the most popular low-cost simple rooftop ideas you can think of.
When you have ample space on rooftops, why not use it to arrange your most craved outdoor dining there? Give it a picnic mood with tables, benches, and picnic umbrellas.
Another highlight is the rooftop bar, which speaks the best when you have guests or have any events.
Build a bar or you can purchase a cabinet with storage space that fits well with your doors.
Give it a counter space with flat roofs to offer ambiance to the rooftop bar.
10. Add Customized Steel Planters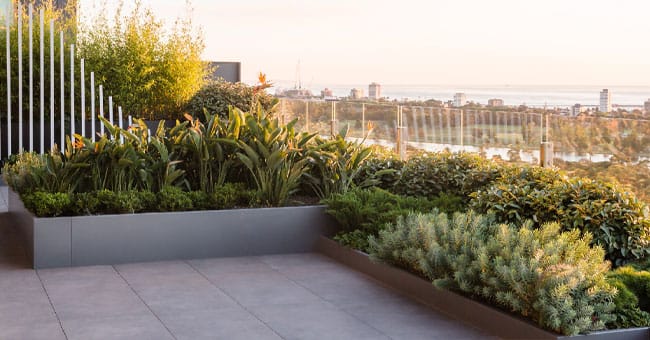 Give your terrace a standard look with custom steel planters.
There are numerous steel planters available in the market, which makes it easy for you to choose among them.
You can also find them at interior shops based on your requirements.
Since they are light weighted, they are easy to install and enhance the appearance of the space.
Use potted indoor plants, custom roof deck, and flowering plants to design the remaining space.
Tips And Tricks To Enhance Small Roof Designs
The below tips can help you to make the small rooftop designs the best.
Have an idea about the area accessible at the rooftops to match your requirements.
Plan the budget and frame regular maintenance accordingly.
Check for an electric connection plan to perform the transformation.
Use high-quality materials for the renovation.
Analyze the weather conditions and choose construction materials that can bear the temperature.
Keep an eye on the walls and flooring— choose concrete tiles, clay tiles, or cool-colored tiles to give a timeless finish to the roof floors, matching the roof tiles.
Understand the purpose the rooftop serves to you. Make it a leisure spot or a workplace, but plan and work based on your purpose.
Wrapping Up
You can take inspiration from the above rooftop terrace design ideas to make cost-effective designs that completely change the outlook of your terrace.
It is necessary to understand your entire space and compare it with your requirements before you convert the rooftops.
Adopt regular inspections and make sure the extra maintenance is carried out under extreme weather conditions.
Make sure you sit with family, and friends, or consult with experts to plan the changes and use the strategies in the right way for the best results.
Hi-Life Builders is one of the best builders in Thrissur. Apart from building wonderful homes, our portfolio includes home care, resale, and home loan assistance and you will be happy to know that we have a dedicated team for after-sales service and property management service. For further information on our project contact us now!
Recent Posts
Recent Posts
Category