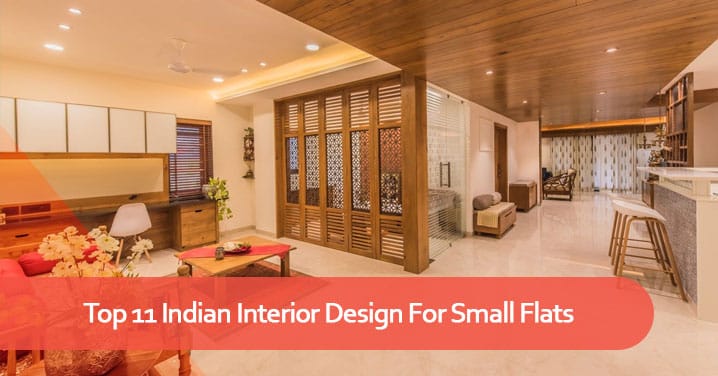 Top 11 Indian Interior Design For Small Flats
Posted By

hilife_admin

On

Wed, Dec 7, 2022
Every one of us dreams about a spacious, comfortable, and lavish home with state-of-the-art amenities accessible at our fingertips. The modernized designs and technology of the present world bring a positive vibe, even when you have small spaces in apartments or flats. With the best interior designs for small homes, you can implement space-saving interior designs for Flats in Thrissur.
Small room design ideas usually free up the panic of people. A small room requires more thought in the design than the bigger rooms, and when you find the right solution for the space, you can make it the best experience.
To revamp your interiors through practical, functional, aesthetic appeal, and cost-efficient strategies for the spaces, you can draw inspiration from this blog post. Let us know more about the top 11 ideas that make Indian interior design for small flats beautiful.
How To Effectively Design Your Small Interior Spaces?
When you design the interiors, it is necessary to avoid awkward gaps in the corners and small spaces. Also, an ideal choice of furniture can make the spaces look more neatly arranged. Advanced ideas like built-in furniture can also cater to the elegance of the interiors.
For instance, a dining corner with storage beneath, or a box bed to make the spaces for cabinets, enhance the beauty and arrangement of the entire room.
You can organize your rooms with the best amenities and space-saving ideas that let you adopt a modernized interior design strategy. Let us understand the best small space interior design for small flats, in the coming sections.
User-friendly Interior Design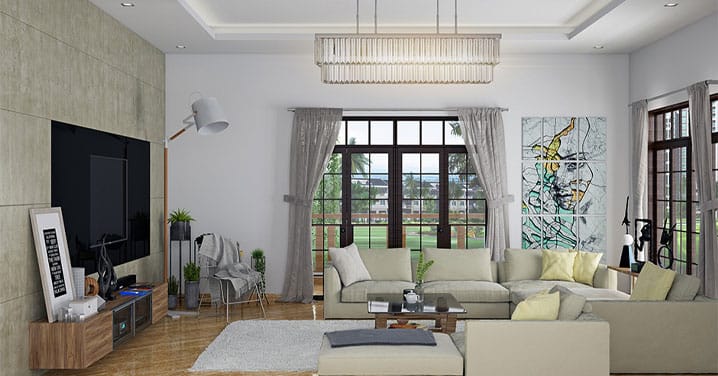 The best interior designs are not confined only to those who need luxury decor, but also to those who need secure and beautiful spaces to live in. Imagine having lampshades, flower vases, and a bedside table in a couple's bedroom.
Also, bedrooms with patterned walls and beautiful light-colored couches can make the child's dedicated spaces elegant.
Living areas or dining spaces are common places for meetings, where you can use multi-purpose or moving furniture, use highly dark and light paints in contrast, and indoor plants to give them a fresh outlook.
Luxury Flats For Sale In Thrissur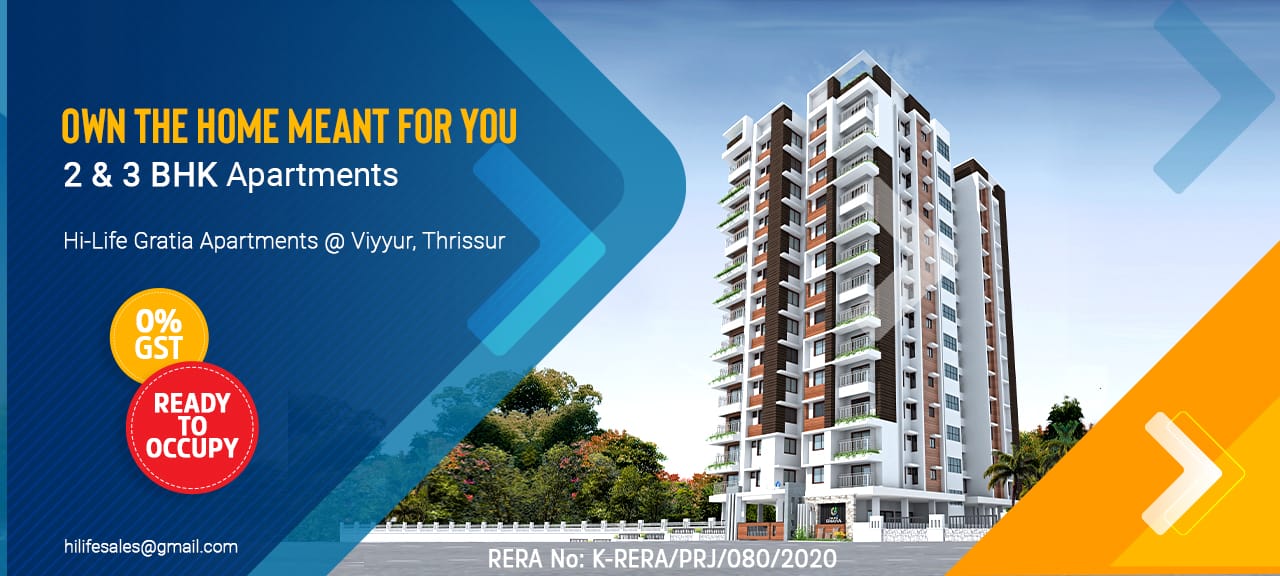 Hi-Life Gratia
Experience the exquisite design and comfort that only a masterfully crafted Flat can offer Luxury 2 & 3 BHK Flats for sale in Thrissur.
The Flats That Blended With Very Detail in Perfection With World-Class Standards.
Enquire Now& Get The Best Assured Price
Incorporate Plants
One of the most adopted Interior design ideas for small Indian flats is the growing of plants in the homes. Plants, be they fresh or artificial, create rich indoor and outdoor experiences. You can select the fresh plants that grow indoors, and require minimum care.
Go for tiny potted plants for a spatial design that looks attractive in colored pots. Place these pots near the window, or you can hang the big pots in various corners of your rooms. You may also use it for the balcony space for your compact apartment, to create appealing spaces around.
With green plants, you can light up the space and give more life to your rooms with more air.
Also, read more about easy indoor gardening ideas
Hanging & Wall-mounted Lights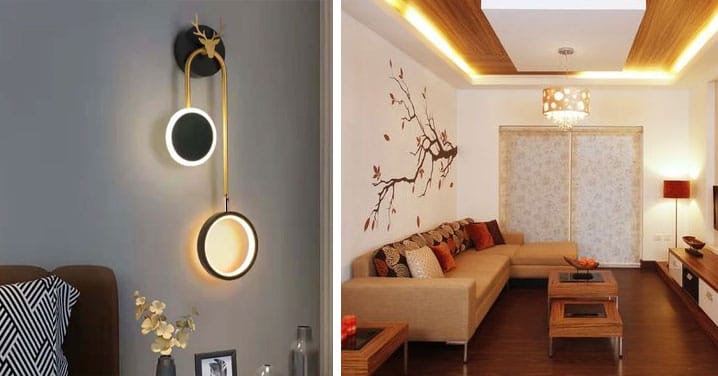 When you face bad lighting, it can be a challenge to the entire interior design. Wall lights in the living rooms can create an amazing twist that breaks the conventional norms of interior lighting.
The wall lights don't consume much floor space, they are the best to create minimal house designs to maintain a neat, clean, and organized look.
Grow creative with the approach toward design that uses light fixtures concealed in the ceilings. You can accommodate them in the corners of recesses and keep them highlighted. You can also make some functional spaces of your interiors well-lit while the others are not.
You may also use the hanging lights to make the spaces more classy and elegant with an antique appeal. Use them in specific places like living rooms or study rooms.
Go for an Open Plan Design
Having too many partitions and crowded walls can make the spaces congested. You can make space optimization for Indian style apartments using open-plan design ideas.
While implementing the living room Indian interior design for small flats, you can try a combination of dining and kitchen spaces, or seating and dining areas, in the living room itself.
In the case of huge windows, don't use thick curtains, use light curtains. Instead, you can let natural light in to light up the spaces for great apartment aesthetics. Deploy false ceilings and use small ceiling lights to light up the entire space.
Choose thoughtful furniture options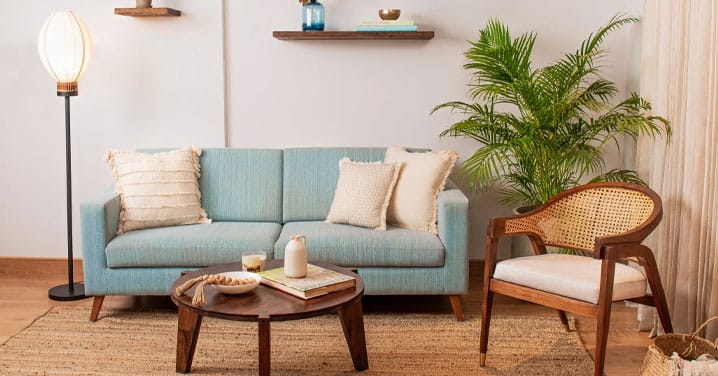 If you own a small flat or an apartment, you might crave additional space. In this case, you can make this most-adopted Indian interior design for small flats with intensive decor strategies that enlarge the spaces.
Use mirrors to make the spaces look more pleasing and bigger. How about floating cabinets right above the TV unit? In this living room setup, you can use these shelves also as a source for an exhibition of decor.
Try using light-shaded or transparent curtains to welcome sunlight to the interiors. You can also opt for white flooring that pretends more like the home is bigger than its actual size. Compact furniture, modular furniture, or multifunctional furniture can make your stylish interiors look great.
Also, read more about choosing right furniture for home
Use a large rug for the floors
While you purchase a rug, would you ever think that it makes a huge difference for your interiors? If you need to maintain and design a small space, you can use home designs with rugs and carpets that look more heart-welcoming.
When you use small rugs, these can drive the attention of people to specific dimensions of the rooms. However, these rugs with borders can make your floors diminish and look even smaller than they are.
What are the rug patterns that can make the tiny living rooms look perfect? You can go for lighter hues or neutral shaded mats to give your rooms the cozy experience and most elegant appearance.
Another option is to use the rugs and integrate them with stripes to let them look more magnified which elevates the area making ample space.
Also, read more about small bedroom decorating ideas
Create Built-in storage units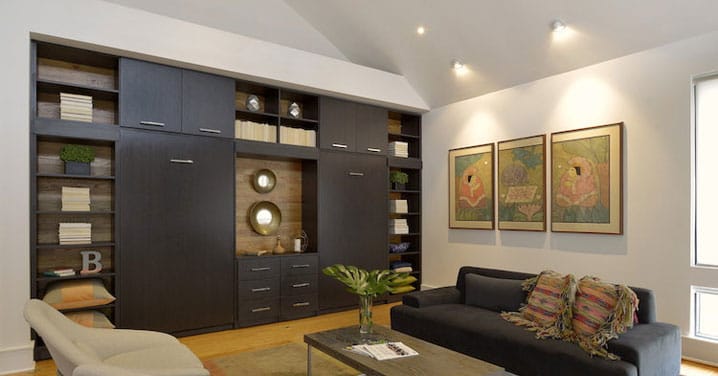 The spaces with less clutter make the interiors look more clean and big. Remember, a well-organized home is key to maintaining the beauty of the rooms. To obtain this, you can hide your belongings inside the built-in shelves or cabinet units.
Don't use bulky cabinets, instead, you can consult with the designer or an expert to have plans about the in-built storage units. These storage units can also be fitted to the walls. If you use a rented accommodation facility, you can opt for corner cabinets, or kitchen cabinets away from the other social spaces.
To blend the colors of the walls and the storage units, you may paint both with similar hues. These can give beautiful appeal to cupboards and wall-fitted cabinets.
Declutter spaces whenever necessary
We all love adding more things to our rooms. Unintentionally, our rooms might gather more clutter now and then. It is crucial to have a decluttering process at least every few months to let your homes look huge.
You don't need to move your favorites, but classify them into various boxes. Let us, for example, rank from the basis of most favorite to least favorite items.
You can then decide to leave a box or two at the time you feel these have turned out to be of no use. Follow these steps to let your home free up space and keep it cleaner.
Nesting tables to save space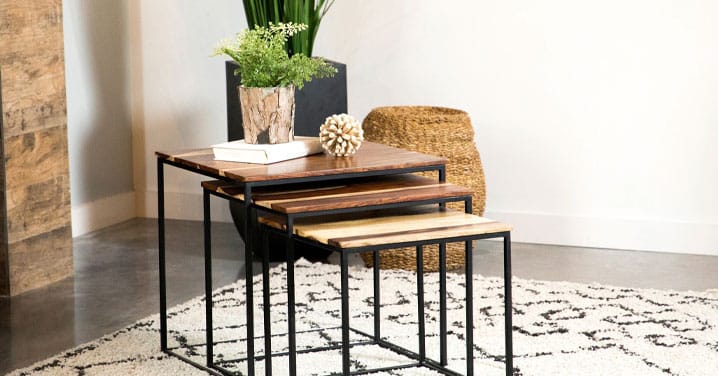 Why don't you get the wonderful nesting tables that do a lot to save your space? You might have come across the two-three table sets stacked over in the furniture shops.
When you can use them individually while you need them, and when they can be nested to serve various purposes, they form smart furniture.
Use them as a coffee table or dining table for your living hall, and later nest back these tables after use now you can have your spacious and huge room back to you.
Make the tables glow with glass
Every piece of furniture should encourage the visibility of your flooring. When it comes to designing flats or apartments, it needs a well-highlighted floor that looks more spacious with minimal furniture.
Glass furniture can create the illusion of the interiors and portrays the truest colors of the other things in the vicinity.
Try a combination of pendant lights, big rugs, and classic wall art to make the area more eye-catching.
Fill up the Corner spaces with L-shaped Sofa sets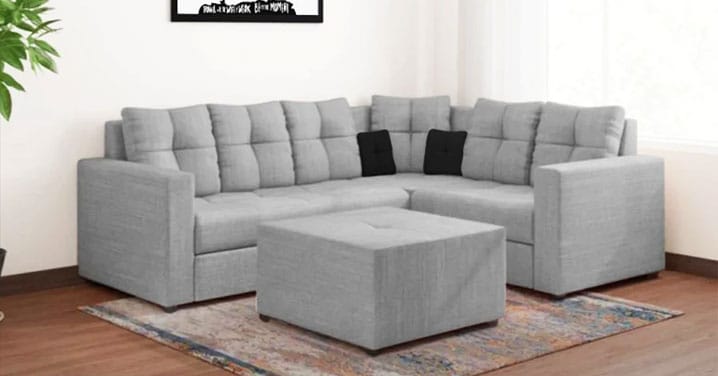 You can make the best out of small spaces in your homes with chaises, corner seats, or L-sofas. You can also use this as a design approach to deploying dividers in the interiors, separating the open living spaces without congestion.
It is interesting yet challenging to decorate tight spaces in small flats. You may also utilize glass or mirrors to build an illusion of the space available. With neutral, monochrome, or light colours, you can provide a luxurious look to your homes.
Give spaces for natural light; if this is not possible, you can choose ambient lighting to save rooms from being dim and dark. To make the small space Indian interior design for small flats complete, you can use sleek furniture or small chairs that help your home to feel visually lighter.
The Parting Shot
We hope you have now got the quick tips on how to maintain stunning Indian interior design for small flats. With the latest design trends and modernized space-saving design styles, you can make the flat interiors mind-blowing.
Also, give your small bedrooms an ideal combination of two tones like white, pink, etc. Use clever strategies like under-bed cabinets and use bold designs to accommodate your favorite books. You may also use skylights for ample lighting in the special cozy areas, to invite natural lights for great visual appeal.
Make use of cushions and throws to give the spaces your unique touch. Well-toned or white curtains that go hand in hand with the wall colors and using patterned design wallpapers can give the bedrooms a heart-throbbing appeal.
Are you interested in giving any of these designs a try for your new small flats or Indian apartment homes? Comment on the interior design ideas you liked the most.
Hi-Life Builders is one of the best builders in Thrissur. Apart from building wonderful homes, our portfolio includes home care, resale, and home loan assistance and you will be happy to know that we have a dedicated team for after-sales service and property management service. For further information on our project contact us now!
Recent Posts
Recent Posts
Category