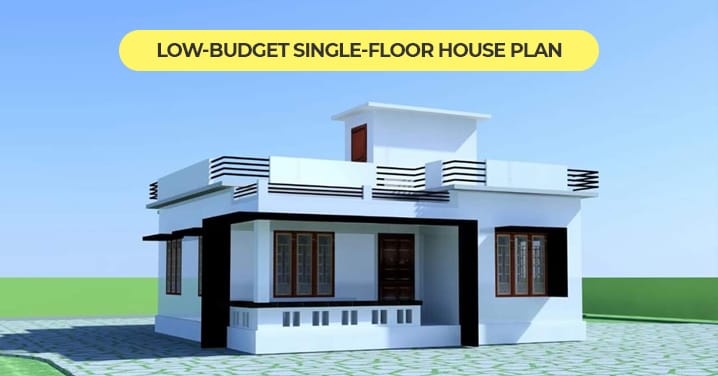 How To Plan A Low Budget Single Floor House in Kerala
Posted By

hilife_admin

On

Thu, Mar 3, 2022
Home is where the heart is, budget homes help everyone to fulfill their dreams wholeheartedly, Budget Houses are designed with much elegance and comfort with minimum construction cost without compromising the comforts and basic requirements of the single floor house in kerala.
Construction Methods For A Budget Friendly House.
A Low-Budget Single-Floor HousePlan is the perfect option for a budget house, by doing proper planning one can build their dream house without emptying their pockets. First of all select a desired area for the construction, it is advisable to choose suburbs than well-developed areas as they are more cost-effective. Once the plot is selected approach an expert builder who constructs Budget House. Discuss your ideas and must-haves for the proposed house with the designers, and the budget, then they will give you a series of Affordable House Design, and interiors.
Some expert designers even maintain a detailed house design gallery and in this case, it's really easy to choose a Floorplan by surfing the Friendly House Design Gallery. Once the Building Plan is decided, make an estimate of the amount needed for the construction. Mostly for Budget Houses Single Floor House Designs are preferred than Duplex House Plan 3 Floor House Plan. Mostly Budget houses go for a simple Ground Floor House Plan rather than complicated ideas with minimal luxury and maximum utility. Budget House Plan generally comes under thousand Square Feet of House. A lot of 1000square feet 2 bhk and3 bhk plans with multi-utility rooms will come under this category so one can choose a house according to one's need and the number of people. A Two Bedroom House Plan is ideal for a small family, It is also advisable to go for a basic infrastructural pattern than going for a more complicated and unaccustomed design with arches, porches, and Pergola Designs as these extensions are just signs of a luxury than utility, which adversely affect the estimate of budget homemakers. Once the proposed ground plan is finalized the estimate is drawn within the budget. The next step is to choose the materials, for SingleFloorHouseDesign
How To Choose Building Materials For A SingleFloor House Design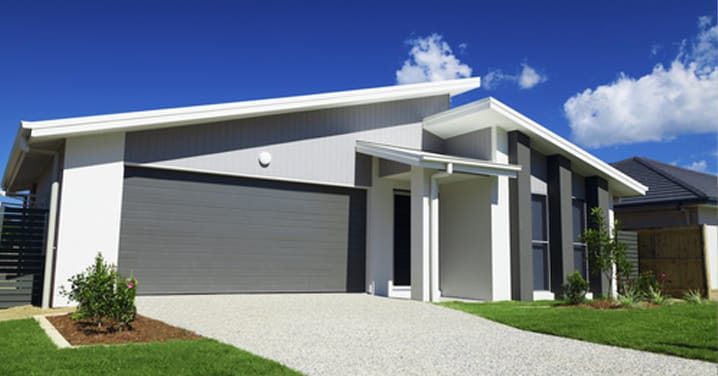 After the plan is finalized is, move forward with the construction by choosing the right building materials, for the Single Floor House Design. More than fifty percent of the total building cost comes from building materials. For cost-effective construction it is mandatory to choose building materials wisely without compromising the quality of the products, it is always advisable to go for more durable and eco-friendly building materials. In order to get the best materials at an affordable cost, one should avoid middlemen and order materials directly from the wholesale dealers, to get affordable rates. This process will take more effort than usual but the outcome will be great.
TYPES OF MATERIALS
The next step is to find out which type of material is ideal for the construction of the Single Floor House Design, traditional building material, or newly updated material. For Low-Cost, Interior Design Homes's most cost-effective type of materials should be selected. Using age-old building materials such as brick or mortar and laterite stone instead of interlock bricks, and using hollow bricks or blocks in the place of solid bricks will reduce the cost as the solid bricks are very heavy compared to hollow bricks it demands more support system which naturally increases the cost of construction. Reusing the materials of old demolished houses reduces the cost of construction, most of the building consists outstanding wooden and castiron materials which can be easily reused these salvaged materials is a great help for the Budget House, using traditional house construction materials such as bamboo and palm leaves also reduces cost these things are easily available at very low price by incorporating these materials for extended roofs and elevations, these aesthetic Elevation Designs not only reduces the cost but it also gives a perfect view of the house from the entry-level along with the courtyard, main entrance gate, front door and windows. This kind of elevation can be used for plan with shop attached, which even gives your shop a unique look. which is the latest real estate trends.
Interiors in Low Budget Single Floor House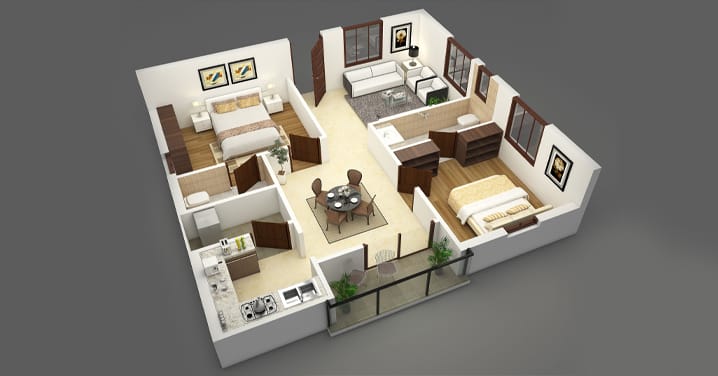 Interior design can create wonders for a low-budget house just like wrapping makes gifts attractive and flower decorations a wedding platform. A good interior design will enhance your dream home's beauty. With minimal cost, interior designs will make your home combat with Luxurious House Designs which demand millions.
Below stated are a few interior design ideas for low-cost interior design homes in Kerala, which help build a dream house plan. There are a wide variety of interior design ideas, but by incorporating the traditional designs of Kerala we can make our homes beautiful and also retain age-old traditions:
Nadumuttam
Nadumuttam is a very traditional open courtyard within the house its a bit expensive idea but converting this into a small open space it could be attractive and cost-effective, it can either be set in the living room with a small fountain or at the front balcony area with a little ivy arch and indoor plants, a glass roofing is also perfect for this setting so natural sunlight will enter immensely.
Pillars And Arches
Wooden pillars and arches are a unique feature of Kerala interiors, by constructing concrete pillars with a wooden finish with a traditional bell and a few mural paints will give a traditional kovilakam look. If you include a few ivy and indoor plants it will add additional beauty to the front portion, pillars are also an excellent choice for Elevation Designs.
Brick Wall
An unpainted traditional brick wall is an inexpensive innovative idea brick veneer designs adds character and beauty to any room from balcony to bedroom it adds beauty by hanging a few paintings or family photo frames or unique art pieces adds an extra charm to the entire place these Wall Creation BrickVeneer [Brick Wall CreationBrick] is a trending in the interior design world, which is also a great Elevation Designs for buildings, and CompoundWalls Of houses.
Terracotta and traditional vessels.
Old terracotta vessels like vases and waterpots add charm to the courtyard, tools, and utensils of early days can be polished and displayed in the courtyards, even the tools used for cultivation like waterwheels and plow can be used as showpieces in the front yard. On occasions, these pieces can be decorated with flowers and lights.
Living room decoration ideas for Single Floor House Design
Everyone wants to have a stunning living room as it reflects its personality of its. Inhabitants, it's a must to create s friendly environment to relax and have family time, there should be warmth in the living room to welcome guests.
Choose the right color And lights
Choosing the right color combination is the most important thing in a living room color adds beauty and warmth to any space choose bright shades with a singular color theme, paint horizontal wall stripes of contrast themes to make it attractive choose wallpaper with geometrical patterns, and botanical prints to get a more fresh feel. Make maximum use of natural lights by using a light color theme color and floor pale this gives the living room a more airy and spacious feel. Add a few stripes of lights to brighten up the room, a shell chandelier, and a ceiling light installation that looks like a sculptural piece will enhance the beauty of the living room.
Add greenery to the indoor
Think of adding a few indoor house plants in the living room, rare and larger plants with designer pots may be expensive, instead, choose common seasonal plants, arrange small plants at different heights, adding greenery not only increases the beauty of the room but makes the entire area eco friendly, by small pots with flowering plants adds fragrance to the entire area, a few varieties of evergreen plants also enhances the beauty of the living room. Thus you will get the Plan In Dream, and Budget Single.
Find a corner for artwork
Creating one's own gallery wall will give the room an understated elegance, arrange the artwork and photo frames along with painting and family tree. make sure they are well arranged with enough space and well balanced, this can also be used as a memory corner by adding a little showcase with decors collected from places you visited or children's artwork, an old wall clock, a gramophone and a brass lamp these old treasures gives a special feel to the corner along with the mesmerizing sound of wind chimes give a vibrant and melodies feel. Wall Creation brick veneer can also be used here to create a splendid vibe.
Select Right Furniture
Choosing the right furniture is an important thing in arranging a room with impressive furniture that adds grandeur to the entire house, especially living rooms where you welcome everyone and spend family time. Always select furniture according to the space and utility than going for beauty, both elegance and utility are necessary for a budget-friendly home. Instead of wood and fine leather set one can opt for steel or cane furniture which provides an elegant look, even glass coffee tables, and plastic serves the purpose, the only thing is there must be a seat for everyone, by adding a swing and armchair with matching cushions and curtains will give a spectacular opulence to the entire living room. choosing right furniture you home always makes your home elegant
Bedroom interiors for single floor house design
Bedrooms are always multi-utility rooms in low-budget houses, people use them as study and workroom as well as a place to rest, by proper space management there is a lot of scopes to make bedrooms more attractive, Paint the walls with cool colors like a light cream, gray or sleepy yellow these colors can do wonders, dark walls always create more closed-in effect, unlike airy white make the rooms feel more spacious. lighten up the bedrooms with minimalistic light which gives a restful sleep, choose bedroom pendant lights to hang over a bedside unit or bedside table lamp. If one finds these settings expensive then go for led strips with color-changing facilities. Make use of every available space find a corner near the window for a bookshelf and study, arrange a table and chair with a matching color scheme, refresh the study space with the greenery of indoor plants and unique paintings. Explore a different cot design like a platform bed, floating bed, or double deck bed for kid's room than the usual simple cot.
Bedroom Storage Ideas
A tidy room is a tidy mind is an age-old proverb, which got much prominence in the small bedroom where every spare inch of space counts. Following are a few clever storage ideas in small bedrooms
Walkthrough wardrobe
Walkthrough wardrobe is the best alternative for small bedroom decorating and Budget houses, which cannot afford a designated dressing room. this inbuild wardrobe fixed on both sides of the wall will give a closed room effect along with a mirror fixed on the wardrobe door, it will be the perfect option.
Floating shelves
Small bedrooms demand the most suitable storage units, especially for large accessories floating shelves, is the best choice these rectangular shelves create a lot of storage space and the best part is these shelves can be installed anywhere in the room without much effort were there with a little wall space.
Choose furniture with inbuilt storage
Furniture with inbuilt storage holds a lot of essentials and saves space, choosing a captain's bed with large drawers in base and headboards with shelves is better than going for a normal bed .study tables and chairs with hidden storage facilities gives a lot of storage space. These Small Bed Room Decorating ideas make the bedrooms more beautiful and comfortable.
Kitchen Interior For Single Floor House Design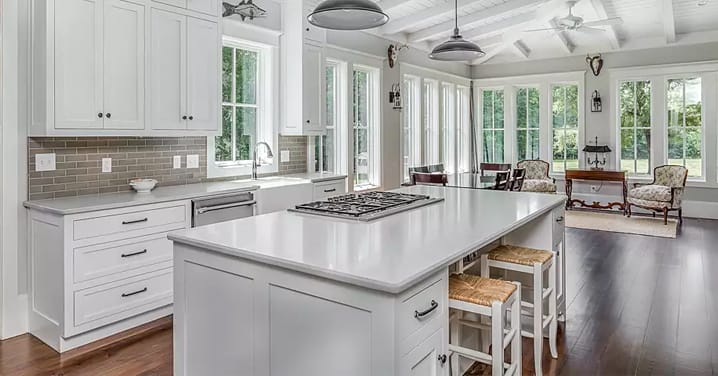 The kitchen interior is an inevitable part of a house, with proper planning a trending modular kitchen can be designed at an affordable rate without compromising the trends and aesthetics.
First of all, get a clear idea about what is necessary for the kitchen rather than going for luxury. And make the settings according to your taste and cooking style.
U shape kitchen
A stylish "U" shape kitchen with overhead base cabinets and open shelves on one side. This shape gets enough space for a breakfast counter with a marble countertop. This shape provides more working space for elaborate cooking.
L shape kitchen
L shape kitchen provides more storage units but less working space on the countertop compared to u shape kitchen, L shape kitchen provides a lot of high storage spaces tall loft, a number of shelves, cabinets, and tandem drawers solve storage issues. loft and open shelves reduce the cost. To make it more economical we can laminate finish instead of Duco finish.
Open kitchen
The open kitchen is the western model of the kitchen, which is comparatively small and attached to the main living area The design consists only of the basic cabinets at the top and bottom and small countertop and wash area and takes less space and cost. this kitchen is mainly for small families or those who cook rarely or often travel for work or studies open kitchen is ideal for bachelors and students.
And that's a  wrap,  it is possible to have your dream house based on your preferences and requirements and it will not always cost the earth, with a few tweaks here and there one can gift themselves their mansion of dreams.
Hi-Life Builders from Thrissur are one of the most prominent home builders, who have completed and successfully delivered 18 apartment projects in Thrissur, thus becoming the best builders that provides the top apartments and flats in Thrissur. Apart from building wonderful homes, we are also providing home care, resale and home loan assistance and you will be happy to know that we have a dedicated team for after sales service and property management service. Contact us and enjoy your relationship with your dream home builder.
Recent Posts
Recent Posts
Category