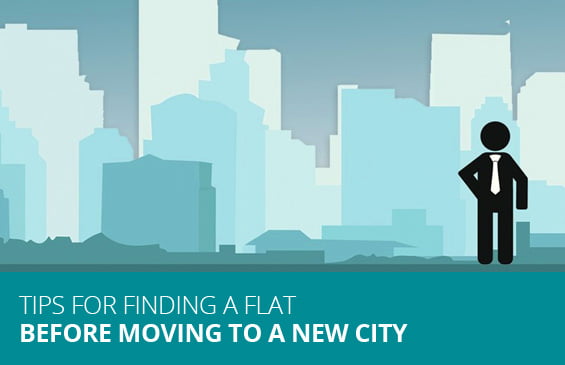 Tips for Finding a Flat Before Moving to a New City
Posted By

hilife_admin

On

Wed, Dec 9, 2015
When you're planning to move to a new city, the biggest concern is to find a place to live. It is certainly the first thing on your list. And, if it's a city which you're not very acquainted with, the job can be a more tedious one. Thus, here is a handy guide to assist you to find your new flat, before shifting to a new city.
Analyze your Budget
Before you check out the listings, you should find out ways to fine down your research. The best place is to commence with your budget. For those who are shifting for a job and know how much they'll be earning in a month, divide the amount by 3 and make it your max. You can also calculate the online cost of living instruments and compare the prices of your present city in your future and it will give you an estimate of the how far your costing will change.
Select your Location
When you're new to a location, it could be tough to know what location, area and neighborhood could be apt for you. Thus, one should think about the necessary criteria- quick and easy public transportation access, closeness to your work area, marketplace, etc. the location media stores of the city have the lists of best places for residing for families, commuting, dining etc. Thus, it will help you get to know about the different areas and their specialty. Another great idea is to check out the social networking sites. All you need to do is post a status, enquiring people who live in that city and you'll find out all about it.
Broaden your Research
A suitable apartment is easily available in the new city of yours; all you need to do is just find it. Don't go for a limited search with just one method- try surfing online sites. The online sites help you find flats at an unknown location. If you can visit the place before shifting, then go for a leasing person, who can give you a rough idea about the available listings and make you visit them. The more options you have, the better it gets to find a cozy lovely home for yourself.
Check out with your Roommates
When you're moving to a new location, opting to stay with a roommate, it surely has several advantages. Firstly, it brings the accommodation cost down as you'll be sharing the gas, cable, and electricity expenses. Secondly, if you don't know a lot of people there, at least you have an instant networking, right at your disposal.
Hi-Life Builders in Thrissur is one of the most prominent home builder, who have completed and successfully delivered 18 apartments in Thrissur. Apart from building wonderful homes, we are also providing home care and home loan assistance and you will be happy to know that we have a dedicated team for after sales service and property management service. Contact us and enjoy your relationship with your dream home builder.
Live the high life………………
Recent Posts
Recent Posts
Category