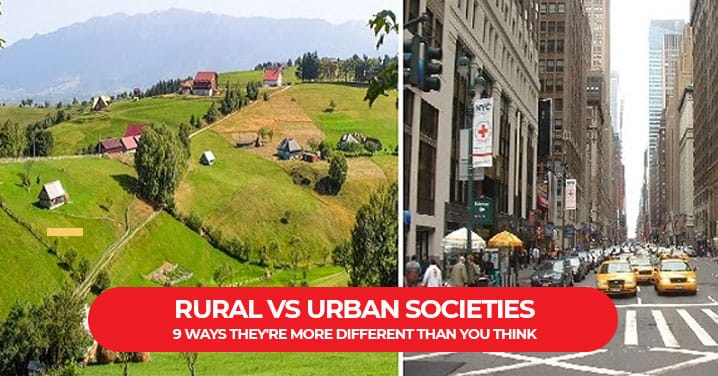 What's The Difference Between Rural & Urban Society?
Posted By

hilife_admin

On

Tue, Sep 20, 2022
Human settlement is predominantly divided into two categories, namely urban and rural, based on factors such as population density, development, amenities, employment opportunities, education, etc. An urban area is one where there is a high rate of industrialization and urbanisation. On the other hand, the rate of urbanisation is relatively slow in rural areas. Since the beginning of the globalisation process, the formation of towns and cities, as well as the process of urbanisation, have begun.
The Census Bureau defines urban areas using additional data and specific criteria following each decennial census. All people, homes, and land outside of an urban area are referred to as "rural."
What is exactly meant by "urban society"?
The region or area that is densely populated and has elements of a man-made environment is actually referred to as urban. People who live there are involved in trade, commerce, or services. High-scale industrialization, which produces better employment opportunities, is present in this settlement. The term "urban settlement" does not just refer to cities; it also includes towns and suburban areas.
Living in an urban area has many benefits, including easy access to many amenities, better transportation options; entertainment and educational options, and health services. Although it has some drawbacks like pollution brought on by extensive industrialization and modes of transportation like buses, trains, cars, and so forth, this area's residents are experiencing an increase in health issues.
What is exactly meant by "rural society"?
A rural area, according to our definition, is one that is on the outskirts. It specifies a small community that dwells outside the confines of a city, a commercial hub, or an industrial zone. It may include rural communities, hamlets, or villages with natural vegetation and open spaces. In such an area, the population density is low. Agriculture and animal husbandry are the residents' main sources of income. Here, cottage industries are another important source of income.
According to the planning commission, a town with a population of less than 15,000 people is considered rural in India. Grama Panchayat is in charge of monitoring such areas. Furthermore, there is no municipal government in the villages, and the majority of the male population is engaged in agriculture and related activities. Farming and cattle will be their primary sources of income. They are mostly unaware of the services and amenities available in a city.
Major difference between urban society and rural society
Family culture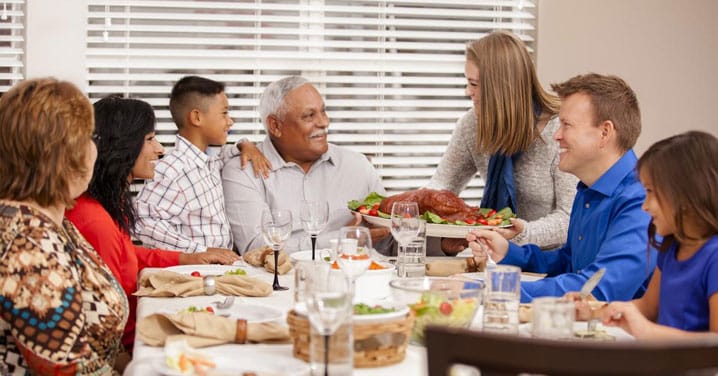 The family culture is highly different in both societies. In rural families, family members, especially the elderly, have great control and influence over other members. However, all the members have to obey the decision taken by the head of the family. Most of the families are large joint families and are not independent. The rural community is more traditional and devoted to customs than the urban community, which is one significant difference. The influence of customary norms and the ties of familial solidarity is stronger in rural communities than in urban ones. Since the main source of income is agriculture, it is necessary to have a large number of people. It is also a patriarchal society, and hence the life of every individual depends on the thoughts and beliefs of other members. But, on the contrary, urban families are mostly nuclear families or very small joint families. Most families are independent and progressive, with very little control over the other members. Urban family members are mostly educated and have jobs in accordance with their qualifications. The social status of urban families is very high since women are educated and do jobs in offices even after marriage.
Education level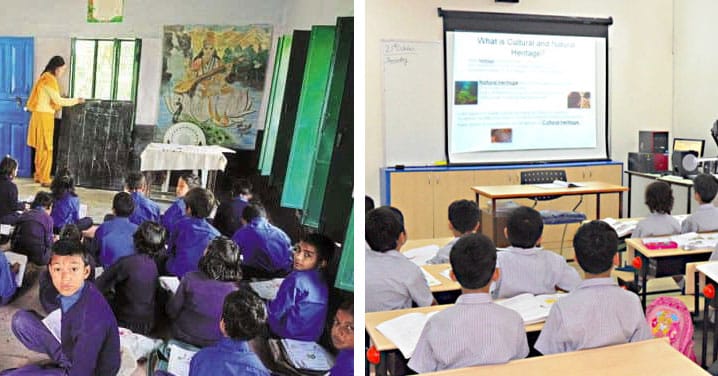 Without a doubt, urban areas will have better infrastructure and an improved educational system than rural areas. Both elementary and secondary educational institutions are highly developed in urban areas, and the urban area education system is designed to give students a better educational experience. On the other hand, there is no basic infrastructure or support system for students in rural areas; in addition, there isn't a single private school or college located there. Only then can a student have access to quality education.
Skill specialisation
The differences between a city and a community's modes of production are another comparison. Typically, only one dominant type of occupation—agriculture—predominates in the village. Every family makes their own bread and does their own laundry because both the physical and social environments are the same. On the other hand, the city is a social hub for a diverse range of individuals. Every city is home to employees from every segment of society, including semi-skilled workers, skilled artisans, paper experts, technicians, artists, bankers, teachers, social reformers, and many more.
It is a diverse group of people involved in various activities. "City tasks are divided and subdivided to such an extreme that even unskilled labour becomes specialised." The trend in urban life is clearly toward a greater percentage of specialised work, which leads to a multiplicity of economic and social organisations. Residents of a city become involved with a variety of organisations that cater to their needs. As a result, it is clear that city life is specialised in nature, whereas rural life is more general.
Health sector
In any case, urban health and medical systems outperform rural ones. The health sector in cities is more developed and advanced than the health sector in rural areas. There is an insufficiency of proper medical devices available in the rural healthcare sector, there is no proper infrastructure too. This is why people in rural areas prefer to travel to urban areas for medical care. The Indian government has been working tirelessly to reduce the urban-rural health disparity.
Architectural differences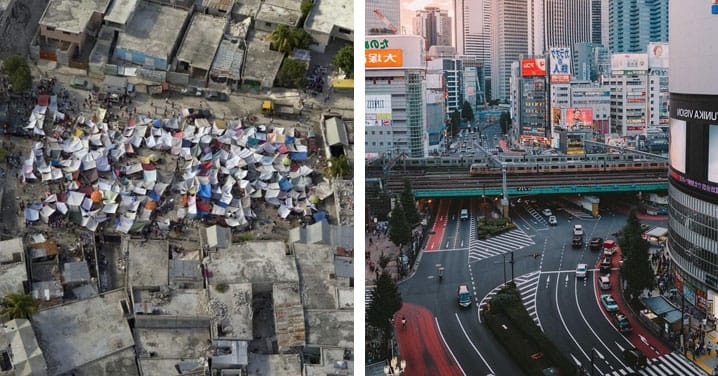 People in rural areas generally live in small houses made of huts, mud, and thatched roofs, and their houses are mostly simple. Since houses are temporary, they may be affected by natural disasters such as floods, tsunamis, or heavy rain. On the other hand, an urban area is mostly made up of large flats or houses that are built with cement, advanced technologies, and modern-day equipment that cannot easily affect these flats or houses. Also read more on types of apartments.
Contrast qualities and custom
The city community evokes many qualities that are diametrically opposed to those required by the rural community. The village calls for more stern and tenacious adherence to the way of life. Villagers who are constantly in contact with nature become nature devotees. They become superstitious and religious because the forces of nature are beyond their control and reckoning. On the other hand, the city requires increased alertness and faster responses to changing circumstances.
In terms of religious beliefs, tastes, and opinions, city dwellers are more tolerant. The impersonality of the law and the caprice of fashion rule the city. Rural moral codes are fixed and strict in a rural community. Any violation of them results in bitter estrangement and, in some cases, personal tragedies. In a rural community, there is a lot of mutual aid, whereas in a city, people are self-centred and don't care about others. The rural areas have a welcoming and brotherly atmosphere.
Conclusion
The information provided above demonstrates that there are several disparities between rural and urban communities. Both social systems have some distinguishing characteristics that serve as the foundation for their mutual contrast. However, due to the forces of urbanisation and industrialization, these differences are shrinking and much assimilation is taking place between the two communities.
Development is important for any country, and the development of a country is dependent on its education sector and health sector. If people are educated, it will generate more employment opportunities, and if a country's health sector is good, people will not have frequent health issues and can contribute more efficiently to the country's development. It is critical to develop both rural and urban areas. If we look at the current situation, we can see that a lot more development has occurred in rural areas than in urban areas. Rural areas now have better education options, better health, medical technologies, and better infrastructure, and individuals no longer have poverty and also have better living conditions like people in urban areas.
Hi-Life Builders from Thrissur are one of the most prominent home builders, who have completed and successfully delivered 18 apartment projects in Thrissur, thus becoming the best builders that provides the top apartments and flats in Thrissur. Apart from building wonderful homes, we are also providing home care, resale and home loan assistance and you will be happy to know that we have a dedicated team for after sales service and property management service. Contact us and enjoy your relationship with your dream home builder.
Recent Posts
Recent Posts
Category