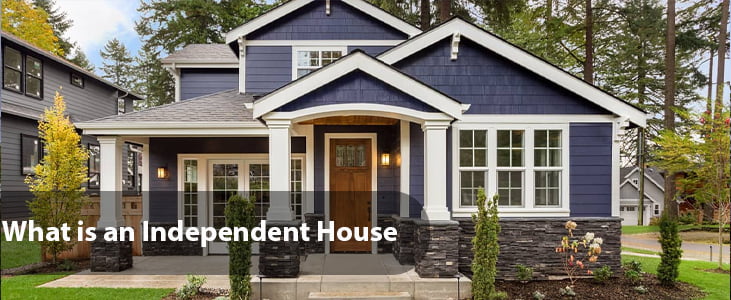 Independent House Meaning: What Do They Say?
Posted By

hilife_admin

On

Mon, Feb 14, 2022
Buying your dream home requires a lot of patience, implementation of ideas, and keen consideration of various economic factors. There are various beautiful options for flats in Thrissur, which provide you with the feel of living in an independent house, and at the same time, let you build the convenience of living within your budget. Before you buy property to reside in, it is essential to know about the real estate trends, and moreover the ideas that pop out of your mind, while considering investing in them.
You can find a lot of housing units and residential options while considering the budget, size, and other characteristics of the living spaces. Various options like apartments, flats, independent houses, bungalows,villas in thrissur etc. can be useful while we go for an ideal home search. This blog focuses on breaking your curiousness toward independent houses and what they actually mean.
What is an Independent House?
An independent house is preferred by someone who usually wishes to have an independent unit of living space, but at the same time wants to get rid of constructing a complete house. There are certain developers who can offer you premium housing units in either shared amenities or individual amenities in gated community. The house owner will have full control over the aspects of the house like design and architecture, combined with the materials used for the quality. You can self-occupy a single floor after constructing multiple floors, thereby renting out the remaining, which will give you a good income source.
With individual houses, you bear safety, security, and maintenance costs. If independent houses are maintained for a long-term duration, the land can improve the resale value and appreciate its existing value. Independent houses are preferred by some, taking into consideration the benefits they can provide to the coming generations.
What pushes people towards buying Independent houses?
Certain real estate myths and situations often push them into deciding to get independent property rather than choosing for daily living in villas, flats, or apartment property. Property buyers choose independent houses due to the following benefits they believe they can get considering the following constraints.
You can enjoy living in a big family
Independent houses are a source of the best residential option when you have a big family, that is, more family members who wish to live together. This type of property is a preferred choice for most families who want an independent living facility.
You wish to enjoy privacy
When you prefer not to live with small family clusters like that of cluttered apartments, you are likely to prefer independent houses to consider independent living with privacy. But in fact, with independent houses, you lose the privileges of living with like-minded people around and you miss being in a society or enjoying the benefits of relationships with the community.
Property and Land Belongs to the Single Owner
The major benefit for which the people choose independent houses is because the entire property and land, both belong to the owner themselves. However, this leads to a situation where the entire responsibility along with the burden of tax comes on the owner, for which you must be well prepared.
Land Value Appreciation
People invest in buying independent houses considering an appreciation of land value in the upcoming years. This can however be possibly risky, because the future is uncertain, and there are other costs involved in maintaining the independent houses that completely belong to you.
Self-Responsible
Since you are the true rider of your own living units, you need to be extra vigilant and responsible for all the risks, losses, damages, or other expenses over the maintenance of the house. Though you believe you can enjoy being an owner, there are certain elements that can make you upset, due to the additional burden on you with the extra cost, and efforts involved to maintain the homes.
How are Independent houses different from flats/apartments?
Being homebuyers, you might be in a dilemma to choose the best between independent houses and apartments. To make the idea clear, let's have a quick look at the Flat Vs Independent house comparison.
If you look at buying an independent house, the cost is on the higher side. The cost also involves that of the plot and a lot of legal requirements including authority clearances, electricity charges, labor expenses, Government imposed stamp duty, and other charges. While the apartment is considered you don't have to worry about any other expenses, as a buyer you need to pay the apartment cost and move in freely with budget properties.
Investing in the standalone building is completely your responsibility. You need an extra effort from your side to set up the services, and also spend on amenities or raw materials. However, in apartment life, you get to enjoy all the facilities and amenities from the provider, including parking space, fire safety mechanism, power backup, water facilities, etc.
Loans are readily available for apartment buyers since the builders have a great collaboration with banks to make buying and selling hassle-free. However, the bank loans for buying independent houses require stringent scrutinization of the processes and are highly time-consuming too.
The residential property you own requires an extra team from outside and finance to take care of the cost of maintenance and repair of your independent houses. However, the apartments have a dedicated in-house team to perform maintenance and repair, along with the people who take care of your needs round the clock.
People have home-buying myths where they tend to believe that the capital appreciation is high for independent houses or villas. This is not true, since with flats and apartments, they are always high in demand and you can easily sell them or rent out, earn good rental income, unlike independent houses, which are quite hard due to limited demand.
Apartment living or life in Flats can be more ideal as they induce societal life along with communal harmony, whereas independent houses cannot give you this benefit. To experience better interpersonal relationships and enjoy being together in a society, flats can give you more opportunities than independent houses.
Constructing a standalone house is a very complex and long-term process. You need to employ experts, employees, professionals, and other people who are into building, designing, and delivering you the final home. Getting a ready house is much more effective, quick, and easy so that you don't have to worry about the risks involved.
As per the real estate trends, there are two kinds of buyers. Some wish to buy houses in Kerala for their personal purposes while others wish to make it an investment source. For those with personal intentions, they focus more on the amenities, aesthetic beauty, customization, proximity to facilities like medical care, adequate services, house layout, convenience, etc. while the investors look for the expected returns on renting out, resale value, etc. In both cases, apartments are the best you can invest in compared to independent houses, since they appreciate in value and you get people to stay paying a reasonable rent, enabling you with perfect returns.
Are there flats similar to independent houses?
Homebuyers who wish to have an effect of buying independent houses, and at the same time wish to prevent the negative consequences of purchasing them, can enjoy buying flats and apartments, typically multi-storeyed apartments. This can help you live with large families and gives an ambiance of living in independent houses. You can get the customizations done as per the requirements with the best flats in Thrissur, and have living spaces similar to those of independent houses. When compared to buying independent houses, it is reasonable to buy flats or apartments, where they can well compliment your lifestyle and budget.
Conclusion
When you consider the buyers with the nuclear families and normal family budget, they would always wish to live the rest of their life peacefully without the burden of investing too much in it. With this financial logic, most of them opt for apartments or Flats as the residential choices. When you consider a big family who is too keen on building home aesthetics, particular about the neighborhood, and have a high financial status they go for independent houses. However, most of the buyers would prefer to stay away from the technical challenges of buying plots, and building houses, and opt for apartments or flats with similar levels of satisfaction and convenience. Investing in apartments in thrissur can be the best option to let you experience the convenience of living with all the amenities and facilities while sticking to your budget.
Hi-Life Builders is one of the best builders in Thrissur. Apart from building wonderful homes, our portfolio includes home care, resale, and home loan assistance and you will be happy to know that we have a dedicated team for after-sales service and property management service. For further information on our project contact us now!
Recent Posts
Recent Posts
Category