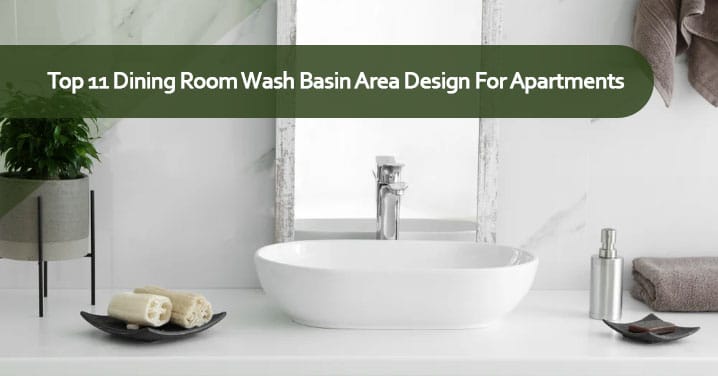 Top 11 Dining Room Wash Basin Area Design For Apartments
Posted By

hilife_admin

On

Mon, Jan 9, 2023
A wash basin near your dining area is a mandatory element who doesn't need a dedicated place to wash hands right after the food?
Since the world runs behind novel designs, wash basin design ideas have also been visible, especially the space-saving designs being the best among them.
Many Apartments in Thrissur have begun adopting innovative designs for wash basins that not only look attractive but also help to accommodate them in compact spaces.
If you think about installing a wash basin and need tips to make the design outstanding within a small space, this blog has all the trending design ideas for your choice.
11 Trending Dining room wash basin area design ideas worth a try
Gone are the days when stainless steel wash basins or ceramic washbasins ruled the world modern wash basin designs with contemporary appearance have taken over the market. You can decorate the dining rooms with beautiful wash basin designs even in small spaces.
Here are the top 11 modern washbasin design ideas you can consider while searching for the best designs.
1. Plain Wash Basin Design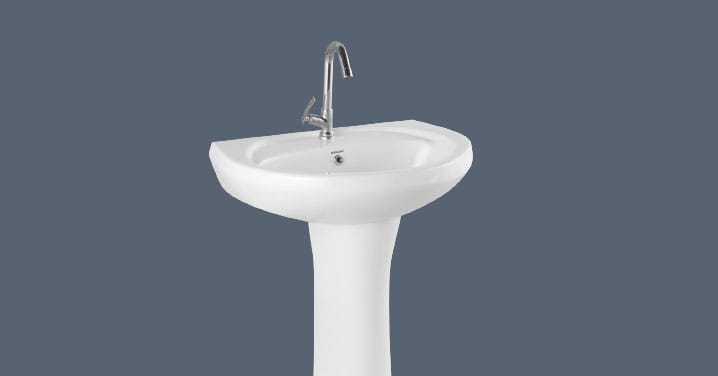 This is one of the most common and simplified washbasin designs that major homeowners go for.
This variety of washbasins is usually preferable when you have limited space.
They are usually built with glass, marble, porcelain, and also ceramic material.
The most durable choice is a ceramic wash basin, which is easily maintained when compared to other materials like marble.
If you have a tight budget, you can use a standard countertop and enclose it with wallpaper that resembles marble.
But make sure the moisture does not trap in the air spaces else the dining area wash basin design would end up being a failure.
Why don't you pair the ceramic basin with randomly shaped mirrors, perfumed candles, toiletries, or some artificial flowers too?
It's exciting to have a perfect dining atmosphere around, and there is no offense when your washbasin plays a major role in it.
Luxury Flats For Sale In Thrissur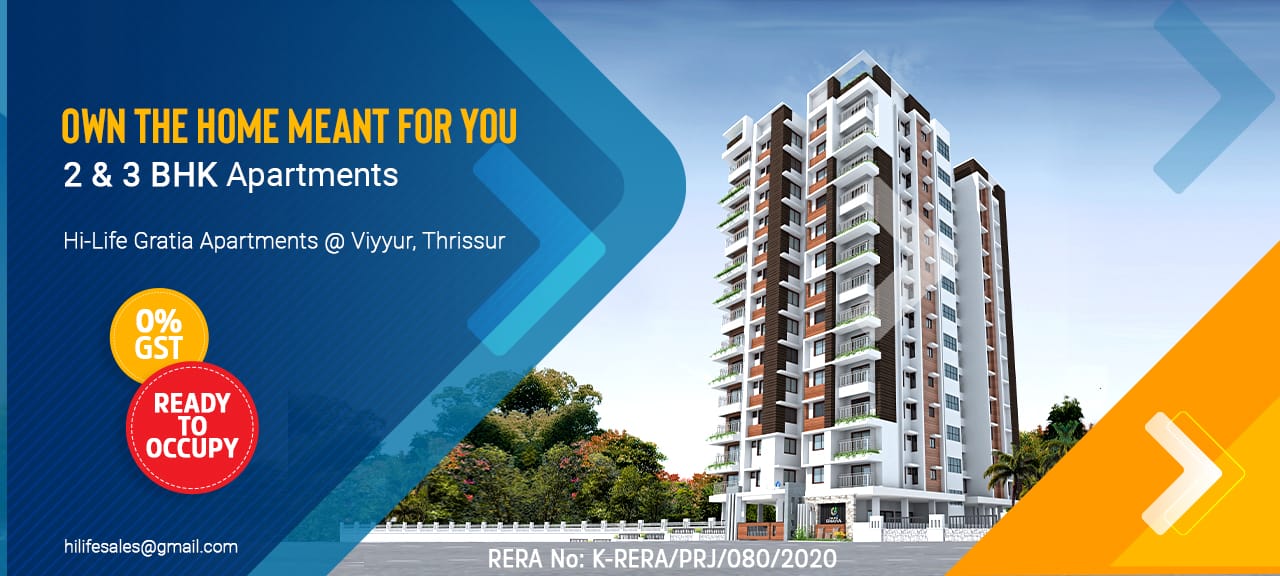 Hi-Life Gratia
Experience the exquisite design and comfort that only a masterfully crafted Flat can offer Luxury 2 & 3 BHK Flats for sale in Thrissur.
The Flats That Blended With Very Detail in Perfection With World-Class Standards.
Enquire Now& Get The Best Assured Price
2. Top-mount designs for wash basins
This is another regular and standard wash basin design you can commonly see in apartments.
You can see these designs beneath the benchtop, where the basin rims are placed above it.
Various rim designs are available for these basins, including slim rims and chunky rims.
The top mount wash basin designs are the least expensive compared to the alternative designs.
Wall-mounted basins in outdoor spaces have also been high in demand for small dining spaces where you cannot accommodate an indoor wash basin.
Also, read more about Small Dining Room Ideas
3. Chic modern style glamorous design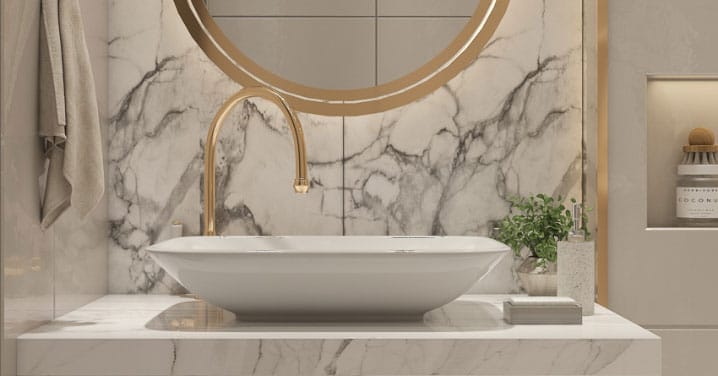 If you wish to have a contemporary and glamorous dining room wash basin area design, you could try a modern design style idea.
Unlike the traditional and muted wash basin design, this modern dining room wash basin area design has basically everything to hold your modern dining design dreams.
The countertop spaces can let you hold every item, and if you need more space, you can utilize the storage space below for the same.
You may use pinstriped wallpaper which can magnify the room, making it more spacious.
The warm lighting can create a homely appearance, and the geometric patterns and lines keep the design trendy.
4. Round bowl black ceramic design
How can a black lover take their eyes off the most stylish and practical black shade while focusing on interior design?
Black is a classy color that you can choose for a ceramic bowl-style wash basin design it makes your home elegant with a sophisticated design.
And the beautiful part? Vastu Shastra and Feng Shui say this design is an excellent addition to your apartment homes.
5. Standard bowl-shaped design for wash basins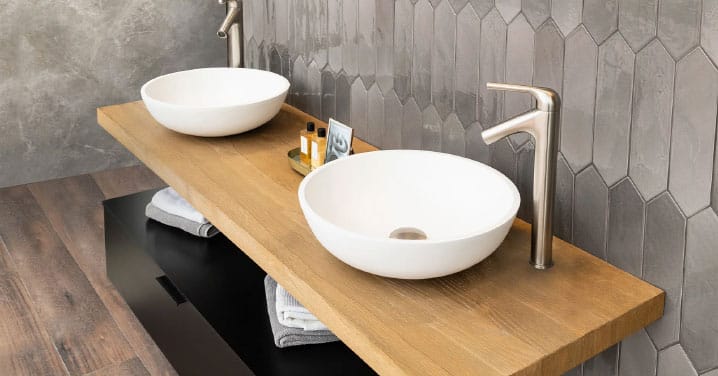 Many bowl-shaped basin designs exist when you consider them, particularly for dining rooms.
However, nothing seems more beautiful than a simple but attractive style.
An ideal ceramic bowl-shaped wash basin design is the best choice since it is easy to clean and maintain.
The small dining room spaces can certainly consider using these bowl-shaped designs and pair them with slim vanity tops to get amazing results.
6. Portable wash basin designs
The dining wash basin designs could be made stunning when you enjoy their aesthetics, beauty, and charm.
But how about keeping it functional, especially in case you have a very compact space?
This could be tricky, but there is still a choice that can keep you happy.
Though the concept of a wash basin is many centuries old, it still performs the same functions a cute basin to wash the hands, a mirror, a towel holder, and a bowl or jug to fetch fresh water.
But the portable wash basin is specially meant for extremely small dining areas where you can't install it.
You could easily carry the wash basin and keep it away from the dining area when not in use isn't it more convenient?
Also, read more about Partition Designs Between Living Dining
7. Industrial-style tire-based design
Home decor with an industrial touch can also keep your apartments looking elegant and risk-free.
When you go for a tire pattern wash basin, it can add an industrial theme to your dining area.
This can make your basin area design look modern and chic at the same time.
These are bold designs with a rustic style, and you may also pair them up with a round granite countertop and a high-rise mixer tap if you need a change.
8. Round stone design with curvatures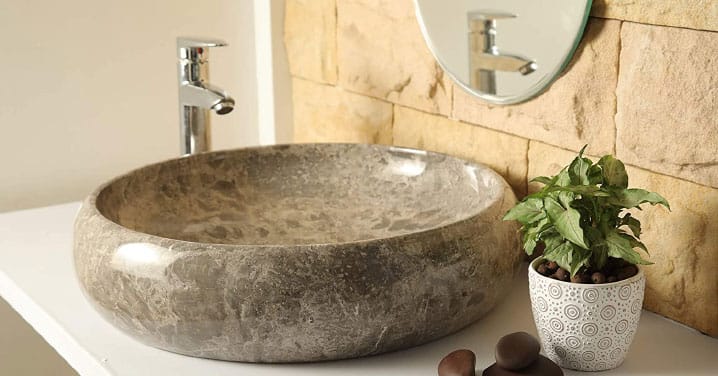 Round washbasins have an excellent charm all the time compared to the others.
The curvature which lies outside the basin takes the entire appeal to a different point.
Basin stone could be of any material of choice you may also try granite, sparkling stone, etc. if you wish it to be an ethereal pick.
If you need something close to nature or rustic, you will fall in love with the stone wash basin in your dining area.
This beautiful wash basin cut out from natural stone or artificial stone portrays the design as raw and natural, with visible 'imperfections'; but gifting a truly authentic feel as well.
9. Table-top built-in designs
Washbasins have taken various designs and evolved in the kind of designs they present.
The in-built tabletop design eliminates the need to buy a separate wash basin.
You can get the tabletop pressed inside to give a wash basin-like shape, which gives an inexpensive yet space-saving idea for your small homes.
Add a beautiful element of charming old-timey appearance with the best accessories that support the choice of basin for the dining room use indoor plants, a crystalline glaze finish, an antique mirror, a ceramic dining table, etc. around.
10. Evergreen tinted transparent design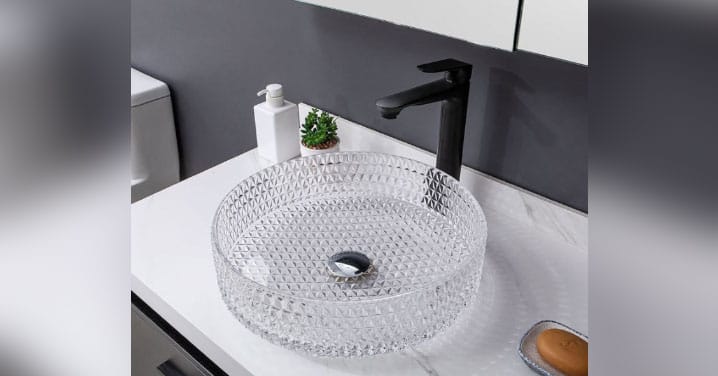 This washbasin design is something derived from both conventional and contemporary home design styles.
Why don't you choose an evergreen colour like grey, teal, blue tint, or pink, or a bright colour like royal blue which will show you a whole lot of difference from how wash basins used to be?
Basin for dining halls with the reflection of ages passed by, and having the right combination of shades to keep it awesome is the new normal.
While you can find plenty of wash basin designs in the dining room category, a transparent wash basin is something unique.
Available in various hues, these keep the aesthetic of the modern touch accessories and the basin alive.
A blue tint can keep the true sense of a serene atmosphere around your dining area, gray makes it classy, royal blue gives a luxurious feel, and pink keeps it cute.
11. White and Gold combination wash basin designs
The dining area wash basin design could bring a wow factor if you combine white and gold designs that give it a royal feel.
How about classical elements like marble, golden fixture, and the white basin making a perfect sync for a royal outlook?
The wash basin area should serve the function and also let you have flecks of golden shades and the divinity of white when you need it to give the luxurious appeal.
Combine a monochromatic stone or a shining black granite where you can use the kitchen sink or dining wash basin for a touch of sophistication that carries the richness of your dining space.
In a Nutshell
Hope the above wash basin area design ideas help you land on the right choice to keep your dining spaces smart and well-spaced.
All the design ideas we have discussed are based on the top trending options in the present market and are meant to ease the challenge of choosing a preferred wash basin idea for your dining room.
You can choose the right design to make your dining units functional.
Give your interiors a perfect makeover with a great washbasin design that steals the show.
Hi-Life Builders is one of the best builders in Thrissur. Apart from building wonderful homes, our portfolio includes home care, resale, and home loan assistance and you will be happy to know that we have a dedicated team for after-sales service and property management service. For further information on our project contact us now!
Recent Posts
Recent Posts
Category