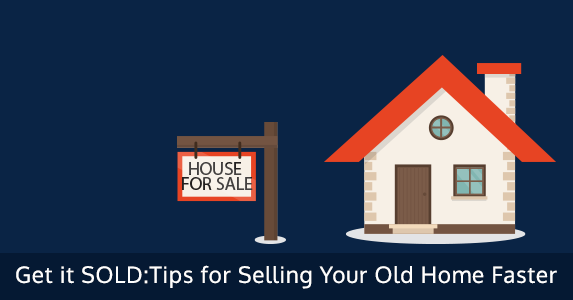 Get it SOLD: Tips for Selling Your Old Home Faster
Posted By

hilife_admin

On

Tue, Aug 9, 2016
Too often we see new home buyers being trapped between selling their old home to purchase their brand new home. Get it SOLD!  Here are few tips for selling your home faster.
Upload to Online Sites
90% of home buyers start their house hunt online, and they will never even get in the car to come to see your apartment if your online listings aren't compelling and impressive. In real estate, compelling means pictures! A study shows that listings with more than 6 pictures are twice as likely to be viewed by buyers as listings that had fewer than 6 pictures. Online is a big market to explore these days for anything.
Post on Social Sites
Telling prospective buyers about the best bits – buyers like to know that an apartment was well-loved, and it helps them visualize living a great life there, too. Facebook is the great connector of people these days. If you have 200 friends and they each have 200 friends, imagine the power of that network in getting the word out about your apartment in just one go.
Let Your Neighbors Choose their Neighbors
If you are close to nearby apartments neighborhood online message boards or email lists, send a link to your apartment online listing to your neighbors. Also, invite your neighbors to your open apartments – turn it into a block party. That creates opportunities for your neighbors to sell the neighborhood to prospective buyers and for your neighbors to invite apartment hunters they know who have always wanted to live in the area.
Leave Some Useful Stuff Behind
We've all heard about closing cost credits, but those are almost so common now that buyers expect them – they don't really distinguish your apartment from any of the other apartments on the market anymore. What can distinguish your apartment is leaving behind some of your personal property, ideally items that are above and beyond what the average house buyer in your home's price range would be able to afford. That may be stainless steel kitchen appliances, cupboard, electrical products etc.
Beat the Competition with Condition
As an individual homeowner, the way you can compete is on condition. Quick fixes before selling always pay off. Extreme makeovers, not so much.  You probably won't get your money back if you do a huge improvement project before you put your house on the market.  Instead, do updates that will pay off and get you top dollar. Get a new fresh coat of paint on the walls. Clean the curtains or go buy some inexpensive new ones. Replace door handles, cabinet hardware, check that closet doors are on track, and make sure that the little nicks and scratches, and wonky handles are all repaired before you start showing your apartment
The First Impression is the ONLY Impression
Stage the exterior with fresh paint, immaculate landscaping and even front door to be polished as new. The look at first sight matters! So should be impressive and keep it brushed and polished as new. No matter how good the interior of your home looks, buyers have already judged your home before they walk through the door. You never have a second chance to make a first impression.  It's important to make people feel warm, welcome and safe as they approach the house.  Entryways are also important.
Access is Essential
Homes that don't get shown don't get sold. Your home needs to be "show-ready" at all times – you never know when your buyer is going to walk through the door.  You have to be available whenever they want to come see the place and it has to be in tip-top shape. Don't make it difficult for agents to get their clients into your apartment – if they have to make appointments way in advance, or can only show it during a very restrictive time frame, they will likely just cross your place off the list and go show the places that are easy to get into so be convenient to buyers and give them time.
Get Real about Pricing & Price it Right
Today's buyers are very educated about the comparable sales in the area, which heavily influence the fair market value of your apartment. And they also know that they're in the driver's seat. To make your apartment competitive, have your broker or agent get you the sales prices of the three most similar apartments that have sold in your area in the last month or so, then try to go 10-15% below that when you set your apartment's list price. The apartments that look like a great deal are the ones that get the most visits from buyers and, on occasion even receive multiple offers.
Get Clued into Your Competition
Work with your broker or agent to get educated about the price, type of sale and condition of the other apartments your apartment is up against. Attend some open houses in your area and do a real estate reality check: know that buyers that see your apartment will see those apartments too – make sure the real-time comparison will come out in your apartments favor by ensuring the condition of your apartment is up to par.
Take the Home Out of Your House
One of the most important things to do when selling your house is to de-personalize it.  The more personal stuff in your home, the less potential buyers can imagine themselves living there.  Buyers want to visualize your apartment being their apartment – and it's difficult for them to do that with all your personal items marking the territory as yours. Give away what you can, throw away as much as possible of what remains, and then pack the rest to get it ready to move.
Listen to Your Agent
If you find an experienced real estate agent to list your apartment, who has a successful track record of selling houses in your area, listen to their recommendations! Find an agent you trust and follow their advice as often as you can.
Let in the Light
Maximize the light in your home.  After location, good light is the one thing that every buyer cites that they want in a home.  Take down the drapes, clean the windows, change the lampshades, increase the wattage of your light bulbs and cut the bushes outside to let in natural light.  Do what you have to do make your house bright and cheery – it will make your home more "sellable."
Selling a home in a down market requires a little extra work. Do everything you can to get the home in excellent shape and be prepared to make some small concessions at closing. These tips, coupled with an attractive price, will increase the chances of getting your home sold.
Hi-Life Builders in Thrissur is one of the most prominent home builder, who have completed and successfully delivered 18 apartment projects in Thrissur. Apart from building wonderful homes, we are also providing home care, resale and home loan assistance and you will be happy to know that we have a dedicated team for after sales service and property management service. Contact us and enjoy your relationship with your dream home builder.

Live the high life………………
Recent Posts
Recent Posts
Category